These are *officially* the 14 best items of gym wear you can buy, according to four fitness pros
Kit that flatters, sweat wicks and lasts the long run.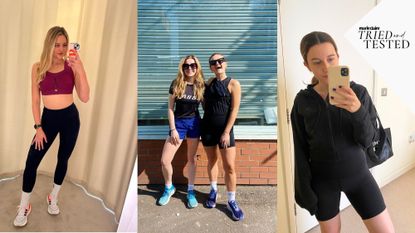 (Image credit: Alice Barraclough, Lillie Bleasdale, Ally Head and Grace Lindsay)
Knowing what constitutes the best gym wear - in other words, the fit kit that will genuinely stand the test of time and support you through even the sweatiest of workouts - can sometimes feel like a chore. Will the sweat-wicking leggings genuinely sweat wick? And will that extra supportive bra genuinely be extra supportive or just another gimmick?
To help you cut through the noise, we've asked four fitness experts who test workout gear for a living and have tried literally thousands of designs in their time for their desert island kit picks. In other words, we picked their brains about their ride-or-die gym wear items that they use day in, day out, and couldn't live without.
The below are the best of the best, never rolling down, stretching after a few washes, showing sweat patches or providing inadequate support. We're not about buying for the sake of it here at Marie Claire UK, rather, investing in items that'll last the long run. Know this, though: one study carried out by Barbell Apparel in 2021 found that of 2000 regular gym-goers, 79% of people believe that owning good gym wear is a key step in achieving your fitness goals.
So yep - having supportive, sweat-wicking workout clothing is important. Luckily the gym wear game has never been stronger, with designers, high street brands and sports labels answering our need for functional and fashionable workout kit. Sound good? We thought so.
Scroll our edits of the best running shoes, the best tennis skirts and even the best sustainable sports brands , while you're here.
Best gym wear: 14 bits of fit kit to buy now
All of the products in this roundup have been tried and tested by team Marie Claire UK.
We enlisted the help of our Health Editor, Ally Head, an avid marathon runner who loves strength training, too, our Ecommerce Writer, Grace Lindsay, who might skip the running malarkey but loves an intense HIIT workout, fitness writer and triathlon-loving Alice Barraclough, and personal trainer and head coach at PASSA Lillie Bleasdale, who's current marathon personal best sits at an impressive 3:07.
Keep scrolling for their top recommendations. Trust us, you won't regret it.
The best workout leggings
If you've read our guide to the best gym leggings, then you'll know that there are quite literally thousands of options to choose from. It was hard to narrow it down, but all four fitness pros agreed that the below two pairs were their absolute favourites.
lululemon Wunder Train High-Rise Tight 25"
Reasons to avoid
-
Investment piece so comes at a higher price point
lululemon leggings have a cult-like following for a reason - because, simply put, they're the best. They're an investment, but they are easily the comfiest leggings we've tried and they really do last forever. There are lots of styles to choose from, but our Health Editor, Ally Head, is a big fan of the 'Wunder Train' style, designed with sweat and support in mind. Ally's run several half marathons in them, so you know you're in good hands.
Lillie agrees, adding that they're one of her go-to's for strength training, long runs, and recovery yoga.
Adanola Ultimate Leggings
Reasons to buy
+
Can be worn in and out of gym classes
+
Range of leg lengths
Reasons to avoid
-
No sweat wicking promises
For those of you looking for leggings that can be worn to your Saturday morning Pilates class and then to brunch afterwards, this Adanola pair might be more your style. Our Ecommerce Writer Grace is a huge fan of the brand, and these leggings are her go-to for more low-intensity workouts. They're incredibly flattering, come in a range of different colours and also a range of leg lengths (just like the Lululemon ones). The only downside is that they are not as sweat-wicking (that said, they're still pretty impressive).
The best sports bras
If you're looking for one of the best sports bras, it's important to consider what kind of support you're looking for.
If you've got slighter bigger boobs and plan on doing a more intense workout, you might want to opt for something more supportive. However, if you're doing something more gentle such as a yoga or pilates class, then a low support bra should do the trick.
We've included our top picks for each, so you're fully covered no matter what.
Under Armour Infinity Mid Covered Sports Bra
Reasons to buy
+
Medium support
+
Breathable
+
Adjustable straps
+
Sweat-wicking
Reasons to avoid
-
Only medium support so if you are looking for something super supportive, then keep scrolling
For medium support, you can't go wrong with this bra from Under Armour. The design boasts a soft, breathable structure, the material is super sweat-wicking and it even contains mesh panels for added airflow. It runs true to size and comes with adjustable straps to fit you perfectly.
ON Running Active Bra
Reasons to buy
+
Super supportive
+
Great for runners
+
Breathable
+
Gorgeous mesh panel and strap back
Reasons to avoid
-
Only light padding (I actually prefer this for it's super lightweight qualities)
Need a more supportive bra? Look no further than ON Running. The brand's Active Bra has been tested by pro athletes over a period of two years - while testing, the designers went through six prototypes. It's great if you're a runner who trains over long distances as the straps contain responsive elastic to move with your body and ensure the bra supports you in the right ways. Plus, it's breathable thanks to the mesh panel on the back. Win, win.
Sweaty Betty Zero Gravity Running Bra
Reasons to buy
+
Supportive
+
Size range from 30A-38F
+
Sweat-wicking
+
Adjustable straps
Reasons to avoid
-
The design might not be everyone's taste, but not everyone has to see it
The new Sweaty Betty Zero Gravity bra was one of Alice's top picks for its unrivalled support.
"There's been quite a lot of hype around Sweaty Betty's latest bra – the Zero Gravity Running Bra – and rightly so," she shares. "After over two years in development and numerous rounds of wear trials and bounce testing, it's finally hit the shops and we're impressed. Designed for running and high-impact exercise, this sports bra supports (not squashes) and is available in sizes 30A-38F."
Featuring thick almost neoprene-like seamless straps, an easy hook and eye closure and a quick-release top clasp so it's easy to get in and out of, this could well be our new favourite bra for chafe-free running. Plus, the colours are gorgeous, too.
The best workout tops
Invested in a sports bra and now you're on the lookout for a top to wear with it? Luckily for you, here at Marie Claire UK, we're big fans of oversized gym t shirts, because let's face it, we don't always feel comfortable working out in just a crop top.
It's important to note here that the second t shirt below is made from cotton, and so is best worn for lower intensity workouts like Pilates or weight lifting (it won't sweat wick as well as the first).
Check out our top picks below.
Gymshark Studio T-shirt
Reasons to buy
+
Breathable
+
Sweat wicking
+
Cut out back design
Reasons to avoid
-
The cut out back design may not be for everyone
Gymshark is one of the best affordable gym wear brands out there and the t-shirts are no exception. If you're thinking about doing a more intense workout, opt for the Studio T-shirt. This design is breathable, sweat-wicking, and made from a super soft, stretchy material that won't irritate you during your workout.
lululemon Align Tank Top
Reasons to buy
+
Built-in bra
+
Scoop back
+
Can wear outside the gym
Another of Alice's top picks was this lululemon top, which, in her own words, she's "low-key obsessed with."
"With a built-in bra, you don't need to wear a sports bra underneath it (small caveat here: this top is probably only supportive enough for those with smaller chests)," she explains. "I love the low scoop-back design and wearing it for yoga, Pilates and even strength classes."
Other need-to-knows: it's tight-fitting and ever-so-slightly cropped to just above the waist, meaning it's super flattering and pairs perfectly with high-waisted leggings. Oh, and it's made from Lululemon's Nulu fabric, which means, just like the famous Align leggings, it feels buttery-soft.
PE Nation One Shot T Shirt
Reasons to buy
+
Organic cotton
+
Wear in or out the gym for a casual day time look
When it comes to stylish, on-trend gym wear, no one does it better than PE Nation. This top is designed for lighter sweat sessions, and can also be styled with jeans and trainers for a casual daytime look. Two outfits in one? We're sold. Made from organic cotton and boasting sweat-wicking abilities, our one tip is to make sure to size down. We found it ran a little big.
The best workout shorts
Workout shorts are a great alternative to leggings in summer, but some roll down, some roll up, and well, some aren't supportive at all.
We've rounded up the best running shorts and the best cycling shorts so you can choose a pair depending on what workouts you tend to do. It goes without saying that running shorts are best for running, whereas cycling shorts can be worn for all sorts of sweat sessions such as running, cycling, gym sessions and more.
Silhouette 9 Inch Shorts
Reasons to buy
+
Can chose from a variety of lengths
+
Breathable
+
Squat proof
+
Moisture wicking
Freelance Writer, Dionne Brighton, loves these gym shorts because they are super supportive but mostly for their length options. "I'm 5'6 so I find it so difficult to find a pair of cycling shorts which are long enough and not too revealing. I tried all the different lengths, the 5-inch was a bit too short but the 9-inch were a perfect fit and length to squat in the gym and feel comfortable." Oh yes, they are squat proof too, and that's a must. "Recently, I've been looking for gym shorts with spandex in for extra support, and these are made with 26% Spandex which I love."
Nike One Women's Dri-FIT High-Waisted 2-in-1 Shorts