These are 4 of the best Pilates socks you can buy, all tested by team MC
No slipping or sliding over here.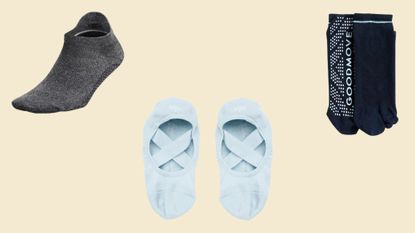 (Image credit: Future)
If you've made it a goal of yours to try a new Pilates workout this month, making sure you have the right equipment is an easy way to help you feel more confident for your first class, whether you're doing it at home or in a studio.
There are so many benefits to Pilates (it's quickly become one of my favourite workouts this year, personally), yet without the right equipment, you might find yourself feeling a little overwhelmed (not to mention slipping and sliding all over the place).
Enter stage right, Pilates socks. Wondering what makes these socks different to normal socks? Well, the key is in the sole. Most Pilates socks will have non-slip soles with rubber grips, which means a better grasp of your mat or the Reformer during your workout.
Here at Marie Claire UK, we've all been giving the trending workout a go, so we took it upon ourselves to book a group Reformer Pilates class and test out some of the most popular brands to see which socks were really worth investing in. We roped in our Health Editor, Ally Head, our Fashion Editor, Zoe Anastasiou, our News Editor, Jadie Troy-Pryde, and our Producer, Sofia Piza. Our Ecommerce Writer, Grace Lindsay, also tested the socks out while doing a Pilates class at home.
If you want all the info about how we test the products that make it into our buying guides, make sure to check out our guide. For more Pilates inspiration, don't forget to check out our guides to Pilates for beginners, the best Pilates exercises, a spicy Pilates ab workout , plus the difference between Pilates and yoga.
What did we look for when testing the best Pilates socks?
Did they stop us from sliding around during our workout?
Were they comfortable to wear?
Were they sweat-wicking?
Was the material sustainable and longlasting?
Were they affordable or an investment?
Pilates socks: 4 of the best to buy now
Most stylish Pilates socks
Alo Yoga Pivot Barre Sock
"I'm obsessed with Alo Yoga's trendy workout gear, and these socks further solidified this obsession. One of my biggest fears when doing Reformer Pilates is the thought of slipping. These socks have a very strong no slip grip (and cushioning!) throughout the sole that helped me feel comfortable whilst allowing me to fully concentrate on engaging my muscles rather than avoiding a fall. The design of these socks is also perfect for anyone who loves the ballet core aesthetic and, like me, loves a stylish workout sock moment." Sofia Piza, Producer
Best affordable Pilates socks
Goodmove 2pk Cotton Rich Yoga Socks
"As a complete Pilates newbie, I wasn't entirely sure whether I would need a pair of socks for my first ever Reformer class. However, the Goodmove socks came in very handy when I started to get a sweat on and needed that extra grip. The silicone dots on the sole helped keep me from slipping when it came to the trickier movements, and although I'm used to practicing yoga barefoot, they're light enough that it didn't feel wildly unusual. It's worth noting that they do have a separate section for the big toe - bringing back the nostalgia of the noughties toe sock era - so if you prefer a full sock, you may want to consider another style." Jadie Troy-Pryde, News Editor
Best Lululemon Pilates socks
Lululemon Find Your Balance Studio Tab Sock
"These Lululemon socks made my at-home Pilates class so much easier. I have wooden floors and even on my workout mat, I found my feet were sliding all over the place before trying these out. The grippy soles work really well, and the socks also have interior grips to stop them from falling off. One thing to note, my feet did get quite sweaty, so these might not be the best choice for more intense workouts." Grace Lindsay, Ecommerce Writer
Best Sweaty Betty Pilates socks
Barre Gripper Socks 2 Pack
"Sure, these are technically Barre socks, but I've generally found that Barre and Pilates socks are the same, apart from the style. I much prefer the crew cut of the Barre design, and this option from Sweaty Betty is a great - they're soft yet grippy and wash well, too."
"They're meant to be a little sheer, so don't be alarmed if they feel thin. That said, I've had mine for around a year now and they've always remained in place, never rolling down or slipping out of place, as well as offering secure grip on month my mat and a Reformer machine. An investment, sure - but worth the money if you're a regular Pilates-goer, IMO." Ally Head, Health Editor
Celebrity news, beauty, fashion advice, and fascinating features, delivered straight to your inbox!
Grace Lindsay is currently Junior Beauty Editor at Who What Wear UK and previously was Marie Claire UK's E-Commerce Writer. With over three years of experience in the fashion and beauty industry, she covers everything from the best make-up and skincare deals to how to shop the stand out trends of the season. When she's not typing away at her laptop, Grace can be found shopping her favourite vintage markets IRL, or catching up on her never-ending list of books to read.