I'm a Health Editor who runs marathons for fun - these are officially the 13 best Cyber Monday gym legging offers
Sweat-wicking, squat-proof, and long-lasting designs.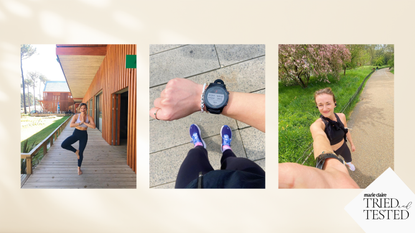 (Image credit: Ally Head)
Looking for a pair of the best gym leggings for your next yoga class, 5km, or weight training session but don't know where to start? There are quite literally thousands of different types available - which is where this handy round-up of MC UK's all-time favourite pairs comes in.
I'm Ally Head, Marie Claire UK's Senior Health Editor, and I run marathons and sweat test workout kit for a living. Lucky for you, I'm constantly testing the newest workout leggings to decipher which actually support and sweat-wick through a workout and are genuinely worth your investment, too - not a crotch sweat patch or saggy waistband in sight.
Today marks Black Cyber Monday, a time when we're bombarded with deals left, right and centre. Here at Marie Claire UK, we're only bringing you deals on items we genuinely love and use ourselves - like the gym leggings below. I've scoured the Internet for the best discounts and shared them below, as some of my favourite brands including lululemon, Sweaty Betty, Nike and LNDR are all offering up to 50% off their best-selling styles. I've also rounded up my favourite leggings from brands not offering discounts, as I know they're designs that fit well, sweat-wick better, and will last the long run, making them worth the investment IMO.
A bit of background for you, before jumping into my recommendations: I'm a nine-time marathon runner who loves strength training, Pilates, and yoga. I've also been testing gym kit for eight years now, so it's fair to say I know what to look for in a good workout tight. The below are, in my humble opinion, the very best gym leggings you can buy - that is, the ones I rave about to my friends and genuinely wear day in, day out.
Keen to shop the best petite leggings, high waisted workout leggings, leggings with pockets, or patterned leggings? We've tested those for you, too. Don't miss our edit of the best lululemon Black Friday offers, while you're here.
These are the best gym leggings you can buy, according to a Health Editor
Shop the best Cyber Monday health offers now:
What did I look for when deciding the best gym leggings?
Workout leggings are a bit like household appliances: if you're using them often, it may be wiser to opt for a mid-range price point to guarantee you've made a good investment, in my opinion.
That said, there are also some must-look-out-fors - see below.
Are the leggings well-fitting (no crinkly knees or baggy bums), and do they run true to size?
Are they sweat-wicking and non-see-through?
Are they supportive and do they offer compression?
Is the material prone to bobbling or piling?
How well do the leggings retain their structure over time, and do they wash well?
Is the product a reasonable price? We know times are tough right now, and the below get my seal of approval as fit kit that actually lasts the long run.
Are they designed for working out and not for fashion purposes only? Check the fabric pre-investing - cotton leggings won't make the cut here. You'll want to opt for leggings made from fabrics like nylon or polyester as they sweat-wick better.
Similarly, you'll want to check the seams are as flat as possible to avoid any chafing and that there's a gusset - aka a bit of material covering your crotch - sewn in, again to minimise and reduce any movement or thigh chafe (read our round-up of the best chafing creams, here).
Testing process
Keen to know how team MC test all of the products we include? All of the below products have been personally tested by me and are leggings that I'd buy myself. There are no products included that I haven't tried personally.
The leggings below were tested over a minimum of one three-mile run and one gym session, but most of them were worn for at least four to five workouts before the reviews were written.
1. Best lululemon leggings
lululemon Wunder Train HR Tight 28" - 50% off
Reasons to buy
+
Sweat wick well
+
No chafing
+
No sagging or riding down
+
Wash well
Reasons to avoid
-
The lululemon jargon can be confusing
-
Higher price point.
What I thought when testing: Sure, the different style names of lululemon leggings might be confusing, but having tried pretty much all of their designs now, know this: they're all great, they just serve different purposes. The softer Aligns are designed for yoga flows, whereas the sweat-wicking Wunder Train - my personal favourite - have been crafted with sweat and support in mind.
Having run countless half marathons and training runs in these Wunder Under tights and the London Marathon 2021 in the Fast and Free shorts made from similar Nulux sweat-wicking fabric, I can confirm their bottoms are some of the best. They sweat-wick effortlessly meaning you're always the right temperature (never sweaty, too hot, or too cold), they compress your legs without feeling restrictive, and they wash well, making them a great investment for years to come.
While the lulu jargon can be a little confusing, the number next to the product name simply means how long the leg length will be on your legging - for example, a leg length 21 is the shortest length option, and 28 is the longest. They're also listed in US sizing - so for a UK size 10, you'd need to opt for a lulu 6. Check out their sizing guide, here.
2. Best Sweaty Betty leggings
Sweaty Betty Power Gym Leggings - 25% off
Reasons to buy
+
Comfortable
+
Non-constricting
+
Sweat patch free.
Reasons to avoid
-
Run slightly big
-
Higher price point.
What I thought when testing? Team Sweaty Betty has been adapting their designs to create the perfect workout legging for over 20 years now. Enter stage right, the Power tight.
If you're into yoga, Pilates, or Barre, you'll live in these. I've tried a few of the SB styles and the Power leggings truly are the best. Why? They're not as tightly fitted (read: constricting) as other styles in this roundup, uber-comfortable, and I've also never noticed any unwanted sweat patches. Their main USP is that they promise to be bum-sculpting, and while I can't confirm or deny if this is true, they did make me feel confident enough kitted out to smash my workout head-on.
In my experience, they do run slightly big, and stretch after a few years, too, so I'd opt for a size down.
3. Best Gymshark leggings
Gymshark Adapt Seamless Leggings - 30% off
Reasons to buy
+
Inclusive sizing options
+
Affordable price point
+
Seam-free means no chafe.
What I thought when testing? Gymshark owner Ben Francis made headlines when The Sunday Times featured him on their "Rich List" and reported the company is worth a whopping £138 million. Not bad for a relatively new company that launched only nine years ago.
I loved that the Gymshark Adapt leggings are seamless, supportive, and comfortable, too - they hug you around the stomach area and are soft to the touch while also sweat-wicking. On me, they fit well and were squat-proof, plus didn't pile or bobble. Plus, I like that the design doesn't have a seam down the crotch, meaning any camel toe issues are swerved.
I tested the dark grey, which didn't show sweat patches too badly, but I have found lighter options in the past slight sweat patch prone. I like the concept of their new butterfly detail - a ruched detail on the bum which promises a more flattering fit - and while it wouldn't stop me from buying them, it would benefit from being slightly longer.
4. Best Nike gym leggings
Nike One leggings - 25% off
Reasons to buy
+
Sweat-wick free
+
Anti-chafe
+
Comfortable.
What I thought when testing? When it comes to workout leggings, Nike knows how to do them the right way. They're worn by most of the top athletes, and if it's good enough for the pros, it's good enough for us.
Trialling Nike's One Luxe leggings, they feel slightly thinner than other alternatives but offer the same amount of support. Their most stand-out feature is how soft they are - when reviewers said butter, they weren't wrong - and they passed the sweat-wicking and non-see-through tests, too.
They do show a small amount of sweat, but not enough to deter me from wearing them again.
5. Best gym leggings with pockets
LNDR The Limitless 8/8 Legging - 30% off
Reasons to buy
+
Superior quality
+
Comfortable yet supportive
+
Butter soft.
What I thought when testing? LNDR believe in quality over quantity: producing better quality products and less of them for the sake of our planet. As a sustainable business, fun fact: it takes factories up to 20 times longer to knit LNDR seamless leggings compared to other mainstream brands. Hence the price tag.
That said, they're definitely worth the investment. They're butter soft, uber supportive without being restrictive, and top-tier in terms of quality. They don't roll up or down, sag or bag, and I found them to have great moisture-wicking capabilities, too. Plus, I loved the practicality of the zip pocket, making them a good option for runs where you don't want your belongings flying out.
As I've mentioned, a sizeable price tag, but I reckon they're worth the investment. Read our round up of all the best gym leggings with pockets, here.
6. Best affordable gym leggings
ASOS 4505 Seamless leggings - 25% off
Reasons to buy
+
Affordable price point
+
Anti-chafe.
Reasons to avoid
-
Not the longest lasting
-
Stretches after a few months.
What I thought when testing? You'll all have heard of ASOS - but did you know they have their own range of gym wear that starts at as little as £8.40?
I think that the ASOS 4505 range is great value for money, and comes in lots of fun styles and colours, too. I was pleasantly surprised by both the fit and sweat-wicking abilities of the pair I tried, and they were seamless, too - great to avoid chafing.
At such a low price point, I can't imagine they'd last for years and might end up smelling, too, but from the handful of times I tested them, they were a good bargain option if you're someone who works out once or twice a week.
7. Best gym leggings for running
ON Running Active Tights - 40% off
Reasons to buy
+
Soft to the touch
+
Keep you the right temperature
+
Back pocket for phone.
What I thought when testing? Runners, these ones are for you. ON's kit is top tier: made with high-quality materials and designed by runners, for runners, they've been working on their workout clothes for years and you can tell.
I love the black ON active tights for both winter workouts and gym sessions. They're soft to the touch and support you through a wide range of workouts without feeling like they're cutting you in half. Also to note: they have a back pocket big enough for both your keys and phone and a clip for your house keys, too.
They do run long - worth noting if you're under 5 foot 5" like me.
8. Best Adanola gym leggings
Adanola Ultimate Leggings
Reasons to buy
+
Affordable price point
+
Supportive
+
Versatile.
Reasons to avoid
-
Can bobble and pile if not washed carefully.
What I thought when testing? One of the most 'Grammed workout brands, I was sceptical that Adanola's kit wouldn't live up to the hype or might just be better suited for brunch and Sunday walks. I was wrong - not only are they flattering, but they come in some gorgeous colours and actually support you through intense workouts, too.
They're really supportive, holding you in at the waist without constriction your movement. I loved how high-waisted they are, and that you can get matching sets (the Coffee Bean bra with spaghetti straps is my current go-to).
They do pile a little if worn on things like wooden chairs, but not enough to notice. You also get small sweat patches in the lighter colours if you do a super intense workout, like an interval session.
9. Best adidas gym leggings
adidas Training Essentials High Waisted 7/8 Legging
Reasons to buy
+
Inclusive sizing
+
High waisted
+
Affordable price point.
What I thought when testing? I love - I repeat, LOVE - gym leggings that not only look but feel great and don't cost the earth - like the Training Essentials design from adidas.
My first impression of the leggings? They're thick, high-waisted, and so feel super supportive when you first put them on. Having run in them, they sweat-wicked perfectly, keeping me warm but also cool. While they're not super stretchy, you feel as if they've been engineered to help you feel supported and, well, designed to move.
Again, they run long, and I'd also suggest sizing down, as I found the sizing a little on the large size.
10. Best M&S gym leggings
Go Balance High Waisted Yoga Leggings
Reasons to buy
+
Sweat wicking
+
Don't slip down
+
Affordable price point.
Reasons to avoid
-
Can stretch
-
Don't have pockets.
What I thought when testing? M&S is one of my go-to options for gym leggings that don't break the bank but also sweat-wick and support, too.
First off, they look good and feel more expensive than they are. They feel supportive, don't slip down, and are a good level of high-waisted, too - I'm 5 foot 2 and they sit above my belly button.
I would have preferred if these leggings had a pocket somewhere to store my phone and keys. Plus, while they withstood a strength training test session, they're actually designed for yoga, so I wouldn't recommend for distance runs and HIIT.
11. Best non see through gym leggings
Pocket Sport Claude Pocket Legging
Reasons to buy
+
High waisted
+
Squat proof
+
Sweat proof-free.