The 17 best SPF moisturisers that make sun protection easy, even in Autumn
Because SPF is a must, seven days a week, 365 days per year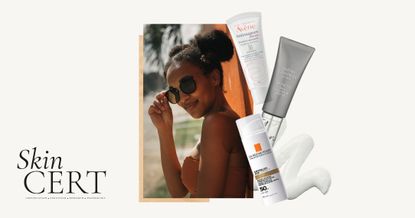 (Image credit: Future)
We're well and truly out of summer now, but that doesn't mean that we can be lax with our skincare routine and stop thinking about sun protection. Even though the autumnal sun doesn't feel as strong, protecting the skin on our faces is still so important. And there's no better way of doing that than using the best SPF moisturiser on a daily basis.
As well as the well-known risks of skin cancer, the sun is also one of the biggest contributing factors to skin ageing thanks to UVA and UVB rays. Think UVB = burning and UVA = ageing. Because UVA rays have a longer wavelength they can penetrate the skin further causing DNA damage. Both UVA and UVB rays leads to sun damage, which in turn can cause hyperpigmentation, fine lines and wrinkles, and a loss of elastin.
So, if we want healthy and youthful-looking skin, then we really must protect it from the sun. Every. Single. Day. (Yes, even in autumn and winter.)
Incorporating a decent daily sun protection regimen can be tricky, but by adding this essential SPF to one of the best moisturisers you'll be protecting your skin every day, without having to worry too much about it.
Best SPF Moisturiser Black Friday deals: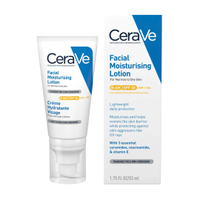 CeraVe AM Facial Moisturising Lotion SPF50 for Normal to Dry Skin, was £16.50 now £11.55 | Lookfantastic
Senior Beauty Editor, Katie Thomas's go-to SPF Moisturiser, because it soothes her dry skin and makes her feel protected in the colder months.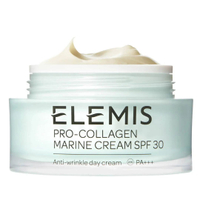 Elemis Pro-Collagen Marine Cream SPF 30, was £94 now £70.50 | Lookfantastic
A bestseller for the brand time and time again and with good reason. It nourishes skin whilst also protecting it.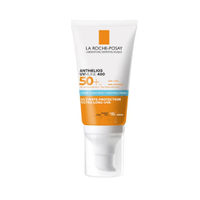 La Roche-Posay Anthelios UVMune 400 Hydrating Suncream SPF 50, was £20.90 now £14.92 | Lookfantastic
A really good and affordable everyday SPF. If in doubt - go for La Roche-Posay for products that are a joy to use that won't break the bank.
SPF moisturiser vs facial sunscreen: what's the difference?
First things first, let's address a common confusion: the difference between SPF moisturisers and a separate facial sunscreen.
In short, an SPF moisturiser is great for a very basic level of defence against sun-related damage. Protecting against the sun isn't its only function, as it's also doing the job of moisturising, too. So you'll be able to find one that protects you from the sun, whilst also catering to your other skin needs. It's like finding one of the best moisturisers for dry skin and then discovering it has a high SPF. Think soothing dryness, fighting discolouration, in the same vein as a brilliant hyperpigmentation treatment, and diffusing the appearance of wrinkles. If you're feeling a little lazy, travelling and trying to keep products to a minimum or just one of those people who fails to remember to apply your SPF, then these are a good option.
A facial sunscreen, on the other hand, only has one job: protect the skin on your face from the sun's rays without worrying about whether it's too moisturiser. Having said that, many sunscreen formulas now are so elegant, it's difficult to know the difference.
Autumn is actually the perfect time to get your hands on a new SPF moisturiser, because during the summer they don't provide enough protection and it's better to double up. So, a moisturiser followed by one of the best facial sunscreens.
If you're on holiday or it's a particularly sunny day at home and you've decided to sunbathe, then it's time to get the best sun cream out.
"Many people believe that having an SPF in their moisturiser will suffice," says consultant dermatologist Dr Justine Kluk. "But, according to the British Association of Dermatologists, moisturiser with an SPF will only help protect you against small amounts of UV exposure, for example, walking to the car."
What these moisturisers won't do is provide the same degree of sun protection as the best facial sunscreens, especially for longer periods of UV exposure. It's true that SPF in a moisturiser is tested the same way as SPF in sunscreen, so technically speaking, an SPF 30 moisturiser formula will offer the same level of protection as a facial sun cream with an SPF of 30. However, it all comes down to the application.
"To achieve the SPF on the label, you would have to apply at least half a teaspoon to the face, which people rarely do," says Kluk. Think about the way that you apply your usual moisturiser; you don't slather on a thick layer that thoroughly covers your face and neck in the same way you would do sun cream before heading to the beach.
"What's more, SPF moisturisers are less likely to be rub-resistant and water-resistant. For these reasons, they won't offer the same level of protection as the best sun creams," the doctor adds.
It's also worth noting that moisturisers containing an SPF don't always contain protection against UVA rays, either. "As a result, they will not protect against UV ageing in the same way as a broad-spectrum sunscreen would," stresses Kluk.
Another essential suncare step is reapplication. So once you have applied either your moisturiser with an SPF or a facial sunscreen, the British Skin Foundation recommends that you top up every two hours. That's tricky if you've got a full face of make-up, which is where the best spf to apply over make-up comes in.
However, having an SPF in your daily moisturiser is never a bad idea. Because on those days when you're working from home or it's cloudy out, that added bit of daily defence is needed.
Here's our pick of some of the best SPF moisturisers...
We've tested so many SPF moisturisers over the years, and we've rounded up our top picks below. For more information on how we test the products that make it into our edits, check out our in-depth guide. Keep on scrolling to shop...
1. CeraVe AM Facial Moisturising Lotion SPF50
CeraVe AM Facial Moisturising Lotion SPF50
Best affordable moisturiser
Reasons to buy
+
Affordable
+
Moisturising
+
SPF50
We previously featured the SPF30 version of this, as it was the highest factor it went up to. But now, the skincare gods answered our prayers and gave us SPF50. The stronger your skin's barrier, the less sun damage you're likely to accrue. So this moisturiser is a must-have on account of its ceramides, hyaluronic acid, SPF and purse-friendly price point. This is hands down one of the best moisturisers, with or without an SPF.
2. Avène Antirougeurs Day Cream SPF30
Avène Antirougeurs Day Cream SPF30
Best for sensitive skin
Reasons to buy
+
Has a green tint to counteract redness
+
Gentle on the skin
Reasons to avoid
-
Not the prettiest packaging
Avène is the brand you go to if your skin is having a 'moment'. They are incredibly well-versed in sensitive skin. So much so, that they recently launched their range specifically for rosacea-sufferers. This everyday SPF moisturiser is slightly green-tinted to counteract redness and super simple and gentle so as not to further irritate the skin. It's completely brilliant.
3.Ultra Violette Supreme Screen Hydrating Facial Skinscreen SPF50+
Ultra Violette Supreme Screen Hydrating Facial Skinscreen SPF50+
Best for dry skin
Reasons to buy
+
Fun packaging
+
SPF50+
+
Lightweight
There's a high chance that you've seen this SPF moisturiser on your Instagram feed. Caroline Hirons is a huge fan, she says, "The lightweight formula sinks into the skin. With no pilling and no white cast it's a great choice." If you won't take her word for it, how about the fact that there are three different versions depending on your needs - hydrating, mattifying and sensitive.
4. The Body Shop Skin Defence Multi-Protection Lotion SPF 50+ PA++++
The Body Shop Skin Defence Multi-Protection Lotion SPF 50+ PA++++
Best non-greasy moisturiser