I'm ridiculously fussy when it comes to workout tops, but these 10 get my vote
Kit that makes you feel good >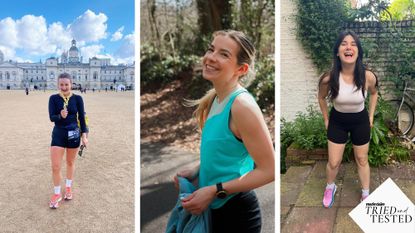 (Image credit: Ally Head, Lillie Bleasdale and Sofia Piza)
If you know me, you'll know that I'm quite passionate about workout gear. Sure, a niche interest, but I know how good properly fitting workout kit can make you feel. Enter stage right, my edit of the best workout tops for women you can currently buy.
I've tried my fair share of not-so-great kit in my time. Ten years ago, when I'd just moved to London, I can vividly recall my first gym workout. Sweating in a basement studio (the cheapest membership I could find), I was wearing head-to-toe high street kit, bar my top which was a London Marathon finishers top from 1998 courtesy of my Dad.
While there's absolutely nothing wrong with budget gym kit or recycling old t-shirts to workout in if that's all you can afford, I remember feeling frustrated. The leggings rolled down every time I moved, the top chafed my armpits when I did any intense cardio moves, and just a month after purchasing, most of the items were bobbling, saggy, and smelling a bit like old PE kit.
Research has actually proven that what you wear can have a huge impact on how you perform in your workout sessions, with one Journal of Experimental Social Psychology study even finding that what you wear can influence how you act. I'm passionate about bringing you the top, sweat-tested picks, as know that supportive kit will enhance your workouts, boost your confidence in the gym, and improve your general wellbeing, too.
I've roped in the help of athlete and PASSA coach Lillie Bleasdale and avid runner, all-around fitness enthusiast and MC UK Producer Sofia Piza for their top recommendations, too. There's a whole load of price points in this edit and a range of coverage options, too - while I'm now comfortable working out in a tank top, I wasn't for years, so have included some of the best oversized gym t-shirts, too.
If you've recently started working out or are on the hunt for a new workout top to support your summer sweat sessions, you're in the right place. Complete your summer workout wardrobe with our edits of the best cycling shorts, matching gym sets, and running shorts that don't ride up, while you're here.
Testing process for the best workout tops for women
I'm an eight-time marathon, two-time Boston Qualifying runner and avid strength trainer. MC UK Producer Sofia Piza also sweat-tested some designs for me in yoga classes, Pilates sessions, and on runs. Last but by no means least, we roped in run coach and Championship qualifying athlete Lillie Bleasdale to share her top picks for long runs, strength training, and yoga, too.
Every item in this round-up has been personally tested by the MC UK team over the course of at least three workouts (most are now mainstays in our workout wardrobes and have been for a good while).
Rest assured that I'd never include a brand in a round-up that we haven't tried and rated ourselves - while many options are tried and tested, only the best make the final cut.
For more information on how we test our kit pre-inclusion, click here. When testing, we considered the following:
Did the top sweat-wick well and was it breathable?
Was the top supportive?
Was the top flattering and did it make us feel confident?
Did the top chafe or sag?
Did the top stand the test of time and wash well?
Best workout tops for women: 10 top picks
Best workout tops for coverage
New Balance Accelerate short sleeve top
Reasons to buy
+
Lightweight
+
Doesn't chafe
+
Sweat wicks well
+
Offers shoulder coverage for hot summer runs.
Reasons to avoid
-
Runs small - worth sizing up.
Bleasdale reckons this is the best-fitting sports t-shirt she's tried.
"Despite being a lightweight fabric, the Accelerate top hugs just in the right places and the cap sleeves cut at the perfect point without causing any underarm rubbing," she shares. "It's a great option for the summer months when needing to stay covered in direct sunlight, but wanting to stay cool as well."
I have several iterations of the Accelerate tops, including some of their earlier limited edition London Marathon designs and more recent releases, and can second what the coach says. They've remained a mainstay in my workout wardrobe for a reason - they sweat wick well, thanks to their trademark BB DRYx fast-drying technology, wash well, and offer just the right amount of coverage for gym sessions or long summer runs.
Nike Dri-FIT One Breathe
Reasons to buy
+
Loose fit
+
Breathable
+
Sweat-wicking
+
Affordable price point.
Reasons to avoid
-
Cropped length might not be for all.
Piza is a fan of this loose-fit top as it helps her feel confident and ready to focus on her sweat session. "For the gym, I feel much more comfortable in looser tops as I often opt for tighter shorts," she explains. "It's vital that I feel comfortable when lifting weights and the fit of this Nike design makes me feel confident."
"I really rated this top option when testing - it's buttery soft, comfortable and sweat-wicks well for strength training."
This top is size-inclusive, too, with sizes ranging from an XS to an XXL.
lululemon Swiftly Tech Long Sleeved t-shirt
Reasons to buy
+
Breathable material
+
Comfortable, high-quality fabric
+
Has thumb holes for keeping hands warm on chillier runs.
Reasons to avoid
-
Cropped design may not be for everyone
-
Higher price point.
This Swiftly top is one of lululemon's best-selling designs for a reason - it's a great all-rounder as you can wear it in all seasons, washes well, and offers a flattering fit.
It's one of Bleasdale's go-to's for keeping warm in chillier weather - that said, I've worn it for cloudy summer runs and can confirm it's not so thick you'll overheat and regret wearing it.
Bleasdale agrees, adding: "Even if working at the highest of intensities, the breathable fabric will make sure you don't feel like you're in a sauna. Plus, the shorter "race" length is perfect for tucking into your shorts without having lots of fabric in the way, and the thumb holes are great for keeping the hands warm during the cooler months." (Trust me, they're a real game-changer when you forget your gloves for outdoor colder workouts).
Women's Novea Short Sleeve Training Top
Reasons to buy
+
Sustainably designed
+
Soft to the touch
+
Sweat wicking.
Reasons to avoid
-
Bright colourways might not be for everyone.
BAM workout gear is a dream to get a sweat on in. All of their kit is sustainably designed with the planet in mind, but that doesn't mean it lacks performance oomfp, either.
This top is super soft and made from 59% Bamboo viscose, a breathable, sweat-wicking and sustainable option that'll last for years. It's slightly cropped yet designed with high intensity in mind, making it a great investment for all kinds of training. When testing, I found the cut flattering and felt the fabric had a soft yet technical feel to it. A solid yes from me.
Best workout vests
LNDR muscle tank
Reasons to buy
+
Flattering fit
+
Soft and breathable fabric
+
Supportive in-built bra
+
Can be worn to brunch or your workout class.
Reasons to avoid
-
Not the most sweat wicking
-
A higher price point.
As a Health Editor, I've tested a lot of kit in my time and can confirm that LNDR is up there with the best. All of the kit I've tried from the brand has performed well and looked good, but a particular favourite of mine is this muscle tank.
With an in-built bra, it's designed for high intensity and you can tell. I've worn mine for strength training sessions, short runs, long runs, hikes, and Pilates, and it passed the sweat test every time, offering a supportive and long-lasting performance option. What I like the most, however, is how supportive it is without feeling restrictive - I have some sports bras and workout tops that I can't spend the day in, whereas you could wear this to brunch, workout, or even travel in (yep, it's that comfortable).
Keep an eye out for the small LNDR logo stamped on the back of the tank which, fun fact, is made from recycled corn cobs and changes colour as your body temperature rises.
adidas Adizero Women's vest
Reasons to buy
+
Sweat wicking
+
Form fitting
+
Washes well
+
Affordable price point.
Reasons to avoid
-
Doesn't offer shoulder or arm coverage.
I wore the new adidas Adizero tank for my the recent Paris Half marathon and was pleasantly surprised by how lightweight, roomy, and sweat-wicking the tank is. It's an affordable price point, yet performs like some of the higher price point tanks, washing well and maintaining quality after several uses.
I ran hard for the half marathon, taking five minutes off my personal best, and didn't experience any chafing or sagging - it was a dream to run in.
I've since worn it for other runs, gym sessions, and dog walks, too - it's a great all-rounder, and one that won't break the bank, either.
If you're someone who opts for more coverage in your workout tops, then this one likely won't be for you, however if you like opting for sleeveless running vests or barely-there gym tops, it's a great one to *add to basket*.
HOKA Glide Tank
Reasons to buy
+
Lightweight
+
Sweat wicking
+
Flattering crop
+
Affordable price point
+
Available in a range of colourways.
Reasons to avoid
-
Is cropped and has a shorter back, so doesn't offer the most coverage.
Another of Bleasdale's favourites is this HOKA Glide tank, an ultra-lightweight option designed for both tempo and easy runs, not to mention gym classes, too.
"Regular in length at the front but cropped to the hips at the back, this Hoka tank feels much more stylish than other alternatives. There's a huge range of bright and bold colourways for the upcoming summer months," she shares. "I also loved that, when I tested, it felt super lightweight and high-performance."
Lululemon Swiftly tech
Reasons to buy
+
Lightweight
+
Breathable
+
Flattering cropped fit
+
Doesn't chafe or ride up.
Reasons to avoid
-
Needs to be washed on a specific setting to avoid piling
-
Higher price point
-
Cropped, so doesn't offer the most coverage.
I've worn this lululemon design for races, gym sessions, yoga and more - when I say I have worn this top a lot, I mean I have worn it more times than I care to admit.
It's the best workout top you can buy, IMO - whether you're chucking it on for gym sessions or even tackling marathons in it (yep, I've worn it for a full 26.2), it's butter-soft, unbelievably good at sweat-wicking, and feels barely there, which is exactly what I look for from a workout top.
I've had mine for around a year or so now and it always washes well, never smells, and has never caused chafing, either. An investment, but a good one, IMO. Scroll our edit of all the best lululemon products, here.
Dry Move Seamless Cropped sports top
Reasons to buy
+
High neck racerback design
+
Sweat-wicking
+
Affordable price point.
Reasons to avoid
-
High street so may show wear and tear after a few months.
Piza is a fan of tight-fitting, sweat-wicking workout gear for running to make sure she's both supported and comfortable for her mileage. "I'm a self-professed sweaty girl, so sweat-wicking options that actually sweat wick are a must for me - like this H&M option," she shares.
Sharing that she was surprised by the quality of the fit kit from the high street chain, she adds: "I always opt for tops that also offer adequate breast support - I don't like the washing piling up and so try to avoid tops where you have to wear a sports bra, too. For this reason and to my surprise, H&M's DryMove range has quickly become one of my absolute go-to's. This top has a higher neck racerback design that helps me feel protected and dry throughout my workouts. Plus, it comes in four different colours and is an incredible price point for the quality you receive."
Piza has had hers a while now and believes the quality is good as new, too.
Elevate Tank
Reasons to buy
+
Body sculpting
+
Long lasting quality
+
In-built bra
Reasons to avoid
-
Higher price point
-
Size up for more coverage
For low intensity workouts, Piza opts for non restricting tops that stretch along the body and do not inhibit movement. "This top is my pilates go to. I've found it to be extremely flattering as it has flexible fabric that sculpts the body beautifully," she shares.
Alo Yoga are particularly known for their classic designs that are the perfect studio-to-street options. Piza found this top to be an instant hit as a functional yet versatile style top. "I've worn this top in the studio and beyond, " she says, " However, as it does have a sharper V cut, I would advise those weary of cleavage to size up for added comfort."
Which top is best to workout in?
That'll depend on your sweat levels, what fit you prefer, and what workout you're doing - that said, it's always preferable to opt for a non-cotton option as it simply isn't designed to sweat wick. Sure, it's great for day-to-day, but start sweating in it and you're likely to feel pretty uncomfortable, fast.
Moisture-wicking fabrics, like polyester, nylon, or bamboo, are all great options that'll keep your session lightweight and as sweat-free as possible.
Celebrity news, beauty, fashion advice, and fascinating features, delivered straight to your inbox!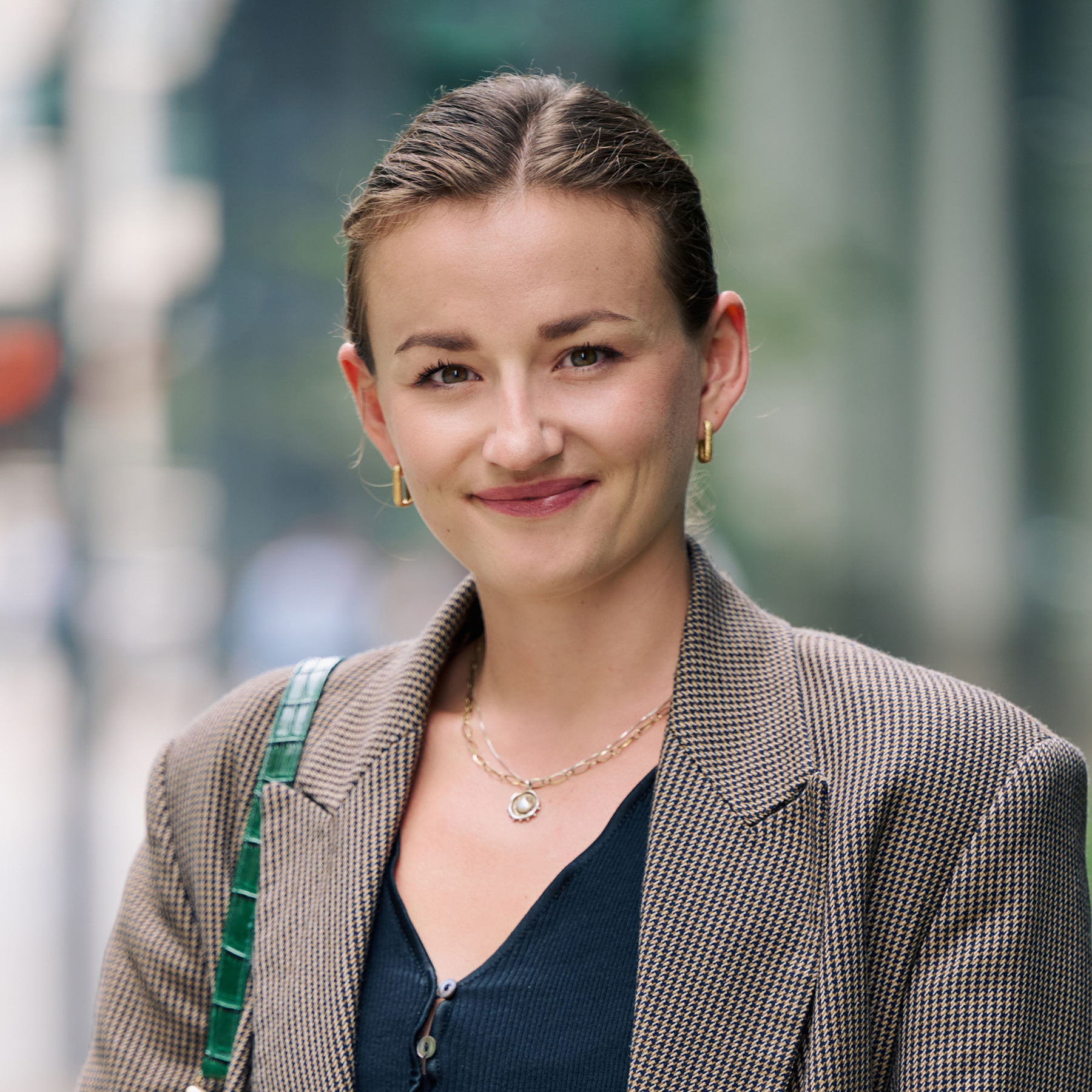 Health, Sustainability and Relationships Editor
Ally Head is Marie Claire UK's Health, Sustainability, and Relationships Editor, eight-time marathoner, and Boston Qualifying runner. Day-to-day, she works across site strategy, features, and e-commerce, reporting on the latest health updates, writing the must-read health and wellness content, and rounding up the genuinely sustainable and squat-proof gym leggings worth *adding to basket*. She regularly hosts panels and presents for things like the MC Sustainability Awards, has an Optimum Nutrition qualification, and saw nine million total impressions on the January 2023 Wellness Issue she oversaw, with health page views up 98% year on year, too. Follow Ally on Instagram for more or get in touch.