Marie Claire is supported by its audience. When you purchase through links on our site, we may earn commission on some of the items you choose to buy.
And it's a whopping 22 years after her first album topped the charts this very same week, back in 1989
Kylie Minogue has probably got the world's biggest smile on her face right now.
Not only has she just become an aunt to sister Dannii's baby boy Ethan, but her latest album Aphrodite has just flown straight to the top spot.
RELIVE SOME OF KYLIE'S CROWNING FASHION MOMENTS IN OUR RETROSPECTIVE HERE!
So all in all, that's a pretty good week for the Aussie popstrel…
Kylie knocked Eminem off the top spot on Sunday, an incredible 22 years after her first album topped the charts, and described it as 'amazing news.'
'I'm ecstatic!' she said. 'My hopes for this album were that people would be moved, and the songs could bring about emotion.'
'The euphoric heart of this album has taken flight, and the response has been nothing short of incredible,' she continued.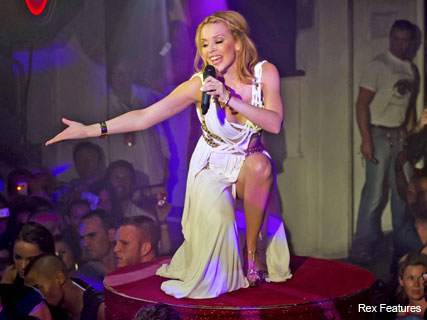 'My thanks as always to the many talented and dedicated people with whom I work, and the fans who have been so supportive all these years.'
Congrats, Kylie!
RELIVE KYLIE'S FASHION HIGHS AND LOWS OVER THE YEARS IN OUR RETROSPECTIVE HERE!