Les Miserables producer on Anne Hathaway's chances of an Oscar win
EXCLUSIVE! Anne Hathaway may have picked up a Golden Globe this week, but will she succeed in nabbing the Oscar too?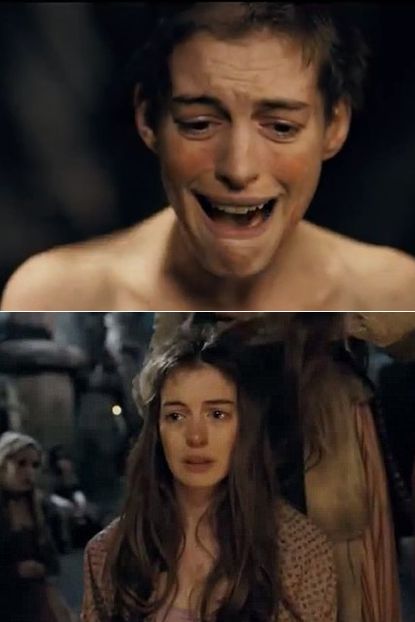 EXCLUSIVE! Anne Hathaway may have picked up a Golden Globe this week, but will she succeed in nabbing the Oscar too?
Anne Hathaway is now the hot contender to scoop the Oscar for Best Supporting Actress this year after she nabbed the Golden Globe on Sunday night, but while bookies predict the odds, Debra Hayward who produced Les Miserbales isn't cracking open the champagne yet.
ANNE HATHAWAY AT THE GOLDEN GLOBES 2013
We spoke to Debra in the wake of the Golden Globe celebrations and she doesn't want to jinx things for Anne, saying: 'No one can predict anything and there are always surprises. I am sure all the actors in this [Oscars] category are deserving, but obviously I think Annie is simply the best!'
But it may well swing in Anne Hathaway's favour as Debra continued to hint at a win, adding 'If early indicators are anything to go by, she is certainly one of the favourites. Believe it or not, it is incredibly difficult to find actors who can act convincingly on film through singing! Annie has a sublime voice and is one of the best actors of her generation.'
ANNE HATHAWAY SHORTLISTED FOR OSCAR AND BAFTA
Although of course she's not the only one and while Les Miserables goes up for eight Oscars, so does Silver Linings Playbook that also recieved a nod in the Best Supporting Actress cateogry with Jacki Weaver a hot contender for the Academy Award.
Debra said: 'I find it hard to comment on the competition because all the actresses are so great in their own right but I loved Silver Linings Playbook.'
Although it was straight back to Anne Hathaway with the praise continuing adding: 'Anne's absolute commitment to the role added a truth to her portrayal of Fantine that is utterly compelling.
'I was lucky enough to be present when Annie sang I Dreamed a Dream for the first and only time for Cameron Mackintosh [producer of the theatre show] and the composers. She did not want to rehearse it too many times, so she could hold it back for when she actually sang it the day we shot it. Seeing Claude-Michel [Les Miserables composer] so emotional when she finished was my Eureka moment.'
What do you think, have you seen Les Miserables? Is Anne Hathaway's portrayal of Fantine worthy of an Oscar? Let us know below.
WATCH! Anne Hathaway talk about her role in Les Miserbales
EDDIE REDMAYNE SPEAKS OUT ON HUGE PRESSURE OF FILMING LES MIS
AMANDA SEYFRIED ON ANNE HATHAWAY'S WEIGHT LOSS: I DON'T UNDERSTAND IT
Celebrity news, beauty, fashion advice, and fascinating features, delivered straight to your inbox!