FIRST LOOK! Victoria and Eva's brand new LG ad
Victoria Beckham and Eva Longoria have teamed up for the latest LG advert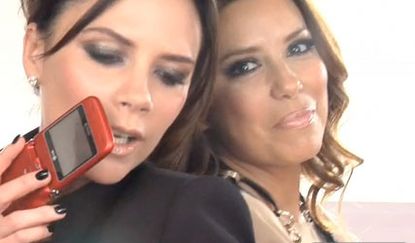 Victoria Beckham and Eva Longoria have teamed up for the latest LG advert
Fashion friends Victoria Beckham and Eva Longoria have teamed up in an advert to launch two brand new LG phones.
The commercial shows the glossy starlets laughing and joking together, playing dress up and testing out their phones.
Victoria - seen in two of her very own dresses - plays a stylist and BFF to Eva in the ad, which ends with the slogan 'Friends. Fashion. Fabulous'.
And roping in another pal, the pair were styled for the commercial by Eva's best friend and hairdresser Ken Paves.
The short ad will coincide with the launch of two brand new LG phones, the Lotus Elite, used by Victoria, and the Rumour Touch, Eva's phone of choice.
And it seems Victoria and Desperate Housewives star Eva are also BFFs off camera as well as on, and often hang out at home together during their down time.
'I admire her as a wife and mother. We have a lot in common,' said Eva.
'We hang out at each other's houses. We don't go out that much actually. We just do normal girl things when we're alone - we have a meal and a catch up.'
And it seems Victoria is even more grateful for having a friend when she moved to LA.
'Eva has been really sweet. When I first moved here, I didn't know anybody. She went with me to get my nails done, my hair done...'
What do you think of Mrs Beckham's latest advertising adventure? Love or hate? We want your verdict! Let us know in the comments box below.
SEE VICTORIA BECKHAMS STYLE HISTORY HERE
Celebrity news, beauty, fashion advice, and fascinating features, delivered straight to your inbox!