As a beauty editor, this is the one celebrity beauty brand that has truly won me over
No gimmicks here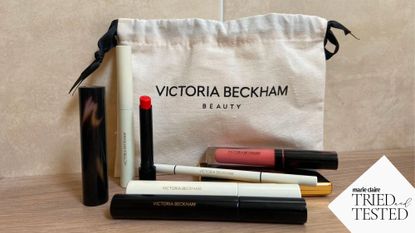 (Image credit: Tori Crowther)
If there's one thing all of us beauty editors can agree on it's that the beauty industry doesn't need anymore celebrity beauty brands. Unfortunately, many celeb beauty brands rely on hype and popularity to gain traction, with formula and packaging falling short—and ultimately leaving customers disappointing.
But (and that's a big but) recently there are a few that have seriously impressed us (like Hailey Bieber's Rhode). In fact, some celebrities and their creative teams have created some of my all-time favourite beauty products. Case in point: Victoria Beckham Beauty.
I'll be honest, when I first tried VBB after the brand first launched in 2019, I knew that the products would be good, but I was skeptical as to whether they'd be worth their luxury price tags. I'm sure you've probably guessed by now that yes, it's damn worth it; making VBB one of the best celebrity beauty brands around right now. From impressive mascaras to cream blusher, these products haven't left my make-up bag since entering it.
Despite being worthy of splashing your cash, it's still got to be right to make a purchase. That's why I've done a deep dive into what my favourite Victoria Beckham Beauty products are; detailing pros and cons, with plenty of photos too.
The best Victoria Beckham Beauty products, reviewed by a beauty editor
1. Vast Lash Mascara
Victoria Beckham Beauty Vast Lash Mascara
Starting with the newest and the most surprising launch: The Vast Lash Mascara. Seeing as the brand's first mascara Future Lash is my everyday go-to for ultra-natural and fluffy lashes, I wasn't sure whether I'd be that impressed by the new formula, which promises more drama.
Rosie, the brand's PR was pretty convincing though: "The new Vast Lash is amazing; it's the more punchy and is the volumising sister to the original Future Lash," And she was 100% right. The mascara has all of the great qualities of the original—no smudging, no clumps, great lash separation, easy removal—but with more volume, length and drama.
It reminds me a lot of Hourglasses Unlocked Instant Extensions Mascara, giving the same intense length and definition without looking overly 'done'.
For
Needs just a single coat
Smudge and flake-free
Against
Might be too intense if you have short, straight lashes
2. BabyBlade in Medium Brown
Victoria Beckham Beauty BabyBlade in Medium Brown
I'm kind of lazy and haphazard when it comes to my brows (which honestly, probably shows). I simply like to fill in the bare patches and brush them up a little. BabyBlade allows me to do just that. It's dual ended with the pencil on one end and brush on the other, working great together but equally excellent in their own right.
The spoolie is stiff and thick enough that it actually grabs each hair as you brush upwards; I find that most are a bit flimsy making them hard to brush up in one action.
The pencil has a precise nib to make sure you're only filling in the areas you want. It's also an easy formula to manoeuvre, so if you fill in a little too much, you can use the spoolie to brush some of that product too. The shade selection is great and I find medium brown to be perfect for my hair colour and skin tone.
For
Dual ended
Good range of shades
Against
Great for filling in only
3. Matte Bronzing Brick
Victoria Beckham Beauty Matte Bronzing Brick
This is one of the star products for me. Because I'm a pale girlie (though I am fond of a little self-tan to tone down the translucency), bronzers can be tricky for me; often leaning far too orange. This is one of two bronzers I have in my stash that I can rely on to give a natural, sun-kissed finish.
It's a fine, blendable powder that has a soft-focus finish, meaning it doesn't dry the skin out or leave it looking flat. Victoria included two shades in each compact, recognising that we often need a couple of shades of bronzer to cater to the season, our mood or contouring styles.
The packaging is absolutely beautiful too. It's a weighty yet slim brass compact with VBB's iconic tortoiseshell design.
For
Decent range of shades
Refillable compact at a reduced cost
Beautiful weighty packaging
Against
It's definitely pricey for a bronzer
4. Cheeky Posh Cream Blush Stick in Knickers
Victoria Beckham Beauty Cheeky Posh Cream Blush Stick in Knickers
Because I have rosacea, blush shades have to be just right for me to consistently use them. I've had this blush for about 3 months now and have used it daily. It's the perfect pinky-peach tone, which gives my skin a little boost of colour without being overpowering or too red. Plus, it's not shimmery; something I'm not a huge fan of in blush sticks.
As for the formula, it's solid enough that it stays put, yet velvety enough that it's blendable and buildable. With a little spritz of setting spray at the end of your make-up, this blush lasts all day.
I find it doubles up as a really gorgeous summery lip shade too.
For
Beautiful shade
Easily blends into the skin
5. Posh Lip Gloss in Picante
Victoria Beckham Beauty Posh Lip Gloss in Picante
Another product that made me wear peachy-pinks is the Posh Gloss; I particularly like the shade Picante.
The formula is ultra glossy, non-sticky and wearable, adding a stunning sheen to my lips. It also feels moisturising, which cannot be said for the majority of lip glosses on the market. That's no coincidence though, the brand has focused on barrier repair ingredients to lock in moisture and leave lips feeling comfortable.
It's also a product that feels incredibly luxurious to have in your handbag—so bonus points for that.
For
Non-sticky
Great shade selection
Tube feels luxurious
6. Contour Stylus in Travertine
Victoria Beckham Beauty Contour Stylus in Travertine
This is one of the products I was admittedly least excited about but really pleasantly surprised with. It's one of the least intimidating contour products on the market right now and redefines what contouring is, in my opinion.
The Travertine shade is ideal for paler skin tones as it reads more soft brown than orange. It's great for precise application and especially nose contouring, if that's something you're into.
I did find that you have to use a lot of product to use it for cheek contouring, but the plus side of this is that it does give an ultra-natural finish.
I particularly love this product on my eyelids, which isn't its intended use but it's creamy, adds a wash of colour to my lids and doesn't crease.
For
Great shade for pale skin
Precise application
Against
Not much product in the tube
7. Posh Lipstick in Fire
Victoria Beckham Beauty Posh Lipstick in Fire
A shade for when I need to feel a little fiery is the Posh Lipstick, aptly named Fire. This is one of the most comfortable and moisturising red lipsticks I own. It's a creamy (feeling more like a balm than a traditional lipstick), easy-to-apply formula with a pigment that packs a punch.
It definitely isn't transfer-proof though, which is something to bear in mind. Though, it does leaves a pretty good stain.
I love the slim packaging and find the shape of the lipstick easy to apply without needing to bother with a lip liner if you're in a rush.
For
Moisturising on the lips
Beautiful embossed detail
Pigmented
Celebrity news, beauty, fashion advice, and fascinating features, delivered straight to your inbox!
Tori is a freelance beauty journalist and contributor for Marie Claire. She has written for various titles, including Allure, Glamour, Elle, Refinery29, Brides, and more. Currently training to be a nail tech, Tori is a total nail enthusiast and always has time to talk all things nail art. When she's not writing about beauty and testing products, Tori can be found walking her rescue dog Pip, drinking great coffee, and eating as many croissants as humanly possible.