10 ways beauty brands are helping Ukraine (and how you can support too)
As the conflict in Ukraine continues to escalate, beauty brands - big and small - are supporting Ukraine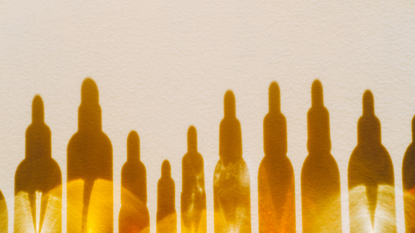 (Image credit: Getty)
As the conflict in Ukraine continues to escalate, beauty brands - big and small - are supporting Ukraine
We have all felt helpless watching the headlines and broadcasts from Eastern Europe, wondering how to help. Thankfully, conglomerates and indie beauty brands are helping Ukraine and creating campaigns for us to do our bit too.
At the beginning of March, the industry came together for Beauty for Ukraine Day. First launched by London-based nail salon Townhouse, the initiative saw 40 salons donate all or a portion of their profits to UNHCR over 24 hours. This was the start of something bigger.
Soon loads of our favourite names started to pledge, donate and deliver vital products to the front line.
There are loads of ways that you can help too. Whether it's giving away some staples from your toiletries stash or buying a new cleanser this month, here are eight ways beauty brands are helping Ukraine:
French beauty giant L'oréal gives money and goods
We've all owned a L'oréal lipstick or we've splurged on Garnier skincare. So, it was no surprise that the beauty giant was one of the first to make a pledge. On top of making an immediate donation of €1 million through its L'Oréal fund for Women, the global brand is staying in contact with its 326 Ukrainian employees. Each of these staff members is receiving financial assistance and psychological support.
As part of their ongoing humanitarian action plan, the French brand sent its first donation of hygiene products to refugees and aims to give 300,000 products over the coming days.
View the statement here.
British NGO Toiletries Amnesty collaborates with Marie Claire
Marie Claire is working closely with Toiletries Amnesty to gather donations for refugees in Poland. The charity was founded in 2014 to end hygiene poverty across society working with (but not limited to) NHS Trusts, refugee group and homeless shelters. Focused on both sustainability and mental health advocacy, the team divert unused beauty products from landfill and give them to people who need a beauty boost the most.
Currently the charity is working directly with Polish charities to send products to the border. Utilising Marie Claire's extensive beauty contacts, so far Toiletries Amnesty has received donations from brands including Cloud Nine, Dr Hauschka, Wella, Illamasqua, and L'Occitane.
On the collaboration Lisa Oxenham, Beauty and Style Director and Beauty Industry Ambassador for Toiletries Amnesty says:
"I started volunteering with Toiletries Amnesty as I am able to supply essential toiletries in bulk thanks to my contacts in the beauty and wellness. Now, it's more important than ever to get care packages to those in need, fast. If you are in the beauty and wellbeing industry and want to help, please contact me directly.
If you are donating goods personally, it's important you follow these instructions with your packages:
Boxes need to be fully packed with no loose items.
Boxes should only have one type of item in them (ie. one box for soap, one box with shampoo).
The name or type of product needs to be written on each box in Ukrainian, Polish and English.
If you are trying to take products through Polish customs you will need an import licence
A separate licence is needed for medical supplies or deliveries are being stopped at the borders and turned back."
If you are a brand, and you would like to make a donation, contact Lisa Oxenham.
If you would like to donate some cash to cover the cost of transport and storage costs, donate here.
Natural skincare brand Raven Botanicals leads the way
If you keep up with your favourite beauty brands on social media, you would have seen Raven Botanicals was one of the first beauty brands helping Ukraine. First, they donated 100% of sales on one day to United Help Ukraine and Razom for Ukraine. Now, the brand has pledged to donate 50% of all sales for the rest of the month.
The team is donating the profits to the Disasters Emergency Committee. For every one pound that is donated to the charity, the UK government is matching it and gift aid is being added - this means £1 turns into £2.50. Check out Raven and do your bit today.
Net-a-porter has stopped all fashion and beauty deliveries to Russia
You might know online retailer Net-a-porter more for their fashion but they also have a great beauty selection too. To pay homage to the people of Ukraine, the digital concept store has halted all trading with Russia.
In a statement on their Russian website, the brand says: "Due to the current situation, we are unable to complete any new orders in your country. All order fulfilment has been suspended until further notice."
This is also down to decisions made by global delivery companies DHL and Fedex to stop trading with Russia and Belarus. It's thought that European ports are going to stop Russian ships from docking and delivering goods too. The UK and Canada have already done this.
Indie brand UpCircle donates a cut for every cleanser
UpCircle is known for some of the best sustainable beauty products. This week, the team has proven that their credentials go way beyond their ingredients. To ensure the safety and sustainability of the Ukrainian community, the brand has pledged to donate £1 for every sale of their cleansing balm.
The cut will go to Razom for Ukraine. The charity, which aims to unlock the potential of Ukraine, has set up an emergency response to the conflict. Every donation will fund the delivery of emergency resources on the ground. From medical supplies to the translation of important documents, every £1 counts. So, either repurchase UpCircle's best selling cleanser or try it for the first time this month to make a difference.
Buy a cleanser now to donate £1.
Beauty conglomerate Estée Lauder Companies is harnessing its power
Owning brands from Bumble and Bumble to MAC, the beauty giant touches all four corners of the beauty globe. This means that a significant number of their customers and employees are being directly affected by the war in Eastern Europe.
In response the brand has committed $1 million to relief efforts in Ukraine via their in-house charitable foundation. Thanks to their varied brand portfolio the company is also gathering some of the best shampoos and best SPF moisturisers to send to the border. ELC was the first big name to suspend initiatives and investments in Russia and the team have now decided to suspend all commercial activity in the country too. This means all Russian stores are closed and any shipments in the country have been halted.
Read the statement, here.
Content Beauty & Wellbeing has refunded all of its Ukrainian customers
Content Beauty & Wellbeing is my go-to place for not only organic beauty but also conscious clothing. The online boutique is designed to promote a better planet. Fun fact: the team even put on pub-style lock-ins where their community can learn about the world. This week, the brand has become one of the many beauty brands helping Ukraine.
The founder Imelda Burke, has made the decision to refund all of the purchases made by people in Ukraine. She says: "In light of our Ukrainian customers being targeted, it is important for us to find a way to direct money to them and we encourage other businesses to do the same."
Sann Beauty is supporting Ukraine to protect its founder's family
Following the brand's motto Beauty That Uplifts, Yuliya Tertilova-Kristell founder of Sann Beauty, has pledged all the proceeds from one of her most popular lip balms to help Ukraine. As a Ukrainian, Yuliya and her family have been personally affected by the conflict with many members of her close relatives still remaining in the war zone.
If you purchase one of the brand's Nourish and Tint Solid Lip Serum in the shade Wild (£24), the proceeds will be donated to the charities Doctors Without Borders and Choose Love. The lip product is cruelty free, vegan, and without nasties as well as being in sustainable packaging.
Scientific skincare experts Gatineau pledge 50% of all sales
If you haven't heard of Gatineau, it's probably time you gave it a Google. The brand's anti-ageing products have taken the skincare market by storm thanks to their active ingredients and firming concoctions.
On the Russian invasion of Ukraine, the CEO of Gatineau, Andrew Bagley, says: "Like everyone, I am following the heart-breaking news about the war in Ukraine with deep sadness. What the people of Ukraine are going through is unimaginable. It is clear that they need all the help that they can get."
To ensure the team is doing all it can, the brand is pledging 50% of every sale on its website until the 31st March. All of the funds will be donated to Disasters Emergency Committee via Work for Good.
Watermans is working with local business to deliver vital goods
Yorkshire-based haircare brand Watermans is another one of the great beauty brands helping Ukraine. Working together with local pet transport business C Four Paws in Chesterfield, the brand has donated 50,000 hand sanitisers for delivery to Poland. These products are vital in keeping people healthy and safe during displacement.
Founders Matt and Gail Waterman say: "Given the scale of what the people of Ukraine are facing, Watermans want to provide as much support as we can. To the people in Ukraine and the people who are yet to leave the country."
We can make sure that the brand can continue its great work by purchasing their tried and tested products. Fun fact: the Grow Me shampoo sells one bottle every 30 seconds.
Here's more ways that you can support people in Ukraine right now.
Please donate to Save the Children's Ukraine appeal to help support the 7.5 million children in Ukraine who are now in danger.
Celebrity news, beauty, fashion advice, and fascinating features, delivered straight to your inbox!
Grace Warn is the at Commercial Producer & Writer Marie Claire UK. From organising cover shoots and uncovering the latest news to creating social content, she loves the fact that no one day is the same!
Growing up just outside of London, Grace made the leap at 16 and started to intern. Juggling education, earning money, styling, producing and organising numerous fashion cupboards was as intoxicating as it was challenging and it's what's brought her here today.
After graduating in the pandemic, the only option was to take on as many freelance roles as possible. From demystifying health jargon to keeping up with the latest footwear drops, a strange concoction of health and footwear journalism became Grace's bread and butter but she always wanted a break in lifestyle journalism and production. Then she landed her dream role!
When she's not racing to deadlines, Grace can be found on anything that could pass as a dancefloor dancing to Diana Ross or scouting out vintage sales on the outskirts out South London - believe it or not, Beckenham is the place to go!