The best sustainable beauty brands to shop now and love forever
In 2021, sustainable beauty brands are more prevalent and popular than ever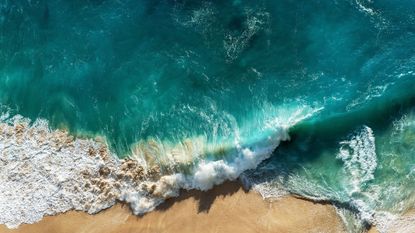 (Image credit: Nora Sahinun / EyeEm via Getty Images)
In 2021, sustainable beauty brands are more prevalent and popular than ever
Sustainability is now at the forefront of so many conversations in our day-to-day lives. Never more so than within the beauty industry. We look into what sustainability really is and what that means for these sustainable beauty brands.
Much like sustainable fashion, green beauty has finally hit critical mass. And although few, if any, beauty brands can claim to be '100% sustainable' or zero waste, recent years have proven that eco-friendly credentials and quality products needn't be mutually exclusive. This also appeals to a powerful new kind of consumer, who believes in sustainable living but is still a sucker for luxury products.
'Buyers are savvier than ever before,' says Victoria Buchanon, a trend analyst at The Future Laboratory. 'Millennials, in particular, see nature and tech as living together. They read ingredients or notice if packaging is not recyclable and they will call brands out on it.'
What does it mean to be sustainable?
You might think that being sustainable means going plastic-free and driving to France, instead of flying. And yes those are both very good steps to take. But there is so much more to it than that.
There are 17 Sustainable Developmental Goals, which were agreed on in 2015 by world leaders. They include things like no poverty; zero hunger; quality education. And they also include things like clean water and sanitation; responsible consumption and production; decent work and economic growth; industry, innovation and infrastructure. So actually there's so much more that can make a brand sustainable.
A new era for sustainable beauty brands
According to a report by the Soil Association, 79% of people are more likely to buy a product if it says 'organic'. Meanwhile 64% of consumers said they were looking for products with recyclable packaging. So it's not too surprising, then, that the natural skincare market is expected to grow by 5% each year between now and 2027.
But the biggest turnaround comes from big name, high street brands. For instance, you'll find the Soil Association's logo on Garnier's Organic Skincare in recognition of its green credentials. In March 2021, the brand also announced all of its products are now certified by Cruelty Free International's Leaping Bunny programme – something that took 18 months of investigation to ensure both suppliers and ingredients are 'iron clad'. The logo will be rolled out across all packaging over the next year.
Why you should care about recycling your beauty packaging
Zero Waste Week have reported that over 120 billion units of packaging are produced every year by the cosmetics industry. Sadly, much of this is not recyclable. Rather frighteningly, only 5% of the world's plastics are recycled effectively.
Of the product packaging we can recycle, four in 10 of us don't. This means aerosol cans and the cardboard boxes your face cream come in end up in landfill.
So apart from scanning the ingredients list for sustainable ingredients, what other small changes can we make?
'Invest in a bathroom recycling bin for starters. And choose both glass and aluminium over plastic packaging,' says Rachelle Strauss, founder of Zero Waste Week. 'Both can be recycled over and over again without loss of quality.'
They also stand a better chance of actually being recycled. '75 per cent of aluminium ever made is still in circulation, thanks to it being the most cost effective material to recycle,' Strauss adds. 60 per cent of our glass bottles and jars are also currently recycled.'
If you'd like to make a change, the Marie Claire team has put together a handy guide on how to recycle beauty products.
Refillable beauty brands - what's the deal?
Refilling, rather than recycling, saves the energy needed to sort, process and repurpose or transform materials into something new.
Founded by the creator of Terracycle, Loop is a global shopping platform that works with retailers to reduce recycling and single-use plastic by ensuring that when you've finished with a product, it is returned to them for refilling and delivered straight to your doorstep again.
Fragrance has also entered the refillable beauty brand space, which makes sense as you can now top up your signature scent for less in the form of sustainable fragrances.
Perfume containers are notoriously difficult to recycle locally – but that won't be a problem from now on.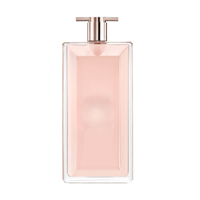 Lancôme Idôle EDP, £88 for 75ml | Boots
For added ease, you can top-up your Lancôme Idôle fragrance in the same pink flacon at over 200 Lancôme counters. An iconic chypre, floral fragrance with refreshing top notes of bergamot and a heart of rose and jasmine on a warming cedar, patchouli and vanilla base.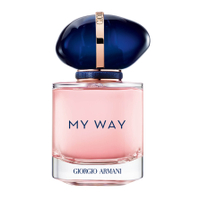 According to Armani, the 50ml My Way bottle and 150 ml refill bottle use 32% less cardboard, 55% less glass, 64% less plastic and 75% less metal than their traditional spray bottle counterparts.
Whether you're new to sustainable beauty brands or unsure where to start looking for zero waste products, below are some of the Marie Claire team's favourites. And when you're done here, be sure to check out our guide on how to make your beauty routine more eco friendly.
The most sustainable beauty brands to shop now...
Weleda Skin Food, £8.25 | Cult Beauty
It wouldn't be a round-up of sustainable beauty heroes without Weleda Skin Food. Weleda have been growing plants organically to fuel their beauty essentials for almost a century, and are proud owners of a NATURE certification – the first internationally recognised quality seal for organic, plant-powered products. The brand's deeply replenishing all-round wonder cream Skin Food is a mainstay in bathroom cabinets the world over. Jam -packed with lanolin, beeswax and glycerin, alongside sweet almond and sunflower oils, this rich cream leaves skin feeling smooth as silk every single time.
Pai Skincare Middlemist Seven Camellia and Rose Gentle Cream Cleanser, £34 | Lookfantastic
Committed to reducing waste, Pai do beauty that does as much good for the planet as it does for you. Having now introduced recycled material into over 80% of their retail tubes, the brand have just launched an innovative recycling scheme allowing customers to send back parts of their packaging that they can't recycle at home. Free of charge, of course. Top of our Pai wish list? This gorgeous cream cleanser specially formulated for sensitive skin. Enriched with camellia, this one's brimming with Omega 6 and polyphenol antioxidants, both of which boast plenty of anti-ageing benefits. (Did someone say natural glow?) Oh, and it's vegan and cruelty-free, too.
Discovery Box: Skincare Bestsellers, £28.05 | EVOLVE
EVOLVE make artisan organic beauty products with natural ingredients that have been sourced with the utmost of care. Bought from fair trade and sustainable sources, EVOLVE screen every ingredient to check its clean, eco and ethical credentials. Whether you're new to the brand or a longtime fan, this dreamy Skincare Bestsellers set will quickly become your new hero kit. Inside you'll find the brand's cacao-based Radiant Glow Mask, rehydrating Hyaluronic Serum 200, and bestselling Daily Renew Cream. And of course, all of the brand's packaging is recyclable – meaning you can start off your new skincare regime sustainably.
Nude moisturiser, £28.99 | Loopeco
Committed to creating a closed-loop-economy, Loopeco is on a mission to make a world where all is shared, repaired, reused and recycled. With sustainability at its heart, all of the brand's products are fully plastic-free, completely natural and as good for your skin as they are the planet. Nude 111 is the line's signature daily moisturiser – a gentle formulation that protects skin from environmental damage while leaving it looking ravishingly radiant. Hypoallergenic, dermatologically tested, vegan and results driven, those who suffer from bouts of red, stressed-out skin will adore this one.
Kankan Starter Set º1, £24 | Kankan
Whoever thought beauty refills were a faff ought to think again, because Kankan are here to make switching to plastic-free beauty a breeze. The idea is that on your first purchase, you buy a starter kit comprised of a keep-forever dispenser and a can of their luxe, heavenly smelling soap. After that, you can just keep buying their sustainable refills. Far from being a gimmick, this no-nonsense approach to luxury beauty is just what the industry needs if refills are to catch on. Oh, and they plant a tree for every can of soap sold. Perfection.
UpCircle Hemp and Cotton Makeup Pads, £8.99 for 7 | UpCircle Beauty
UpCircle has made a name for itself as the upcycling indie brand, which takes everything from coffee grounds to fruit stones, and repurposes them into sustainable beauty products. Swap disposable cotton pads and wipes for this 7-pack of eco-friendly, washable makeup pads, made from hemp and cotton.
Immortelle Divine Cream, £79 | L'Occitane
L'Occitane is committed to sustainable sourcing. So much so that the brand work with over 130 French farmers and 10,000 pickers to ensure their ingredients are as high quality and sustainably sound as possible. L'Occitane lovers will already be acquainted with this essential oil-rich cream, which has been specially formulated to fight against the visible signs of ageing. An absolute treat for the senses, it's packed with Immortelle Super Extract –a gentle, 100% natural alternative to Retinol.
Axiology Balmie in Clementine, £12 | ASOS
These tube-free 3-in-1 crayons for eyes, lips and cheeks are wrapped in recyclable paper and can be kept in their recyclable box, handmade from recycled trash by a women's cooperative in Bali. This juicy orange shade makes even the dullest skin sing with a pop of fresh colour, antioxidants and hydrating plum oil. Dreamy.
The Body Shop Ginger Anti-Dandruff Shampoo, £10 | The Body Shop
The Body Shop has been at the forefront of the green beauty movement for decades. Champions of ethical sourcing, supporting communities, and empowering women and girls through their Community Fair Trade programme, The Body Shop is an all-round hero of the high street when it comes to making sustainable beauty accessible. An absolute treat for the scalp, the brand's Ginger Anti-Dandruff Shampoo is vegan, made with 90% ingredients of natural origin and packaged in 100% recycled plastic.
Caudalie Anti-Wrinkle Face Suncare SPF50, £19 | Cult Beauty
Caudalie made many of us aware that each year 14,000 tonnes of sunscreen pollute the oceans and end up in coral reefs worldwide. The main culprits are oxybenzone and octinoxate, found in around 3,500 sunscreen formulas, as they cause fatal coral bleaching. Consequently, Caudalie created high factor sunscreens that avoid these ingredients, are biodegradable and non-toxic to the marine eco system. Also nice: organic grapeseed oil ramps up hydration while antioxidant-rich polyphenols from grape seeds add another layer of wrinkle-fighting protection.
Davines A Single Shampoo, £20.50 | Cult Beauty
This shampoo is 100% Carbon Neutral, has a 98.2% biodegradable formula and contains a special surfactant (Quercetano olive oil) chosen to help preserve biodiversity. It also leaves hair irresistibly soft. Excellent stuff.