Soften coarse, brittle strands with the best shampoo for dry hair, tried & tested by us
It's not just our skin struggling with dehydration—hair can also become dry, coarse and rough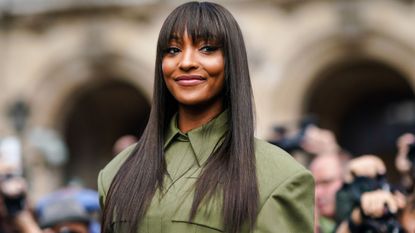 (Image credit: Getty Images)
If you're having a tough time with dry hair, enough is enough. You don't have to put up with split ends and rough-feeling lengths anymore; the best shampoo for dry hair is here to change your lengths for the better.
Summer hair care is all about hydration, hydration, hydration. While there may not be enough space in your luggage for a hair mask to keep your strands hydrated in the sun, there needs to be room for one of the best shampoo's for dry hair. Because when your hair is thirsty, it shows. Whether you're dealing with breakage and hair loss, dull colour (a good shampoo for coloured hair will help), dandruff, flyaways or brittleness, dry hair is not a good sign for the overall condition of your scalp and hair.
First things first, it's important to know how to identify dry hair – because it can so often be mistaken for damaged hair. We spoke to Antony Rawlings, Creative Director at Lockonego and Redken Expert, and asked him to clear a few things up.
Is my hair dry?
"Generally, dry hair is moisture-starved, whereas damaged hair has bonds that are broken either by heat or colour. The way to diagnose this at home is by doing an elasticity test. Take a strand of your hair and place it between your fingers, try and see how easy it is to break your hair with a singular strand, if it snaps easily then your hair is damaged," Rawlings explains.
"Dry hair on the other hand will generally feel rough and become frizzy, unruly and flyaway when dried—both naturally and using a hair dryer. You can test this by running your fingers down a single hair shaft in the opposite direction of growth from tip to root. It will feel rough if your hair is dry.
"Moisturising treatments, like the Pureology Hydrate Superfood Mask, are perfect for thirsty hair. The Superfood Mask is an intense formula that utilises powerful superfoods to fortify and invigorate strands from root to tip. Packed with essential nutrients, proteins and vitamins. The Coconut and Avocado Oils work to replenish and hydrate dry hair, as they calm and moisturise the scalp."
You've probably been avoiding using the best dry shampoos for fear of them further drying out your hair, but thankfully formulas today are as nourishing as they are oil-reducing.
So there we have it. Use the best shampoo for dry hair (as listed so handily below), teamed with a nourishing conditioner or hair mask, and these hero formulas can and will replace lost moisture and get your hair looking its hydrated best in no time.
1. L'Oréal Paris Elvive Hydra Hyaluronic Acid Shampoo
L'Oreal Elvive Hydra Hyaluronic Acid Shampoo
Best shampoo for dry hair
This shampoo from L'Oreal is infused with hyaluronic acid, which will keep your hair feeling hydrated for up to 72 hours. You hair will look visibly plumped, bouncy and shiny thanks to this clever formula.
2. Bumble and bumble Hairdresser's Invisible Oil Shampoo
Bumble and Bumble Hairdresser's Invisible Oil Shampoo
Best shampoo for a sleek finish
Hair on the coarser side? We get it, you need a nourishing shampoo that hydrates in one wash and keeps you hair smooth throughout the day. Say hello to that very shampoo. It's made up of six super-light oils that don't weigh your hair down and protect your hair from frizz-inducing elements.
3. Moroccanoil Moisture Repair Shampoo
Moroccanoil Moisture Repair Shampoo
Best shampoo for damaged hair
When hair is both dry and damaged, it's tricky to get to grips with and manage it. Moroccanoil's Moisture Repair Shampoo takes coloured and heat-damaged hair (guilty as charged) and basically brings it back from the brink.
4. Kérastase Chroma Absolu Bain Riche Chroma Respect Shampoo
Kerastase Chroma Absolu Bain Riche Chroma Respect Shampoo
Best shampoo for dry, coloured hair
This gentle formula from Kérastase is designed to nourish and protect colour-treated hair. It envelops strands in moisture, which in turn helps to maintain colour vibrancy. Plus, it feels beautifully luxurious.
5. Redken All Soft Shampoo
Redken All Soft Shampoo
Best shampoo for brittle hair
Redken's All Soft range is made up of a blend of cactus extract, aloe vera and sacha inchi oil, also known as their Superfood Nutri-Complex. This particular shampoo also has an Interlock Protein Network, which goes a step further at transforming the look and feel of your hair—smoothing and making it super sleek.
6. Bleach London Reincarnation Shampoo
Bleach London Reincarnation Shampoo
Best shampoo for coarse hair
Bleach London's Reincarnation Shampoo repairs broken bonds and prevents future damage, but also provides instant hydration. Formulated with creatine and amino acids, hair is nourished with each wash for super-soft, hydrated strands.
7. Aveda Sap Moss Weightless Hydration Shampoo
Aveda Weightless Hydration Shampoo
Best shampoo for dry, fine hair
It might look a bit like peanut butter, but this thick shampoo works wonders on dry and frizzy hair. Don't just take my word for it; the core blend of Iceland moss and larch tree sap can improve your hair's hydration by up to 81%. Pair with the softening conditioner and you're golden.
8. Pureology Hydrate Shampoo
Pureology Hydrate Shampoo
Best all-round shampoo for dry hair
Specially designed for colour-treated hair, Pureology's hydrating formula locks in moisture while also adding radiance to your colour. Hair is strengthened with oat, soy and wheat proteins as well as nourishing jojoba and green tea. Right this way for shiny, shiny hair. Plus, this bottle is supersized, so you don't have to worry about repurchasing over and over again.
9. Dizziak Hydration Wash
Dizziak Hydration Wash
Best shampoo for dry, coily hair
Formulated to be effective on Afro hair (though suitable for all hair types), this is a super hydrating deep clean that boasts a lot of hair benefits. It'll balance pH, strengthen the barrier of each strand of hair and hydrate your scalp as well as your hair. What's more it's free from sulphates, parabens, mineral oil, silicones and any animal products.
10. Sachajuan Moisturising Shampoo
Sachajuan Moisturising Shampoo
Best luxury shampoo for dry hair
A super moisturising shampoo that's particularly good for dry, treated hair, Swedish brand Sachajuan has got you covered when it comes to turning back the clock on dryness. Team with their conditioner and your hair will be back to its shiny, shiny old self.
11. Amika Hydro-Rush Intense Moisture Shampoo