Milan Fashion Week 2017: The most dramatic dresses
Trust the Milan shows to amp up the drama.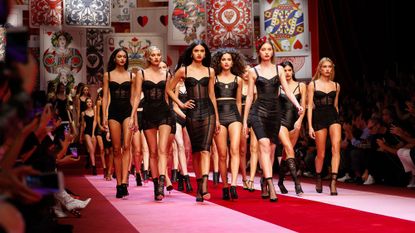 (Image credit: Shutterstock/Rex)
Trust the Milan shows to amp up the drama.
New York Fashion Week and London Fashion Week are done, and Milan Fashion Week went out with a bang on Sunday with Dolce and Gabbana's Queen of Hearts-themed extravaganza.
We've touched down in Paris for Paris Fashion Week, the final shift of the fashion-month marathon. People, the struggle is real. Well, it really is when you've left your Balenciaga boots in the wrong suitcase and your selfie Boomerang attempt with Pierpaolo ended in disaster...but we digress.
Here are the Milan Fashion Week moments that we're still talking about...
Donatella brought the Freedom video back to life
It was the moment that flooded a million Instagram feeds. Cindy, Naomi, Carla, Claudia, and Helena - the Fabulous Five original 1990s supermodels - were reunited on the Versace catwalk as a fitting finale to Donatella's tribute show to her brother Gianni.
It's 20 years since he was killed, and it's the first time DV has found 'the courage' (her words) to delve back into his archives. And the iconic Gianni prints that defined the early 90s were all there - wild baroque, chains, butterflies...and of course, the slithery silver chainmail dresses worn by the Super Squad.
Not much changes when you're that fabulous - apparently, the ladies were all still fighting over who should nab the coveted central position in the lineup (DV solved the problem by popping herself in there). Gigi, Bella, Kaia - watch and learn...
Miuccia Prada's comic superwomen
Prada examined the theme of 'girl power' quite literally with her use of comic-book heroines, drawn from the work of eight female artists of all ages, who were chosen for their depictions of women in 'a uniquely empowering way'. Artists included Brigid Elva, Stellar Leuna and the archive of Tarpe Mills, who created the first female action hero.
The show venue was lined from floor to ceiling in their art - stepping onto the set felt like stepping inside the pages of some alt-lit comic magazine. The clothes were a mash-up of Prada silhouettes - full skirts, brocade bustiers layered over shirting, knee-high socks (with a go-faster, sports vibe for SS) - with comic-book motifs collaged over the top, like a jacket with an Afro-haired character emblazoned across the back. Some highlights from our up-close look at the collection from the resee below...
Blooming Moschino!
Only Jeremy Scott could take an anodyne floral theme and turn it into something insane. In a great way. His ode to punky 80s Swan Lake ballet style and My Little Pony finished with a parade of walking flowers, including Gigi as a living, walking bouquet - tied up with a huge ribbon and complete with a message card.
Italy's Going Green
Milan Fashion Week came to a glamorous and very green end on Sunday night with the first ever Green Carpet Fashion Awards, at the fabulous Teatro Alla Scala. Led by Livia Firth's Eco-Age, in partnership with Italian fashion's ruling body, the event celebrated the notion of 'Made in Italy' and showed that the big guns are now well and truly on board with the sustainability message.
Awards for everything from 'community and social justice' to 'supply chain innovation' were handed out to brands big and small. New designer Tiziano Guardini beat stiff competition to scoop Best Emerging Designer for his designs - which use sequins made from crushed recycled CDs, obviously. Celebs galore graced the green carpet in specially-designed sustainable looks from houses including Prada, Valentino, Armani and Gucci, who dressed Dakota Johnson, below.
Talking of Alessandro Michele...one final highlight was of course the SS18 show itself. Gucci brought back the 80s with pastel tracksuits and 3D glasses.
For more on-the-ground fashion inspo, see what celebrities like Anna Wintour, Alexa Chung, Penelope Cruz, Olivia Palermo and influencers like Chiara Farragni wear on the front row at the shows in our gallery.
Ermanno Scervino SS18
Ermanno Scervino SS18
United Colors of Benetton
Vionnet SS18
Roberto Cavalli SS18
Roberto Cavalli SS18
Missoni SS18
Missoni SS18
Vionnet SS18
Etro SS18
Etro SS18
Salvatore Ferragamo SS18
Salvatore Ferragamo SS18
Bottega Veneta SS18
Bottega Veneta SS18
Dolce and Gabbana SS18
Dolce and Gabbana SS18
Marni SS18
Marni SS18
MSGM SS18
MSGM SS18
Tod's SS18
Tod's SS18
Prada SS18
Prada SS18
Giorgio Armani SS18
Giorgio Armani SS18
Moschino SS18
Moschino SS18
Gucci SS18
Gucci SS18
Max Mara SS18
Alberta Farretti SS18
Max Mara SS18