25 game-changing looks from the 1960s that we're still into today
Meet the influencers behind the 1960s fashion scene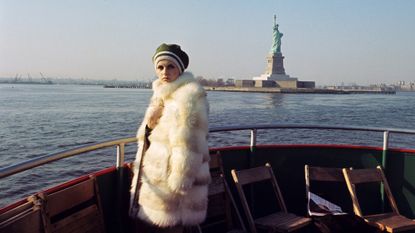 (Image credit: Shutterstock/Rex)
Meet the influencers behind the sixties' fashion scene
There's no denying the 60s were one of the most stylish decades ever. There is a reason shows like Mad Men, Masters of Sex and The Marvellous Mrs. Maisel all make us want to hop into a time machine and steal the characters' wardrobes (and furniture).
If buying into a certain prim look à la Dior was a big hit for 1950s fashion, the sartorial rule book was completely thrown out in swinging sixties. From Brigitte Bardot's beehive to Mary Quant's geometric prints, every 1960s fashion icon contributed their own signature style to the decade (a theme that continued well into 1970s fashion and beyond). It was the era of the girl group, the gamine supermodel and the original IT-girls, who are still inspiring this generation's Alexa Chung et al.
The sixties still provide designers of today with endless inspiration, from Hermès' enduring Birkin bag (which FYI is a better investment than gold), to Dior's feminist take on Edie Sedgwick's Factory Girl style (and just look at the familiar trends popping up for SS18).
After a decade of cinched waists, full skirts and impeccable hair and makeup, many fashion traditions were broken in an act of rebellion, mirroring the momentous social and political changes of the decade. It was the era where no skirt was too short and no beehive too high. Today, we can thank the decade for culottes, geometric prints and boxy silhouettes.
From the sixties' answer to street style stars to the key fashion designers, consider this everything you need to know about the style defining era.
Edie Sedgwick's 1960s fashion
The wealthy socialite, toast of the New York art scene and a certain Andy Warhol's muse, Edie Sedgwick was the original IT girl. The essential ingredients of her good-girl-gone-bad aesthetic were lashings of eyeliner, chandelier earrings, mini mod dresses with sheer black tights and a crop of platinum hair - one day to be celebrated by Sienna Miller in the film Factory Girl.
Twiggy's 1960s fashion
No 1960s fashion round-up would be complete without mentioning Twiggy, real name Lesley Hornby. Bob hairstyles were huge for 1920s fashion, but this girl cemented an even short hairstyle's place in history – the pixie crop. One of the greatest muses of all time, Twiggy quickly rose to supermodel fame, thanks to her paint 'em on thick eyelashes and the boyish style celebrity hairdresser Leonard chopped for her in '66. Almost overnight she became the face of the decade; instantly recognisable, she's been immortalised on everything from Andy Warhol screen prints to M&S shopping bags.
Anita Pallenberg and the Rolling Stones 1960s fashion
The biggest style influence on the Rolling Stones, archetypal rock chick Anita Pallenberg just so happened to have flings with half of the band's members. Her quintessential rock chick look of thigh-high boots, fringing and skin-tight prints still serves as a source of inspiration for the band and all our wardrobes.
Mary Quant's 1960s fashion
Not only was Mary Quant a 1960s fashion icon in her own right, she brought the era's greatest trends to the wardrobes of the masses from her shop on the King's Road. The mini skirt, hot pants, coloured tights and plastic macs – we owe them all to design pioneer and epitome of sixties style, Quant.
Jackie Kennedy's 1960s fashion
Before Michelle Obama and Samantha Cameron, there was Jackie Kennedy Onassis. The original fashionable First Lady managed to maintain her impeccable style throughout her time in the White House, even as she lived through tragedy. Jackie's prim skirt suits, pillbox hats and super-sized dark glasses made her the style inspiration for women across America. The pink suit she was wearing on the day of her husband's assassination has gone down in history as one of the most iconic outfits of all time, and is a staple 1960s fashion look.
Audrey Hepburn's 1960s fashion
How do we love Audrey Heburn's amazing 1960s fashion and style? Let us count the ways… First it was that 1961 Breakfast at Tiffany's that put little black dresses back on the fashion map, teamed with movie star shades and a top-handle bag which won over our hearts. Then came the off-duty style game; she was an utter champion of chic capri pants and ballet pumps. Oh, Audrey...
Jean Shrimpton's 1960s fashion
In 1960, Jean Shrimpton brought the fashion world to a halt. Unlike the more voluptuous models of the 1950s that came packaged with stiff aristocratic poses, this leggy British brunette broke the modelling mould entirely with her super slender frame. Jean paved the way for fellow free-spirited waifs such as Twiggy and Penelope Tree, and eventually Kate Moss and co., who spearheaded the grungy 1990s fashion aesthetic we still love.
Dusty Springfield's 1960s fashion
Big eyes, big hair and an even bigger voice, Dusty Springfield rocked a blonde wig and a column dress like no other (this pink lace number is particularly dreamy).
Mia Farrow's 1960s fashion
The (even shorter) elfin crop was made famous by Mia Farrow in the late 1960s and still continues to inspire the hair world today. The Rosemary's Baby star and former wife of Frank Sinatra was an icon of the era, always adding a playful touch to her looks and paving the way for the likes of Alexa Chung with her Peter Pan collar dresses and off-beat shoe pairings. A fairly popular feature of 1940s fashion, Peter Pan collars really took off in the sixties.
The Supremes' 1960s fashion
Long before Destiny's Child made fashion and music collide, there was The Supremes. From all-sequin gowns to matching skirt suits (not to mention those incredible beehives) their impeccable matching style led the way for girl-groups and musicians the world over.
Tippi Hedren's 1960s fashion
Hitchcock heroine Tippi Hedren made one of the most famous roles in film history look effortlessly stylish and poised, thanks to her neat blonde 'do and ladylike skirt suits. Legendary costumier Edith Head was the woman behind her now-famous looks in The Birds, ensuring she was timelessly elegant and understatedly glamorous (even when running screaming from a flock of birds).
Jane Birkin's 1960s fashion
Trends come and go but we will never tire of Jane Birkin's style. The free-spirited Blow Up actress' penchant for care-free classics and her laissez-faire spirit earned her instant world recognition in the sixties, while her gap-teeth and quirky French-meets-British dress sense charmed Serge Gainsbourg.
We love the fact she carried basket bags before they became a major trend circa SS17.
Patti Boyd and Mary Quant 1960s fashion
Patti Boyd's enchanting modish style, flippy hair, and endless legs ensured she was the inspiration behind some of the greatest hits of the 60s. The former wife of both Eric Clapton and George Harrison was the quintessential sixties beauty and a favourite of Mary Quant – she was quite the unsung style hero of the decade.
Cher's 1960s fashion
With her blunt bangs, kohl-rimmed eyes and a love of outlandish prints and the widest of flared trousers, Cher was a certified sixties icon. The then other half of Sonny and Cher led the way with the bold and the daring, and launched the hippie look with cool, Californian style. Kim Kardashian is one of her most famous fans.
Yoko Ono's 1960s fashion
Yoko Ono has never done colour. From her private wedding to one of the most defining moments of the 60s, the John Lennon and Yoko Ono bed-in, the petite artist championed a head-to-toe white aesthetic. Wide-brimmed hats and knee-high boots were her signature accessories during this defining decade.
Marianne Faithful and Mick Jagger 1960s fashion
With Mick Jagger her arm candy and swinging mini dresses her go-to, Marianne Faithful's style was one of the most desired of the 60s. Her love of over-sized sunglasses, the shortest of minis and full, choppy bangs – all rounded off with a heavy rock 'n' roll attitude – are just some of the reasons she inspired some of the Rolling Stones' biggest hits including You Can't Always Get What You Want, Wild Horses, and I Got the Blues.
The Ronettes' 1960s fashion
There were a million girl groups in the sixties, but The Ronettes were by far the one of the coolest and sexiest of the bunch. At the heart of their look was the standard-issue mascara-and-miniskirt uniform but taken to new extremes. Skirts were super tight and eyeliner was flicked so high it disappeared into their bangs.
Jane Fonda 1960s fashion
Before the many workout videos and leotards that defined 1980s fashion, this actress was helping to shape sixties glamour. While off-screen, Jane Fonda's style was all American girl, but on-screen she took the lead in the space age cult-classic Barbarella. By doing so, she created one of the most iconic images of sixties cinema that would influence fashion for many years to come.
Brigitte Bardot's 1960s fashion
You might say that BB set the French fashion style rules. The world-famous French bombshell's style was unabashedly sexy and would define 1960s fashion forever. She made messy, piled-high up-dos the hair of choice, and every girl wanted a piece of her signature confidence. Who knew that perfectly un-perfect, slightly parted fringe would still be so sought-after more than 50 years later?
Catherine Deneuve 1960s fashion
Another chic French dresser, Catherine Deneuve shot to fame in the 1960s, marrying fashion photographer David Bailey and becoming the muse to Yves Saint Laurent. It was her role in Belle de Jour, in which she played a prostitute by day and a frustrated housewife by night, that turned her into a bonafide icon – if only for the incredible clothes.
Nancy Sinatra's 1960s fashion
If ever a song – and singer – could symbolise the style of the era, it was Nancy Sinatra's hit single These Boots Were Made For Walking. With her tousled blonde hair, shortest of mini dresses and ability to pull off a pair of knee-high boots with aplomb, both the song and Nancy's look were emblems for the decade.
Paulene Stone and David Bailey 1960s fashion
Former magazine cover girl Paulene Stone may not be as well-known as other models from the era, but her style was certainly what everyone wanted. The statuesque beauty embodied the 'swinging London' vibe of 1960s fashion more than any other, and her work with David Bailey is what the photographer has attributed to kicking off his career in 1960.
Marsha Hunt 1960s fashion
Singer and novelist Marsha Hunt shot to fame when she played Dionne in the smash musical Hair and posed nude for the promotional images. Famed for her huge afro hairstyle, which provided one of the most iconic images of the sixties, the former Marc Bolan and Rolling Stones muse is also renowned for her rock-chick-meets boho mix of daring leather hotpants and floaty maxi dresses.
Veruschka's 1960s fashion
Shot by Avedon, Irving Penn and Helmut Newton, Veruschka is the splashy German model who landed her first major magazine cover in 1963. All legs, eyes and lips, she exuded sex appeal and lead style in a new direction for 1960s fashion, by pioneering a new 'skinny chic' ideal.
Barbara Hulanicki 1960s fashion
Barbara Hulanicki opened the doors to her cult Biba boutique in 1964, a defining moment for 1960s fashion. The shop was renowned for its decadent Art Nouveau interiors, and soon became a hip hangout for artists, actors and rock stars including Mick Jagger and David Bowie. Known for her affordable velvet trouser suits and unisex T-shirts, the shop maintained steam until 1975 when it eventually shut its doors. After its closure, Hulanicki stepped away from the Biba label, but remained in the fashion industry, working with brands such as Cacharel.
Celebrity news, beauty, fashion advice, and fascinating features, delivered straight to your inbox!