Molly Sims is pregnant with her first child
Model Molly Sims is 'thrilled and excited' to be expecting her first child with husband Scott Stuber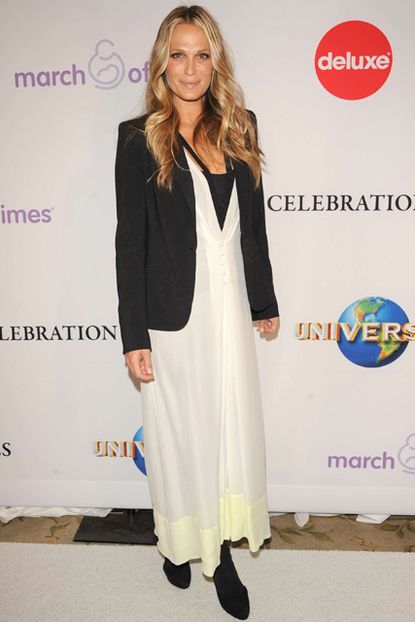 (Image credit: Rex)
Model Molly Sims is 'thrilled and excited' to be expecting her first child with husband Scott Stuber
Just four months after getting married to film producer Scott Stuber, model Molly Sims has announced she is pregnant with her first child.
Last night, the 38-year-old beauty wrote on her personal website that she was, 'absolutely, positively, downright over the moon to announce that we are pregnant.
'There are simply no words to describe the feeling. I finally get what they mean when they say pregnant women GLOW.'
The model-turned-actress admitted, though, that she did have a few jitters and asked fans to share pregnancy and baby tips.
She wrote: 'First pregnancy is a nerve-wracking experience of course, but mostly we are just thrilled and excited - Since we're new at this, I'll probably be asking you all for advice over the next few months.'
Molly confirmed that the new arrival, due this summer, was conceived pretty much as soon as they were married on their honeymoon in Hawaii last September.
In something similar to a marriage proposal, Molly revealed how she broke the news to Scott, 42.
'I hijacked a fortune cookie and typed a new message so that when he opened his cookie at the end of the meal, he found out he was going to be a daddy,' she wrote. 'You can only imagine how nervous I was during the entire meal - I think I ate a total of two bites - but the look of surprise and pure joy on his face was priceless.'
Molly, who is currently presenting U.S. TV show Project Accessory, has made no secret of her desire to have a family.
She told the U.S. magazine Life & Style last month: 'I want to have as many children as I can have.'
Congrats to Mr and Mrs Stuber! We're expecting Molly to be a serious yummy mummy!
Celebrity news, beauty, fashion advice, and fascinating features, delivered straight to your inbox!