Life stories: Kim Basinger
Despite a life-long battle with anxiety and a turbulent love life, actress Kim Basinger has enjoyed a 40-year career, with her latest role being hailed as her best yet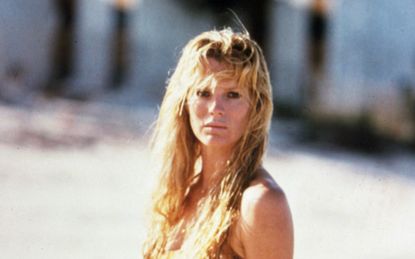 Despite a life-long battle with anxiety and a turbulent love life, actress Kim Basinger has enjoyed a 40-year career, with her latest role being hailed as her best yet
Words by Michelle Davies
When 17-year-old Kim Basinger walked on to her high-school stage to compete in the Junior Miss pageant, her peers were taken aback. She was by far the shyest pupil in the year – a girl so withdrawn that her parents once had her tested for autism. But surprise turned to silence as Basinger gave a pitch-perfect rendition of Wouldn't It Be Loverly from My Fair Lady.
'You could hear a pin drop, because they didn't know I could talk, much less sing,' Basinger later said. 'I didn't care about winning; I only cared about not fainting.' Despite her misgivings, she won the pageant in 1970 at Athens High School in Georgia, Atlanta, and within a year had signed with The Ford Modeling Agency in New York, setting in motion a career that's lasted four decades.
Now 63, Basinger is one of the world's most recognised actresses, and she recently returned to the big screen in Fifty Shades Darker. Playing the former lover of Christian Grey, it's another risqué role for the star, whose breakout film was the infamously erotic 9 ½ Weeks.
The actress was born Kimila Ann Basinger in Athens, Georgia, on 8 December 1953. Her mother, Ann, was a model and actress and her father, Donald, a musician in a big band. Yet Basinger, the third child of five siblings, shared none of their confidence as performers. Cripplingly shy, she would even slope off alone at her own birthday parties.
Moving to New York in 1971 to model did little to bring her out of her shell. 'She was totally innocent about the ways of the world,' agency owner Eileen Ford revealed later to Rolling Stone magazine. Basinger was soon earning $1,000 a day, but she really wanted to act. So, for three years, she studied in her spare time at the Neighbourhood Playhouse in New York, where alumni included Grace Kelly and Diane Keaton.
In 1976, then 23, she and her actor boyfriend Dale Robinette moved to LA – stopping en route to toss her modelling portfolio into the East River. Within two weeks, Basinger was booked to appear on Starsky and Hutch. More bit parts followed until, in 1978, she was offered a regular role on Charlie's Angels. To everyone's surprise, she turned it down (Cheryl Ladd took the part) in favour of starring in Katie: Portrait Of A Centerfold. Basinger saw it as a stepping stone to the big screen, and the risk paid off as she landed her first cinematic role in Hard Country. Although the movie was a commercial flop, it was on set that she met her first husband, make-up artist Ron Snyder.
Snyder was a Hollywood name himself (his father Allan 'Whitey' Snyder was Marilyn Monroe's personal make-up artist) and it soon became apparent that there was a strong sense of competition between the pair to be the star in their relationship. In his 1998 memoir Longer Than Forever, Snyder revealed that the day after their wedding on 12 October 1980, Basinger announced she wanted him to change his surname to begin with a letter that matched hers. 'I was speechless,' he wrote. And yet he acquiesced, changing it to Britton to keep her happy. Within months, Snyder had given up his career to accompany his wife on film sets, in part so that they could be together, but also because she suffered from panic attacks. Basinger had been experiencing them since the age of 27, when they suddenly began while out shopping. 'I didn't leave the house for six months [afterwards],' she said.
The actress continued to summon up the necessary confidence to be on stage, but she struggled to replicate this in real life. 'You'd think with all the magazines and sexy stuff I've done that it's [a huge] part of me. But it's all a pretence,' she once revealed.
Throughout the 80s, Basinger's career went from strength to strength. In 1983, she landed the role of Bond girl Domino in Never Say Never Again and also appeared in Playboy. Both jobs catapulted her into Hollywood's hottest new sex-symbol list, with frequent comparisons to Marilyn Monroe and Brigitte Bardot.
Unsurprisingly, Basinger was top of British director Adrian Lyne's wish list to star in his new flick 9 ½ Weeks. The film, about a woman both sexually awakened and pushed to the brink by her new lover, was notorious even before the cameras started rolling – it was primed to be one of the most sexually graphic, mainstream movies ever made. That didn't bother Basinger, who again saw it as a vehicle to greater things. American audiences were shown an edited version that bombed at the box office, but the full-length film in all its explicitness earned $100 million globally.
Basinger's marriage to Britton ended just as 9 ½ Weeks came out in 1986. 'I emotionally neglected [Ron] for a whole year,' she said. While their divorce was being finalised, she dated producer Jon Peters, but their affair ended when she starred as reporter Vicki Vale in Batman in 1989 and was introduced to Prince, who produced the soundtrack. To outsiders, their relationship seemed unlikely, but they found common ground in being shy, private people who loathed industry events. However, their relationship was cut short when Basinger's family, concerned Prince was too controlling, staged an intervention.
The single actress then signed up to make rom-com Too Hot To Handle with rising star Alec Baldwin. Having never met, the pair arranged to dine at Morton's restaurant in LA before filming began. According to Basinger, Baldwin walked in, 'kissed me and then asked me if I wanted kids'. Things moved quickly, but their relationship was torrid from the outset. Basinger once remarked, 'He has the biggest heart of anybody I've ever met. But he [has] a temper.' Baldwin's generosity of spirit was shown after Basinger was sued in 1993 for reneging on a verbal contract to star in Boxing Helena. A judge ordered the actress to pay $8.1m in damages, forcing her into bankruptcy. Baldwin offered to give her the money, which she declined. But she did accept his marriage proposal. They wed six weeks later on 19 August 1993.
Their daughter Ireland was born in 1995, and Basinger returned to work two years later for her most successful role to date: Lynn Bracken in LA Confidential. Her performance won her an Oscar, Golden Globe and Screen Actors Guild Award for Best Supporting Actress. She was at the top of her game career-wise, but behind the scenes the stress of a tempestuous relationship was taking its toll. Baldwin's temper and Basinger's anxiety combined to make the marriage intolerable and they split in 2001. An acrimonious divorce and long custody battle for Ireland followed and the exes remained at loggerheads for years. Basinger's only film of note in a ten-year period from 2002 was 8 Mile, in which she played Eminem's mother.
Last year, her comeback was assured when she reunited with LA Confidential co-star Russell Crowe in The Nice Guys and the offer for Fifty Shades Darker came soon after. 'Ireland said, "You have to do it, Mom, it's really powerful for women",' revealed Basinger. Her acceptance of this challenging role is perhaps a reflection of how the star now views herself, having come off her anti-anxiety medication. 'I didn't want to live on drugs. I wanted to face everything that I was afraid of,' she said. 'Now I enjoy life.'
The actress is also now in a happy relationship with hairstylist Mitch Stone, who she's been dating since 2014. An older Basinger says what she looks for in a partner has changed. 'I'm more reality based. I've been attracted to a lot of different types,' she reveals. 'Showing kindness and humour are the most important things to me now.'
Celebrity news, beauty, fashion advice, and fascinating features, delivered straight to your inbox!
The leading destination for fashion, beauty, shopping and finger-on-the-pulse views on the latest issues. Marie Claire's travel content helps you delight in discovering new destinations around the globe, offering a unique – and sometimes unchartered – travel experience. From new hotel openings to the destinations tipped to take over our travel calendars, this iconic name has it covered.