I'm a Celebrity crowns its 2016 winner (and we totally called it)
You won't be surprised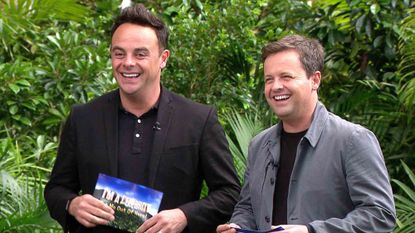 You won't be surprised
I'm a Celebrity winner 2016
Everyone's favourite (OK, nearly everyone's favourite) I'm a Celeb contestant, Scarlett Moffatt, was crowned this year's Queen of the Jungle, beating comedian Joel Dommett to the crown.
Speaking to Ant and Dec after being announced the 2016 winner, the Gogglebox star cemented why she was most definitely the people's choice: 'I might be the only person whoever says this - but I wish I could do it all again. It's just amazing. It's beyond any [expectations] that I thought. I've never felt so happy, which is weird because I hate camping. I'm not going to miss sleeping in a hammock but I'm going to miss waking up and hearing everyone chatting. It's just been amazing …'
She's reportedly so happy with her win, she's going to put it on her CV. Fair play, we totally would bump that to the top of ours, too.
I'm a Celebrity 2016
I'm a Celebrity 2016 is back in a big way, and it seems as though not a day goes by without a new rumour starting concerning the contestants/ the camp/ the critters inhabiting said camp (yes, the camp was put on lockdown after eight deadly spiders were reportedly found near the contestants' bed - vom). But now, one of our favourite aspects of the show is coming under fire. Yes, it turns out that the iconic waterfall that has appeared on the show since its launch way back in 2009 might not be the natural wonder we all thought it was.
According to reports, the waterfall is actually a (warm) man-made water supply that's switched off when it's not in use. Shock horror. Speaking of her time in the jungle, Cherie Blair's sister Lauren Booth told the Mail Online about the apparent jungle setup, and claimed there were certain aspects to the show that were not so natural.
'I also realised that the waterfall, like the pool beneath it was not part of the jungle at all, but a man-made creation.
'Unless, of course, real rain forest waterfalls get turned off between three and six every afternoon.' Yes, do with that information what you will. We'll still be watching, and re-watching.
I'm a Celebrity line up 2016
Meet the contestants who may soon be chowing down on a witchetty grub…
Larry Lamb
Arguably the best of this year's jungle candidates, we're pretty excited to see Mitch Shipman from Gavin & Stacey (and Archie Mitchell from Eastenders, obvs) flex his muscles in the camp. Larry for the win.
Ola Jordan
The former Strictly Come Dancing star will hopefully be providing Paso Doble lessons to all of the contestants.
Danny Baker
The broadcasting legend is rumoured to have received the biggest payment of all the contestants to appear on the show.
Carol Vorderman
Countdown star and general badass - Carol may well be Queen of the Jungle.
Jordan Banjo
You will probably recognise Jordan from his time dancing away in the group, Diversity, he also used to date Little Mix's Jesy Nelson.
Joel Dommett
Bristol-Based comedian (and Skins alumni) Joel Dommett has already won the award for 'first I'm A Celebrity contestant to touch down' ahead of the new series.
Lisa Snowdon
We've got high hopes for the radio host and model when it comes to the bush-tucker trials.
Adam Thomas
He of Emmerdale fame.
Scarlett Moffatt
Whoever came up with the celeb -casting list, we're thanking you for including Gogglebox fave, Scarlett.
Wayne Bridge
He's the former England footballer, who's married to Frankie Bridge of The Saturdays fame.
Sam Quek
Hockey champion Sam is fresh from winning gold for Team GB in Rio, so living it up in the camp should be a piece of cake.
Martin Roberts
The Homes Under The Hammer presenter is a true mum's fave.
When is I'm a Celebrity 2016 airing?
I'm a Celebrity starts on Sunday 13th November on ITV (natch) at 9.00pm. Set a telly reminder, stat.
Is I'm a Celebrity ending after this series?
There's a chance that this will be the last series of I'm a Celebrity. The owner of the camp where I'm a Celebrity is filmed, Craig Parker, is reportedly unhappy with ITV and may not let them use the camp for another series.
A source told The Sun: 'The relationship between Craig and the bosses has badly broken down. He's always found hosting the show on his land frustrating, but in the past has considered it worth the money they throw at him.
'But this year's different. There have been lots of small squabbles in which he feels his opinions have been totally ignored.'
The show has been filmed in the Dungay Creek, Queensland location since 2003.
This season is set to go ahead with no issues, but Parker is reportedly refusing to sign a new contract with ITV when the current one runs out in February.
Watch this space for updates as we get them.
Who was rumoured to be in the I'm a Celebrity line-up this year?
Tom Fletcher
McFly's Tom Fletcher recently hinted that he could be heading into the jungle when he shared a photo on Instagram of a cockroach in a cardboard box with the caption: 'You know it's going to be a cool package when you open it to find this'
The tweenage heartthrob won't be the first McFly member to take part in the show – bandmate Dougie Poynter was crowned King of the Jungle back in 2011. Could Tom be next in line for the crown?
Carol Vorderman
Former Countdown host and mathematics guru Carol Vorderman is said to have been offered a six-figure sum to take part in I'm a Celebrity 2016. According to The Sun, producers are said to be convinced Carol's 'sex-symbol status' will bring in the older male viewers. We're convinced she'll be bringing the brains to the camp.
Ola Jordan
Former Strictly Come Dancing's resident pro Ola is said to be a contender for the jungle this year after leaving the BBC show last year. Since then she has taken part in The Jump but was forced to retire after getting injured. Now she's reported to have the jungle crown in her sights – we feel a waterfall shower scene coming on...
Nigel Farage
Yep, the former UKIP leader is also said to be taking part in this year's series and become this 2016's controversial character in camp. Likely to become this year's Lady C, we can almost taste the political punch-ups on the horizon...
Scarlett Moffatt
Gogglebox's breakout star is rumoured to be taking over our screens on ITV now too. If she does head into the jungle, expect plenty of her signature straight-talking and hilarious observational humour.
Kate Wright
The Only Way Is Essex stars have become something of a staple on I'm a Celebrity in recent seasons. This year it looks like Kate Wright is set to be representing TOWIE and according to OK! Magazine, she's on the hunt for love…
Louis Smith
Olympic gymnast Louis Smith won a silver medal earlier this year in Rio, but it looks like he may now have a crown in his sights.
The 27-year-old admitted that there is 'potential' for him making an appearance on I'm a Celebrity 2016. 'There's something in the pipeline,' he told The Sun in an interview. 'You guys will probably have a field day with it. But I am looking forward to it, it's something I have wanted to do for a long time.'
Craig Charles
If you're getting a feeling of déjà vu about this potential contestant, don't worry – Craig was in the jungle before. Competing back in 2014, Craig had to pull out just four days into the programme after his brother tragically died of a heart attack.
But if the rumours are to be believed, he's hoping to finish what he started and be crowned King of the Jungle this time around.
Adam Thomas
Will Emmerdale actor Adam be following in the footsteps of his twin brother Scott, who appeared in Love Island earlier this year? The jungle rumour mill certainly seems to think so.
Spencer Matthews
Also rumoured to be making a dramatic return to the jungle is Made in Chelsea star Spencer Matthews. Despite being forced to leave last year amid a steroids scandal, the reality star is said to be considering a comeback.
What's new this year?
A new spin-off show for one. Geordie Shore star Vicky Pattison and South Shields comedian Chris Ramsey are set to joined by Joe Swash and Stacey Solomon in presenting I'm a Celebrity: Extra Camp – the show that takes an exclusive behind-the-scenes look at what's happening in camp straight after the main programme.
Last year's Queen of the Jungle, Vicky Pattison said: 'I can't wait to work alongside Chris, Joe and Stacey, who are all brilliant. I'm dying to get back in the jungle and hopefully they'll still let me give some of the trials a go! We can't let the camp mates have all the fun now can we?!'
Let the fun commence...
Celebrity news, beauty, fashion advice, and fascinating features, delivered straight to your inbox!