Kim Kardashian: Kanye West has no say in the Kardashian Kollection
But Kim did reveal she likes to model the finished pieces for her rapper beau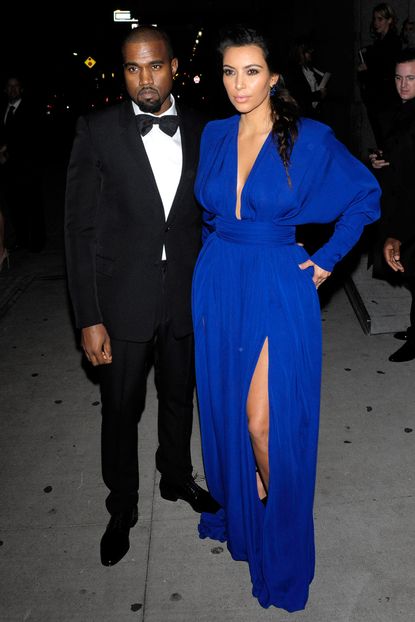 (Image credit: Rex Features)
But Kim did reveal she likes to model the finished pieces for her rapper beau
Kim Kardashian has already enrolled the help of boyfriend Kanye West to revive her wardrobe and to give her style a more sophisticated edge, but that's where his fashion no-how stops, according to Kim.
The reality TV star told us that she didn't let Kanye get involved in the new Kardashian Kollection clothing line, which has just landed in the UK, as she prefers to keep the design process an intimate experience for her and her sisters, Kourtney and Khloe.
When we caught up with Kim at The Dorchester hotel, where she was staying during her stay in London to launch the new clothing line, she told us: 'He has no input. I show him pieces when it's done, not really during the design process.
THE KARDASHIAN KOLLECTION: WILL YOU BUY ANY OF THE PIECES?
'I respect his opinion but I don't show him parts of the collection before it's done because the design process that my sisters and I do together is very intimate'
Kim went on to credit her rapper beau with helping her add a bit of sophistication to her wardrobe.
'I asked him to introduce me to new stylists to help me evolve my style and be a bit more sophisticated. It's been fun to try new things and meet new stylists thanks to Kanye.'
KIM KARDASHIAN HAS HER SAY ON CHERYL COLE'S STYLE
The 32-year-old has been known to sport jewellery with Kanye West's initials on, most recently in the form of a ring she was wearing as she touched down in London. But don't read too much into it, according Kim.
'It's a good way to express yourself. I'm not thinking: "I'm going to put out a message that I have his initials on a finger." It means nothing, it's more fun.
'I wouldn't take it too seriously.'
Well, that's us told!
Are you a fan of the Kardashians? Will you be buying anything from the Kardashian Kollection? Let us know your thoughts in the comment box below.
OUR NIGHT WITH KOURTNEY AND KIM KARDASHIAN
Celebrity news, beauty, fashion advice, and fascinating features, delivered straight to your inbox!