David and Victoria Beckham make royal wedding guest list
It's official! A whopping 1,900 invitations have gone out, with Mr and Mrs B heading up the celebrity guest list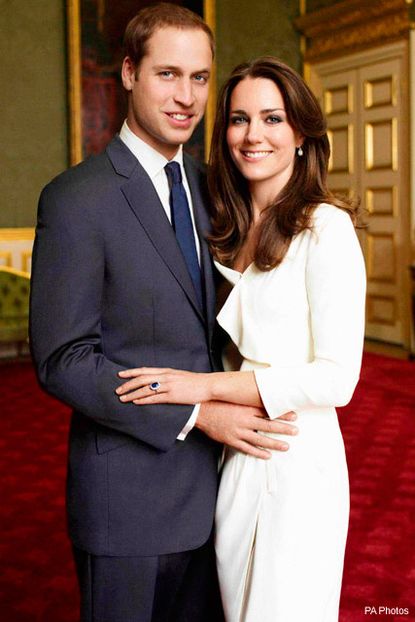 (Image credit: PA Photos)
It's official! A whopping 1,900 invitations have gone out, with Mr and Mrs B heading up the celebrity guest list
There was a flurry of excitement over the weekend as Buckingham Palace confirmed invitations to the most hotly anticipated event of the year – Prince William and Kate Middleton's wedding – have been sent out. And while we're still waiting for ours, it's thought David and Victoria Beckham have received an invite, and will be heading up the celebrity guest list on April 29.
THE ROYAL WEDDING: ALL THE DETAILS
A whopping 1,900 invitations to the royal wedding were sent out via Royal Mail, with insiders confirming attendees at the special ceremony will include a 'small number' of A-listers, and a 'good proportion' of soldiers and pilots.
A selection of heads of state, and around 1000 of the happy couple's friends and family have also been invited.
It's thought David Beckham, who grew close to Prince William as they made the World Cup bid in South Africa last year – won't be the only celebrity guest.
Insiders have revealed other celebrity guests could include TV presenter Ben Fogle and wife Marina, Elton John and Joanna Lumley, confirming The Duchess of York, Sarah Ferguson and President Obama are definitely not on the list.
'The couple have made their own decisions about who to invite, with input from the Queen and Prince of Wales,' a senior courtier revealed to the Daily Mail.
'Prince William has led a fairly ordinary life in the military and the couple's guests reflect this. He has looked to the 1986 wedding of the Duke of York, who was then serving in the Armed Forces.
'You can expect to see soldiers and the prince's current colleagues (at the Abbey), in addition to about 30 representatives from the defense services.'
The coveted invite card – which will have been approved by the Queen and Prince Charles - invites guests to attend 'the Marriage of His Royal Highness Prince William of Wales, K.G. with Miss Catherine Middleton.'
It also adds that guests at the 11am ceremony should wear 'uniform, morning coat or lounge suit,' and RSVP to the Lord Chamberlain's Office, where workers have spent days inserting cards and addressing envelopes.
After the ceremony, it's thought the Queen will host a lavish reception for the newly married couple, with 'guests drawn from the congregation representing the couple's official and private lives.'
A small number of William and Kate's closest friends and family will then stay on for a private evening dinner (and dancing!) hosted by Prince Charles.
Are you looking forward to William and Kate's big day? Let us know your thoughts on the royal wedding in the comments box below.
PRINCE WILLIAM AND KATE MIDDLETON'S WEDDING: ALL THE DETAILS
KATE MIDDLETON'S STYLE HISTORY
Celebrity news, beauty, fashion advice, and fascinating features, delivered straight to your inbox!