Charlize Theron shows off buzz cut and gorgeous baby Jackson
The actress doted over little Jackson as she lunched with her mother in Cape Town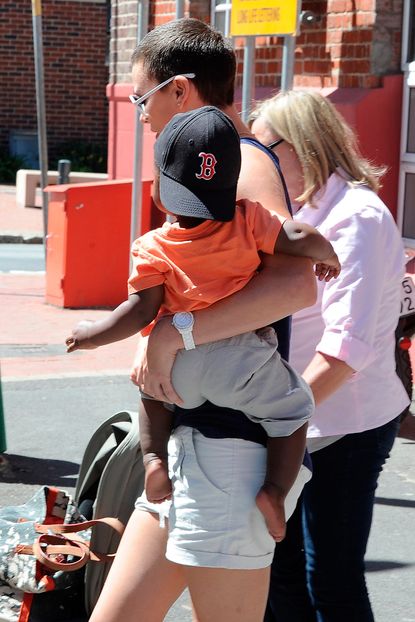 (Image credit: Rex Features)
The actress doted over little Jackson as she lunched with her mother in Cape Town
Charlize Theron headed out to lunch with her mother and adorable adaopted son Jackson in Cape Town over the weekend.
The actress, who is currently sporting a dramatic buzz cut for her role in MadMax: Fury Road, enjoyed the sunshine at Beluga restaurant in Green Point with her mum, Gerda, and little Jackson.
The star is back in her native South Africa to shoot the final scenes of the Australian movie in which Charlize plays Furiosa.
THE MOST DRAMATIC MOVIE MAKEOVERS
Theron, 37, stars opposite Tom Hardy in the film and recently revealed that she is thrilled to be part of the project. The Mail Online quotes her as saying: 'I feel like the original Mad Max created such a vivid world, that to go back and re-imagine it and kind of replay in that sandbox sounds like fun to me.
'George [Miller] really created a female character that I've never read anything like this. I mean, I'm scared!
'I'm very excited about it; I'm dying! It's been three years; it's time to skin this cat already!'
What do you think of Charlize Theron's short hairstyle? Does she manage to pull the dramatic look off? Let us know your thoughts in the comment box below.
MEET CHARLIZE THERON'S NEW BOYFRIEND?
Celebrity news, beauty, fashion advice, and fascinating features, delivered straight to your inbox!