Gal Gadot almost beat Charlize Theron for her Mad Max: Fury Road role
'It was always me and the big name.'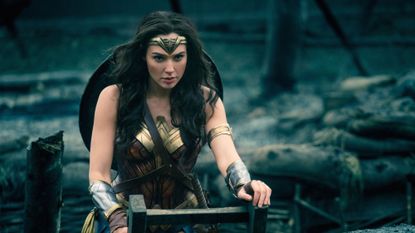 (Image credit: Moviestore/REX/Shutterstock)
'It was always me and the big name.'
It's hard to imagine Mad Max: Fury Road without Charlize Theron blazing her way through it, however it turns out she only narrowly beat out Wonder Woman for the role. Gal Gadot, who at the time didn't have many credits to her name, was one of the runner-ups for Imperiosa Furiosa. (It's still a sore spot for her.)
She spoke honestly on The Hollywood Reporter's Awards Chatter podcast about how closely she had come to giving up acting, especially after barely missing out on a number of Blockbuster roles.
She said, 'I had so many almosts for big great things, but I was never a big enough name...It was always me and the big name. I was runner-up for Mad Max with Charlize...I can't tell you how many times I heard, 'Once you do it, it's going to change your life!'
To be honest, it's understandable why Gal was passed over for Charlize. Charlize brings this gravitas and harrowing weariness to Furiosa, which took the Oscar-winning film to the next level as she was essentially the emotional heart of it. (Though we don't doubt our girl Gal would have done a great job too.)
Gal's been pretty open about the fact that she was thinking of packing it all in and moving home to Israel. She revealed, 'It just came to a point where I was like, 'I don't want to do this to my family. If it's not going to work, why push it?'
While she had a small recurring role in the Fast and the Furious, she struggled to find work in Hollywood before taking up Diana Prince's golden wrist guards. Since she would actually fly from Israel to Hollywood for her bigger auditions, it became a strain not only for her but also for her husband and daughter.
However, Zack Snyder changed her life forever when he cast her as Wonder Woman in Batman v. Superman: Dawn of Justice. While she couldn't believe it at first, when she was finally cast she said, 'For me it was like, 'Oh, my God, that was my dream role!'
And to be honest, she and Wonder Woman director Patty Jenkins have been the dream outing for the character's origin story too. Wonder Woman smashed through the box office around the world, broke records for female directors and was a powerful step forwards for the representation of women in film.
While there have been a lot of rumours about Wonder Woman 2 flying around (someone seriously needs to confirm if Chris Pine is coming back or not), you'll be able to see Gal step back into her armour on November 17 in Justice League. Here's hoping directors Zack Snyder and Joss Whedon actually manage to pull it off.
Celebrity news, beauty, fashion advice, and fascinating features, delivered straight to your inbox!
Megan is a freelance journalist who covers entertainment and all things lifestyle, with a particular passion for fashion, beauty, travel and Keanu Reeves stories. She has previously worked on staff for titles including Marie Claire UK, CNN Style and The Evening Standard and has written for titles such as Bustle UK, Wallpaper*, Forbes and Hong Kong Tatler. She splits her time between London and her hometown Hong Kong, where she currently lives with the love of her life - an elderly dog named Poppy - and her husband.