Why Atzaro Hotel & Spa is the perfect Ibizian escape
Fashion Editor Lucia Debieux takes a early Spring break at Atzaro Hotel & Spa, escaping the hustle & bustle of the party island of Ibiza.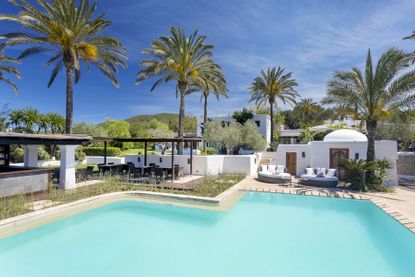 (Image credit: Atzaro Hotel & Spa)
Fashion Editor Lucia Debieux takes a early Spring break at Atzaro Hotel & Spa, escaping the hustle & bustle of the party island of Ibiza.
Why go?
As soon as you drive up the long winding road leading up to the five-star Atzaro Hotel & Spa, nestled in the heart of the Ibizan countryside, you feel your shoulders dropping. The family owned finca is known as an agroturismo, basically a working farm, (in this case a orange farm) which means that its ethos is rooted in farming and agriculture, plus the delicious smell of orange blossom fills the air everywhere you go. So far so good. With sustainability at its core, this place has been living and breathing the organic lifestyle way before it became fashionable. If like me, eating a homegrown menu fresh from the onsite vegetable patch, being surrounded by lush gardens full of flowering cactus and palm trees and feeling close to nature rocks your boat then look no further.
Plus it feels like its in the middle of nowhere when in reality you are not more than 15 minutes away from civilisation, hello Santa Eulària and every taxi driver knows Atzaro, so you're still very much connected to Ibiza should you want to leave.
Atzaro Hotel & Spa, Ibiza: The Rooms
When a place has been in the same family for 7 generations and is built around a 300 year old finca, you can feel that history. The original farmhouse is still part of the hotel with more rooms added on, finishing with 24 rooms including huge hidden villas which are set back and separate from the grounds across the road. Dreamy.
With most rooms coming with their own private plunge pools and terrace. Filled with bespoke handmade furniture, teak four poster beds, traditional terracotta tiles with white plaster walls, the vibe is spacious yet cosy meets pared back Ibizian luxury. Most mornings we found it hard pressed to actually leave the huge double walk in shower in the luxurious marble bathroom. But we did, mostly down to waking up craving the delicious scrambled eggs at breakfast. Possibly some of the best Ive ever tried and believe me, Ive sampled a lot!
Atzaro Hotel & Spa, Ibiza: The Spa
You can't not pay a visit to the open-air spa with its 43 metre long fresh water pool, nestled in the lush gardens while you're there. It would almost be a crime. The huge day beds quickly became a favourite morning hang out for us, the perfect place to while the morning away. With more than enough spots like this around the hotel, fear not this isn't the kind of place you have to wake up early to secure a bed. Phew!
Whether you try the new Scandi-inspired sauna pod nestled between the vegetable patch, head to the hamman or go straight for a couples massage in the solid teak treatment cabins, you always have that feeling of being close with nature but in the most authentic way. Yoga and wellness classes are all included in your stay, with daily classes you can be sure to grab a mat and get your namaste on. The chance to restore your inner glow is more than possible here and quit frankly hard to resist, we had come to chill after all.
Atzaro Hotel & Spa, Ibiza: The Food
With all the vegetables and herbs coming from the kitchen garden and the meat from local farms in the surrounding areas, the food is a big part of Atzaro Hotel & Spa. Menus are based on a true farm to fork concept, with mediterranean flavours that are healthy and fresh, dining here is as delicious as you would imagine. Try the melt-in-your-mouth homemade Iberian ham and cheese croquettes to start, suckling pig or for the veggies the beetroot & avocado burger is too good not to try and finish with the praline sponge. Boom.
Don't Miss
The newly launched 'Vegetable Garden' coming in the Summer, on 15th August to be precise celebrates the 15th Anniversary of Hotel Atzaro & Spa, launches with a food festival, music and cocktails. Count us in. With the vegetable being entirely organic, using water from the estates well and electricity from the on-site solar panels, this is a special place. Walk through colourful vegetable rows and fig laden trees to find water features, a tree shaded bar and the most dreamy spot lined with palm trees to enjoy picnics plus used as a open air cinema in the evenings. We are sold.
Pop to a beach club, Atzaro Beach to be precise. Situated in the picturesque bay of Cala Nova in the North East of the island, its a unpretentious place to relax and unwind while the sun shines. Think rattan and wicker 1970s boho vibes, with palms a plenty and the turquoise sea twinkling in the distance. If you like a beach club with a chill atmosphere, that the crowds don't know about yet this is the one for you.
When it comes to eating out you must try Aubergine, a restaurant spread across two buildings owned by the Atzaro group. Its a short cab ride away and like stepping into a little piece of authentic Ibizian heaven. With its super pretty gardens with twinkling lights, a small shop filled with local craft and pottery buys that will catch your eye and a rustic healthy menu full of vegan and veggie options, you wont want to leave. Everything on the menu is seasonal and local, either grown in the gardens or from the Atzaro estate and you can taste it. You will also wonder what exactly is that paint colour that is over all the upcycled furniture, is it sage green or mint and how can you start renovating your house back home in it? FYI you cant, its bespoke to Aubergine, damn.
The Need To Know:
Atzaro Hotel & Spa, Carretera Sant Joan KM15, 07840, Ibiza
Rooms: 24
Price: Start at 170 Euros in low season
Check-in: 15:00 pm
Check-out: 12:00 pm
Pool: Yes
Gym: Yes
Spa: Yes
Celebrity news, beauty, fashion advice, and fascinating features, delivered straight to your inbox!