Best sustainable clothing brands: 30 fashion-editor-approved labels to have on your radar
Shop the brands doing their bit to build a better tomorrow.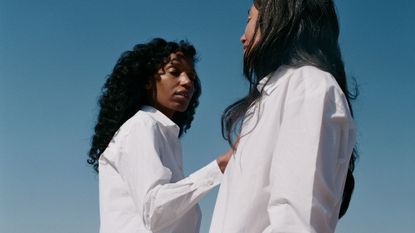 If you're searching the Internet for sustainable clothing brands, chances are, you're keen to cut down on your fast fashion consumption and make your wardrobe a little more eco-friendly.
Shopping ethically is a great way to reduce your carbon footprint and overall emissions, especially now that more and more brands are focusing on producing better quality clothes with a seasonless aesthetic, meaning customers won't grow tired of them after a few months.
But with so much sustainable fashion around, knowing how to pick the right brands can be tricky, especially when so many are guilty of greenwashing. With that in mind, here at Marie Claire we've put together a guide to help you.
What is the difference between ethical and sustainable clothing brands?
There is a lot of confusion between the terms 'ethical' and 'sustainable.' No, the two aren't the same. Treating staffers, suppliers and so on in an ethical manner is just one part of being a sustainable business.
There are different ways to produce ethical clothing, and according to the Ethical Fashion Forum, they generally fall into three categories - social, environmental and commercial. The forum specifically tackles these issues:
Countering fast, cheap fashion and damaging patterns of fashion consumption
Defending fair wages, working conditions and workers' rights, and supporting sustainable livelihoods
Addressing toxic pesticide and chemical use, using and/or developing eco-friendly fabrics and components
Minimising water use
Recycling and addressing energy efficiency and waste
Developing or promoting sustainability standards for fashion
Providing resources, training and/or awareness-raising initiatives
Protecting animal rights
What constitutes a sustainable clothing brand?
When it comes to sustainable fashion brands, there are many things to consider including how a brand sources its fabrics, how they manufacture and transport their products, and how they sell items in a planet-friendly way.
As Joanna Dai, founder of the B Corp-certified clothing brand Dai shares, every new product put out into the world has an impact - however, some brands are doing better than others to minimise their mark. We asked Dai for her expertise on how you can ensure a brand is genuine in its sustainability efforts.
How can you spot if a brand is genuine in its sustainability efforts?
Joanna Dai outlines her tips below.
Accountability - "For real change, brands must be accountable for their impacts and decisions across the entire business," she shares. "Brands that achieve B Corp certification are invested in running a responsible business."
Fabrics - "Look to brands that are using certified plant-based or innovative recycled materials as much as possible," she recommends.
End of life - "Sustainability doesn't end once the customer checks out their basket. Look out for brands that offer repairs and take-back schemes that help increase a garment's longevity or encourage responsible recycling," she encourages. "We recently introduced Dai'Cycle, a programme where customers can drop off their preloved Dai clothing in exchange for a £25 gift card to use on their next in-store purchase. We will renew and repair the donated pieces and offer them in-store as preloved items to new customers, or donate it to our charity partner Smart Works."
Building products to last - "Alongside an end-of-life programme, invest in brands and products that are well designed and built to last," she goes on. "This is a founding principle at Dai, I personally road-test each and every product to make sure it performs and functions for our customers now, and for years to come."
Valuing people - "Sustainability must combine people and the planet. Look at brands' supplier codes of conduct or commitments to paying fair and living wages to ensure the people who are making your garments are being treated well."
Marie Claire UK's Sustainability Editor, Ally Head, agrees, adding that shopping for sustainable clothing can feel like a minefield when you've got brands greenwashing left, right and centre.
Her advice? "Always check whether a brand has a B Corp certification. If they do, it means they've undergone the most rigorous testing - qualifying can take as long as three years (!) - to make sure their practices are plant-friendly across all aspects of their business. They have a detailed directory on their site of all the brands that have qualified."
Secondly, do your research - often, if a brand actually works to sustainable practice, they'll have a whole page dedicated to it on their website. "Do read up and also carefully consider both the eco-claims they are making and how they say their business is structured - do they promote fast fashion, do they rack up air miles like there's no tomorrow, and do they still send products out in non-recyclable or non-biodegradable materials? Even if a brand says they're sustainable, they might be greenwashing - for example, a global company that churns out new designs every day doesn't *sound* sustainable to us."
And thirdly, use your common sense. "Buying secondhand, shopping in vintage stores, using pre-loved fashion sites or renting clothes are all great ways to shop sustainably and lower the impact that creating new clothes can have on the environment," Ally explains.
Keep on scrolling to discover our favourite sustainable clothing brands - and while you're here, check out our favourite ethical jewellery brands and sustainable sports brands, too.
The best sustainable clothing brands you need to know about: