Show report: Diesel Black Gold A/W'11
On the coldest day of the NY Fashion Week so far, the great and the good of the fashion world shuffled over to Pier 94 on the Hudson River to take in the latest collection from Diesel's Black Gold line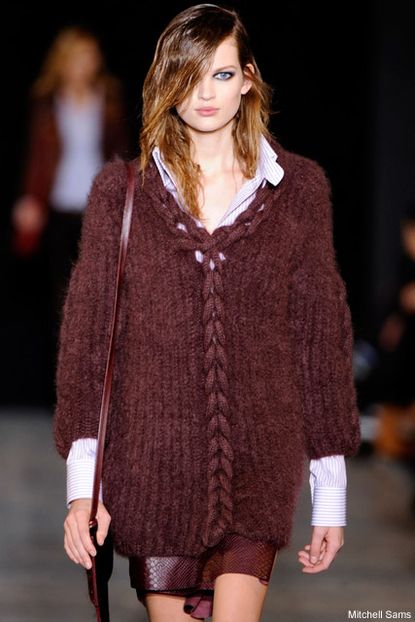 (Image credit: Mitchell Sams)
On the coldest day of the NY Fashion Week so far, the great and the good of the fashion world shuffled over to Pier 94 on the Hudson River to take in the latest collection from Diesel's Black Gold line
On the coldest day of the NY Fashion Week so far, the great and the good of the style world shuffled over to Pier 94 on the Hudson River to take in the latest collection from Diesel's Black Gold line.
With A-list support from Chace Crawford, Vanessa Hudgens and Wyclef Jean, designer Sophia Kokosalaki already had a willing audience for her A/W 2011 line - and Diesel Black Gold didn't disappoint.
Models worked boho-chic in vintage leather and denim with corseted lacing up the sides of trousers and the fronts of dresses, combining the rock 'n' roll look with a military vibe.
According to the show's notes, autumn/winter 2011 will be all about womenswear with a 'harder edge tempered with reversible shearling, soft suede and cosy knitwear.'
As well as cutout leather, asymmetrical wrap skirts and large collared men's shirts, models wore new-look biker jackets for A/W11 and suede coats in black, khaki, plum and burgundy.
Accessories? You'll be needing leg warmers, shoulder bags and lots of scarves for next season and the look is all about side swept long, messy hair and grungy make-up.
It may not be the easiest of ensembles to pull off, but yet again, Kokosalaki's new season collectionis unlike anything else on show at NYFW. A true original.
Diesel Black Gold must-haves for A/W11: - Leg warmers - Military jacket in suede - Large collared shirt - Just-got-out-of-bed hair - 70s style shoulder bag
CLICK HERE TO SEE THE FULL DIESEL BLACK GOLD AUTUMN/WINTER 2011 COLLECTION
Celebrity news, beauty, fashion advice, and fascinating features, delivered straight to your inbox!