Met Gala 2019: The campest outfits on the red carpet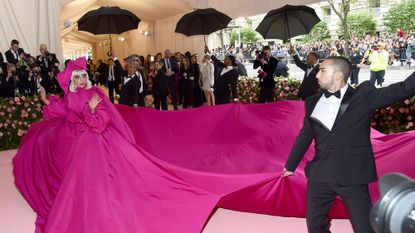 (Image credit: Shutterstock/Rex)
It was always going to be tricky to outdo the Met Gala 2018 red carpet, thanks to its religious theme which led Rihanna to dress like the actual Pope.
However it's safe to say the celebs have outdone themselves again, taking the Camp: Notes on Fashion and running with it.
Met Gala Camp theme
First off, a bit of context. Like previous years, the theme was an extension of the Met's exhibition, curated by Andrew Bolton and Wendy Yu, around Susan Sontag's 1964 essay Notes on "Camp" which amongst other things describes it as a love of exaggeration. Gucci was the official sponsor, so the fact there would be extravagant and fabulous outfits was a given.
Met Gala 2019 Lady Gaga
She pulled off not one, not two, not three but four Brandon Maxwell looks on the red carpet. All within five minutes of arriving on the pink carpet. She arrived in a hot pink ballgown, which she took off to reveal a slightly smaller black ballgown which she took off to reveal a pink column dress, and finally stripping to her black underwear, all whilst using props such as a giant Barbie-style phone, an umbrella (ella) and then a cocktail trolley. What a performance.
Met Gala 2019 best dressed
When the Met Gala red carpet opened, we thought for sure that Lady Gaga was the new Met Gala queen seeing as her four outfits were even better than that Golden Globes dress, but then Celine Dion went and blew everything out of the water in a full Las Vegas showgirl outfit, feather headdress and all and does the woman ever age??!!
Serena Williams came to serve (sorry), in a bright yellow Versace gown with matching neon Off-White Nike trainers, and Mrs Maisel star Rachel Brosnahan also went pink in a floaty Erdem gown.
As for the mean, they weren't too shabby either. Harry Styles teamed his Gucci pussybow blouse with patent heels, whilst Taron Egerton chose a very Elton-esque beaded tuxedo jacket and his Rocketman co-star Richard Madden looked dapper in black. Benedict Cumberbatch wore all-white. Oh, and Jared Leto also carried his own head down the red carpet.
Met Gala 2019: Emma Roberts
Wearing Simone Rocha
Met Gala 2019: Naomi Campbell
Met Gala 2019: Cara Delevingne
Met Gala 2019: Emma Stone
Wearing Louis Vuitton
Met Gala 2019: Jennifer Lopez and Alex Rodriguez
Wearing Versace
Met Gala 2019: Kendall Jenner
Met Gala 2019: Priyanka Chopra and Nick Jonas
Nick Jonas wears Dior
Met Gala 2019: Kylie Jenner
Met Gala 2019: Lily Collins
Met Gala 2019: Gwen Stefani
Met Gala 2019: Janelle Monae
Wearing Christian Siriano
Met Gala 2019: Gigi Hadid
Met Gala 2019: Kim Kardashian and Kanye West
Wearing Mugler
Met Gala 2019: Cole Sprouse and Lili Reinhart
Met Gala 2019: Bella Hadid
Wearing Moschino
Met Gala 2019: Zoe Kravitz
Met Gala 2019: Regina King
Wearing Oscar de la Renta and Lark & Berry jewellery
Met Gala 2019: Mary-Kate and Ashley Olsen
Met Gala 2019: Hailey Bieber
Wearing Alexander Wang
Met Gala 2019: Alexa Chung
Met Gala 2019: Elle Fanning
Wearing Miu Miu
Met Gala 2019: Zoe Saldana
Met Gala 2019: Miley Cyrus
Wearing Saint Laurent
Met Gala 2019: Katy Perry
Met Gala 2019: Lucy Boynton
Wearing Prada
Met Gala 2019: Benedict Cumberbatch and Sophie Hunter
Met Gala 2019: Emily Blunt and Sienna Miller
Emily wears Michael Kors
Met Gala 2019: Jared Leto
Wearing Gucci
Met Gala 2019: Kris Jenner
Wearing Tommy Hilfiger
Met Gala 2019: Mindy Kaling
Wearing Moschino
Met Gala 2019: Florence Welch
Wearing Gucci
Met Gala 2019: Saoirse Ronan
Met Gala 2019: Wendy Yu
Wearing Giambattista Valli Haute Couture
Met Gala 2019: Charli XCX
Met Gala 2019: Richard Madden
Wearing Dior
Met Gala 2019: Celine Dion
Wearing Oscar de la Renta
Met Gala 2019: Karlie Kloss
Met Gala 2019: Rachel Brosnahan
Wearing Ermes
Met Gala 2019: Laverne Cox