Sarah Jessica Parker 'pondering' Sex and the City 3
SJP has hinted at another movie, admitting there may be 'one more small, important story to tell'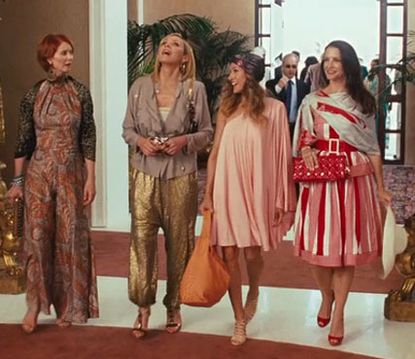 SJP has hinted at another movie, admitting there may be 'one more small, important story to tell'
We thought our favourite fashionista had long since hung up her stilettos, but it seems Carrie Bradshaw may yet make a comeback.
Nearly a year after the second film's release, Sarah Jessica Parker has opened up about the possibility of a third movie, admitting she thinks there is still 'one more small, important story to tell'.
For months rumours have been rife that the four fabulous SATC girls could be set for a reunion, with film bosses refusing to rule out the possibility of making a third movie.
Then came rumours of a prequel based on Carrie's teenage years – with Gossip Girl Blake Lively reportedly being lined up to land the lead.
Now Sarah Jessica Parker has finally spoken out about plans for a third movie, revealing she's enjoyed 'pondering' over Sex and the City 3.
SJP also admitted she thinks there may be one last story to tell, but remained tight-lipped on exactly what that could be.
'I think there is perhaps one more small, important story to tell,' she reportedly revealed to MTV. 'Whether or not we choose to do that and when we choose to do that remains, obviously, the unknown, but it's nice to ponder.'
'I think it always comes down to story and what is the story people want to tell,' she said, adding that she would be open to the possibility of another actor playing her part.
sex
'Obviously I feel proprietary in the best possible way about the entire franchise as it were, but I think there are lots of talented storytellers and obviously lots of talented actors who might be a part of it,' she said.
'I think, like anything, you base your opinion on material and content and I think that would be the only way for any of us to have an opinion.'
We want to know YOUR thoughts on a third Sex and the City movie? Would you like Carrie and Co. to return? Let us know in the comments box below.
Celebrity news, beauty, fashion advice, and fascinating features, delivered straight to your inbox!