Madonna 'shaken' by horse fall
Madonna's horse was 'startled' by waiting paparazzo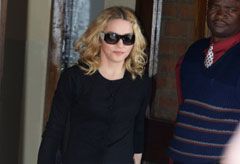 Madonna's horse was 'startled' by waiting paparazzo
Madonna has suffered 'minor injuries and bruises' after falling from a horse while riding in the Hamptons this weekend.
The Queen of Pop had headed to the New Yorkers' holiday getaway to spend the weekend with friends and was riding at celebrity photographer Steven Klein's estate when she was thrown from the horse. The 50-year-old's publicist, Liz Rosenberg, confirmed that Madonna had been admitted to hospital following the fall, but was released just hours later.
Rosenberg revealed that Madonna's horse had been startled by a waiting paparazzo, eager to get a picture of the star. According to Rosenberg, the photographer 'jumped out of the bushes' causing the horse to rear up.
It's not the first time the singer has taken a tumble while horse-riding. In 2005, Madonna broke several bones while on horseback, cracking three ribs and breaking her collarbone and hand, while riding at her UK country pad, Ashcombe.
Paparazzo Thomas Hinton, who is a regular photographer in the Hamptons, denied the claims Madonna's horse was startled, saying he took pictures from a public road before and after the accident, but was absent went Madonna came off the horse.
'As far as I'm concerned, the only photographer present when the accident happened was Steven Klein,' Hinton said.
'If a photographer startled a horse, I'm thinking we would have seen the pictures by now,' he told Newsday.com.
'That would be such an egregious thing to do, to trespass and startle a horse. The police would have been looking for a photographer.'
ARE YOU A TWITTERER? FOLLOW US HERE!
Celebrity news, beauty, fashion advice, and fascinating features, delivered straight to your inbox!