Kate Middleton invited to lunch with Kim Kardashian during her UK stay
Kate Middleton has received an offer of friendship from Kim Kardashian as she launches her clothing line in London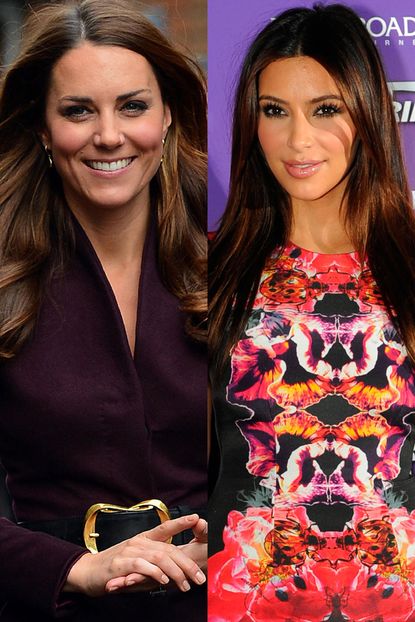 (Image credit: PA)
Kate Middleton has received an offer of friendship from Kim Kardashian as she launches her clothing line in London
Kate Middleton isn't short of female admirers, but she can now name a new celebrity fan in the form of Kim Kardashian. The reality TV star has invited the Duchess of Cambridge for lunch while she stays in the UK, although it's not known if her offer was accepted...
KATE MIDDLETON AND PRINCE WILLIAM GO ON CINEMA DATE
Kim touched down on UK shores today along with her sisters, Kourtney and Khloe, to launch their clothing line, Kardashian Kollection at Dororthy Perkins. But before the trip, Kim was keen to set up a meeting with the royal, telling Life & Style magazine:
'We'd love to [see Kate Middleton], are you kidding? We all love her! I'd call her up and ask her to lunch. She's amazing.'
THE KARDASHIAN KOLLECTION PHOTOS
But it's not just Kate who is admired, it's her wardrobe too, and while Kim's skin-tight looks may be a far cry from Kate's feminine and fitted dresses, she still says the royal's fashion inspires her.
Kim's make-up artist, Rob Scheppy, told the Daily Star: 'Kate Middleton has influenced [Kim's] look while in London. We watched her wedding and we thought it was beautiful.'
Her love for the Duchess isn't a passing phase for Kim, though, at the start of the year she designed a shoe in Kate's honour to mark her 30th birthday. It was a quilted court and created because, according to Kim, 'every woman should feel like a princess.' What do you think of Kate Middleton going for lunch with Kim Kardashian? Would this be a friendship the royal family would approve of? Have your say below.
Watch Kate Middleton's best fashion moments in our video...
25 THINGS YOU DIDN'T KNOW ABOUT KATE MIDDLETON
KIM KARDASHIAN FACING LEGAL ACTION OVER BEAUTY BRAND
50 REASONS WHY KATE MIDDLETON IS A STYLE ICON
Celebrity news, beauty, fashion advice, and fascinating features, delivered straight to your inbox!