Kate Middleton and Prince William enjoy cinema date to see Skyfall
Kate Middleton and Prince William spend a romantic evening watching the latest Bond film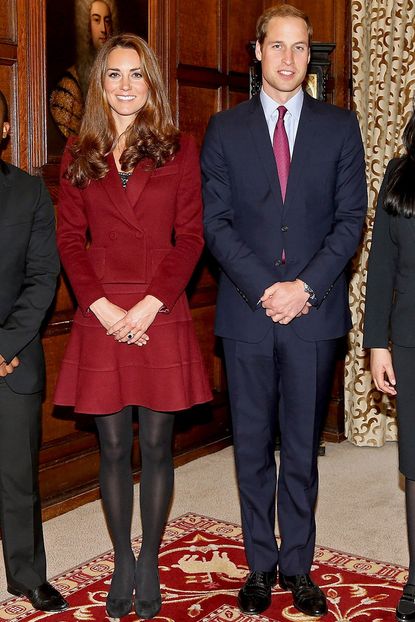 (Image credit: PA Photos)
Kate Middleton and Prince William spend a romantic evening watching the latest Bond film
Kate Middleton and Prince William have the means to enjoy lavish meals out complete with all the celebrity trimmings, but the down-to-earth couple actually prefer more low-key affairs as they headed to the cinema this weekend.
The royals spent Sunday evening watching the latest Bond film, Skyfall, at their local Cineworld movieplex in Llandudno, Wales.
25 THINGS YOU DIDN'T KNOW ABOUT KATE MIDDLETON
For their laidback date, Katestepped out of her designer dresses and into a more casual ensemble, although her blow-dried locks were still perfectly in place, according to onlookers. Prince William tried to remain incognito and dressed in jeans and a baseball cap.
Perhaps in an attempt not to draw attention to themselves, it appeared the royals stepped out without any security, a source told US Weekly: 'They came in by themselves. They didn't have protection with them, or if they did, he or she was very hidden.'
PIPPA MIDDLETON GIVES FIRST INTERVIEW ON HER SISTER
It's also reported that the Duke and Duchess of Cambridge enjoyed salty popcorn during the film and were all smiles, with the source adding: 'They were smiling and seemed in good moods. It was just a simple weekend date night for them. It's nice to see they do such normal things.'
It certainly is!
What do you think of Kate Middleton and Prince William's cinema date? Is it nice to hear they do 'normal' things as a couple?
Watch Kate Middleton's best fashion moments in the video below.
50 REASONS WHY KATE MIDDLETON IS A STYLE ICON
KATE MIDDLETON TO SIT FOR NATIONAL PORTRAIT GALLERY PAINTING?
Celebrity news, beauty, fashion advice, and fascinating features, delivered straight to your inbox!