Harry Styles lavishes girlfriend Taylor Swift with gifts
Smitten Harry Styles splashes out of New Years gifts for Taylor Swift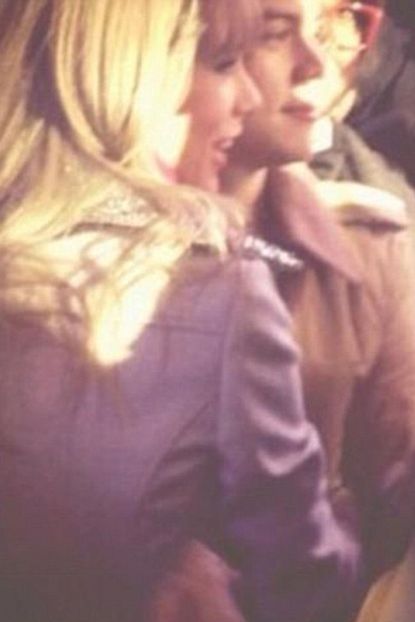 (Image credit: © Posted to Taylor Swift)
Smitten Harry Styles splashes out of New Years gifts for Taylor Swift
Smitten Harry Styles gave girlfriend Taylor Swift a vintage emerald bracelt to celebrate them seeing in 2013 together.
2013 got off to a pretty good start for Taylor Swift. As the clocks struck midnight in Times Square the loved up singer was the envy of millions of girls around the world when she locked lips with One Directioner Harry Styles, who proceeded to declare his love to her by giving her a vintage bracelet.
WATCH: HARRY STYLES AND TAYLOR SWIFT SMOOCH ON NYE
Harry Styles found the super cute gift for Taylor at a second-hand jewellery shop near his home in Cheshire while shopping over Christmas, according to The Sun newspaper.
A source said: 'Harry handpicked the present for Taylor while he was back home.'
'He found it in a second-hand shop and she was impressed when he handed it to her.'
Adding: 'He gave it to her at the plush hotel they stayed in while they were celebrating New Year in New York. Harry is head over heels for Taylor and even admitted he loves her while they were in the Big Apple.'
And it seems Taylor, 23, has got a few surprises of her own for Harry's impending birthday on February 1st, with sources saying the songstress is planning a month of celebrations (!).
'She is also planning a series of other surprises and gifts. She has so many celeb mates, so she's calling in favours and asking them to record funny videos for him. She's told everyone to save the date of 1st February for his surprise party,' a friend confirms.
HARRY STYLES AND TAYLOR SWIFT ROMANTIC BREAK
WATCH: Taylor Swift for Marie Claire here...
Celebrity news, beauty, fashion advice, and fascinating features, delivered straight to your inbox!