Don't Feel Bad That Cara Delevingne's Rabbit Has More Followers Than You
Cara's rabbit Cecil has amassed quite the Instagram fan base. Even Karl Lagerfeld's cat is jealous of her cuteness...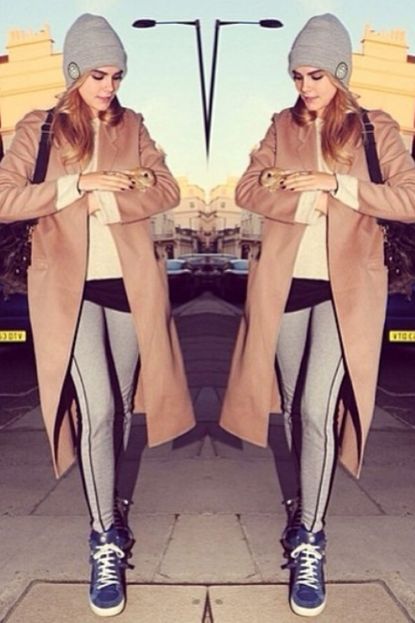 (Image credit: Instagram)
Cara's rabbit Cecil has amassed quite the Instagram fan base. Even Karl Lagerfeld's cat is jealous of her cuteness...
Cara Delevingne always keeps us captivated with her stunning photoshoots and playful personality. And her sister Poppy certainly won us over this week with her two breath-taking wedding gowns.
But it's time for the ladies to step aside because there's a new Delevingne in town - and her celebrity status is on the rise.
Earlier this month, Cara introduced us to a fluffy new friend - her pet bunny, Cecil. The adorable rabbit made her Instagram debut on 14 May, with Cara immediately promoting her pet's own account, @delevingnececil.
Since then, we've been treated to snaps and videos of the tiny fluffball making her way through London. We've seen her snuggling up to Rita Ora, walking the city streets and typing away on a Mac keyboard. And we have to say, we're hooked.
But we're not the only ones obsessing over the insanely cute pics. Cecil has gathered nearly 73,000 followers in a span of just two weeks. Sure, she's no Grumpy Cat (he has 340k followers, thankyouverymuch) - but it's a pretty impressive fanbase.
And it seems another fash pack pet is a little jealous. Karl Lagerfeld's notoriously snooty cat, Choupette (who has 37k Twitter followers) took the opportunity to bask in Cecil's misery this week. Cara brought her bunny along for a recent visit to the Mulberry HQ in London, and Cecil fell through a hole in the floor. Luckily, the maintenance staff retrieved her unharmed - but Choupette had the last word.
'Reason 67907083 felines are superior to bunnies: We know not to climb into air conditioners. #TiskTisk @delevingnececil,' Karl's feline tweeted.
So catty... Check out the seven most popular cats on Instagram.
Got a tablet? Take the new look Marie Claire wherever you go, download straight to your iPad & iPhone, Kindle (just search the store for 'marie claire magazine'), Nook or Google Nexus for only £2.99.
Celebrity news, beauty, fashion advice, and fascinating features, delivered straight to your inbox!
Ali Gray is an award-winning content director and digital strategist. Most recently she was the Director of Branded Content at Hearst, and helped to bridge the gap between the editorial and commercial worlds working across all Hearst brands, including ELLE, Cosmopolitan, Esquire and Harper's Bazaar. Prior to that she worked as an editor contributing to several brands such as The Telegraph, iVillage UK.