Carla Bruni fuels pregnancy rumours
Speculation has hit fever pitch, after the French First Lady pulled an appearance at Cannes for 'personal reasons'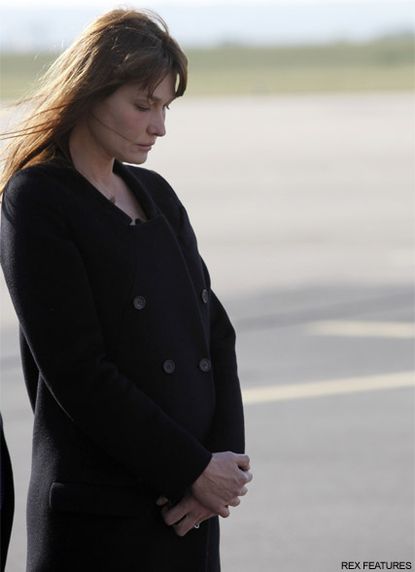 (Image credit: Rex Features)
Speculation has hit fever pitch, after the French First Lady pulled an appearance at Cannes for 'personal reasons'
Last week the rumour mill went into overdrive, amid reports France's First Lady Carla Bruni was expecting twins. And today speculation has reached fever pitch, after the former model pulled out of an appearance at Cannes at the last minute, for 'personal reasons'.
STRANGEST CELEBRITY BABY NAMES
The super-slim premiere's wife – who stepped out sporting a suspiciously rounded tummy earlier this week – was due to attend the famous film festival after landing a small part in Woody Allen flick Midnight in Paris, which opens the week-long event tomorrow.
But now the French star has cancelled her appearance, citing cryptic 'personal reasons' as the reason for her no show.
Asked if she was going to Cannes, during a pre-recorded interview with radio station RTL, she said: 'I dreamed of going and I regret it but I cannot for personal reasons, and professional reasons, unfortunately.'
Further fuelling speculation, she added: 'I want to try and protect my private life and family life as much as possible. That's what I'm trying to do.
'I know that people understand me. I too have the right to a little protection of my private life. I do not wish to answer questions of a private, family or physiological nature.'
Last week, Carla hinted she could be expecting, but refused to answer directly, when asked by a reporter: 'Are you pregnant?'
'If you'll allow me, I'd rather not answer these questions about my family,' she said. I'd love to talk to you woman to woman about my family life, my personal dreams – and I'm really a very chatty person.
'But on this subject, I'm going to keep quiet. Not through arrogance or because I like keeping secrets. I am remaining tight-lipped about that to protect something.'
'She went on: 'I would really like to to talk about it, but then it would take over everything else. And besides, it also involves people, so I'm not answering.'
Watch this space!
STRANGEST CELEBRITY BABY NAMES
Celebrity news, beauty, fashion advice, and fascinating features, delivered straight to your inbox!