I'm a personal trainer, so trust me on this one: these 11 simple home workouts get my pick as the most effective
Bookmark these for later.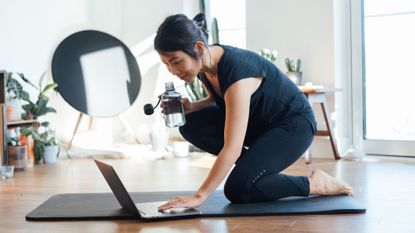 (Image credit: Getty Images)
On the hunt for simple home workouts? We don't blame you - they're easy to do, affordable, and even doable in your pyjamas (yes, really). Home workouts soared in popularity during lockdown and while lockdown is thankfully a thing of the past now, working out from home has remained a mainstay.
Case in point: the recent A Sweat Life State of Fitness report found that nearly 75% of people workout from home at least once a week. It doesn't take a rocket scientist to work out why, either, with research showing that eight in ten adults find gyms intimidating, and a 2020 study concluding that often, women choose not to exercise in fitness environments due to a lack of confidence and fear of receiving unsolicited advice from men.
As well as being free, home workouts are less intimidating than some gym workouts, plus allow you to get a sweat on in a space you're comfortable in. While it's imperative that we start to create exercise environments that welcome everyone, simple home workouts can be a useful stepping stone for those who want to move without judgment. Even for the pros among us, they can be a great way to shake out on the days we can't get to the gym.
The great news is there are tonnes of free home workouts for you to follow along with on YouTube, including loads of home workouts without equipment for those who haven't invested in a home gym and workouts for beginners, too.
That said, so many options can sometimes feel overwhelming, especially when you're short on time. Lucky for you, then, that I know exactly what to look for when it comes to finding the best home workouts that are a. effective and b. super easy to follow along. I'm Chloe Gray, a health writer and qualified fitness instructor, and I have years of home workouts under my belt. My very own fitness journey began nearly ten years ago with some of the YouTube workouts in this round up, which I'd follow along to from my university halls. While I've now graduated to strength training in the gym, I've maintained a few home sessions every week (read my review of home fitness app FIIT, here).
Not sure how to workout at home? Our expert-led explainer will help. Don't miss our guides to low impact workouts, home arm workouts, or the best Joe Wicks workouts, while you're here.
Simple home workouts: 11 to try now
What's the ideal length of a simple home workout?
Good question - but do note that this will vary depending on your current fitness levels, lifestyle, and end goal.
While the NHS website advises trying to be active every day, their guidelines advise 30 minutes of "moderate aerobic activity", five times a week. This could be running, cycling, swimming or walking - basically whatever cardio workout you enjoy the most.
On top of that, they advise incorporating strength exercises, like kettlebell exercises, dumbbell exercises, or resistance band exercises, two days a week. During these sessions, they recommend working all your major muscles - think your legs, hips, back, abdomen, chest, shoulders and arms.
1. 8 minute post-pregnancy workout
What? If you're returning to fitness after giving birth, internationally renowned trainer Kayla Itsines has a wealth of simple at-home options for you. This 8-minute post-pregnancy workout covers glute stretches, push ups, glute bridges, and more.
Do note - make sure you've spoken to your healthcare professional before trying. It's important to get the all clear to train after giving birth.
Why? It's short but effective, and designed specifically for post-partum (no jumping squats over here).
How long? 8 minutes.
2. 9 minute full body HIIT workout
What? A 9-minute HIIT workout from Mr and Mrs Muscle, complete with great tunes and modifications for those who can't complete the more advanced moves. For added fun, grab a workout partner and sweat through this one together, just like the on-screen couple.
Why? This short, sharp workout is a great way to keep active on the days when you're back-to-back with meetings.
How long for? 9 minutes.
3. 15 minute express Pilates workout
What? A super quick but extra-effective Pilates session from YouTube's best Pilates instructor, Move With Nicole.
Why? Pilates is a great way to refresh your muscles during busy days, but it often feels as though you have to be pulsing for hours to feel the benefit. Not true with this workout, which works the muscles in a simple but efficient way.
How long for? 15 minutes.
4. 15 minute core workout
What? Target your abs with this workout from the maestro that is Shona Vertue. The quick video is best paired with one of her lower body strengthening workouts, or used as a quick way to keep that core active during long days at your desk.
Why? A strong mid-section is so important for your everyday life, protecting your spine and hips, as well as helping improve your technique in other workouts you do. Thanks to this handy video, there's no reason to skip the ab sessions.
How long for? 15 minutes.
5. 20 minute full body strength workout
What? This full body workout uses dumbbells to get you stronger than ever from home. Expect to squat, curl, lunge, plank and twist your way through, leaving no muscle unturned.
Why? With 608 thumbs up on YouTube, this workout is a simple-but-great way to build strength, thanks to qualified trainer Zanna Van Dijk.
Not for you but still after a full body workout? Give Itsines' full body workout a go, here.
How long? 20 minutes.
6. 20 minute beginner Pilates
What? Keep it super simple with this beginner-friendly Pilates workout from instructor Isa Welly.
Why? With a focus on strengthening and lengthening, this workout hits all the basics of a good Pilates session in record time thanks to Isa's well-programmed session. Best gym mats, at the ready.
How long? 20 minutes.
7. 20 minute no kit HIIT
What? A no equipment, no noise and no impact 20-minute HIIT workout you can do anywhere and follow easily. With on-screen captions explaining the technique, you can't go wrong.
Why? Natacha Oceane isn't just a PT - she's a biophysicist, long distance runner and strength trainer. In short: she knows a thing or two about how to really train for the best fitness results, and this HIIT workout proves it. You only need yourself to get started with this joint-friendly, cardio workout, so it really is suitable for most.
How long for? 20 minutes.
8. 20 minute HIIT
What? Perfect for those who get bored easily, this no-repeat HIIT workout means you'll never do the same move more than once. With a simple 45 seconds of work and 15 seconds rest setup, you'll be sweating by the end of this plyometric workout.
Why? Maddie Lymburner - otherwise known as MadFit - has one of the most prolific workout accounts on YouTube and all of her videos are appropriate to follow along at home. This is one of her simplest HIIT workouts designed to get your heart rate up. Jumping jacks not for you? Do check out her low impact workouts, too.
How long for? 20 minutes.
9. 30 minute yoga flow
What? While yoga instructor Sanchia Legister designed this yoga flow for pre-run stretching, it's also a great way to move your body if you aren't heading out for a run. Flow through downward dog, cat cow, and warrior two.
Why? To boost your flexibility, mobility, and peace of mind.
How long? 30 minutes.
10. 30 minute cardio and abs
What? Talilla Henchoz is a fitness instructor who posts follow-along HIIT workouts every Friday. This workout is 30 minutes of sweat divided into a Tabata round, an up-and-down round and an end-of-workout finisher, but fear not - she's there with you to explain all the moves and how to practice best form as you go along.
Why? Henchoz has built a loyal fanbase for her workouts, with videos like this one racking up nearly 20k participants. If you leave with even an ounce of her energy, it'll be worth it.
How long? 30 minutes.
11. 30 minute full body Pilates sculpt
What? You'll feel seriously strong after this 30-minute guided Pilates session, with in-depth instruction from trainer Lily Sabri.
Why? Sabri demonstrates loads of variations to make this simple workout effective for all levels - beginners can use bodyweight, while those more advance at Pilates can add resistance bands and weights to the circuit. Pilates exercises never looked so simple.
How long for? 30 minutes.
If you do want to buy some home gym equipment, we have a big old roundup of that, too, so you can be sure you're buying the best dumbbells, resistance bands and yoga mats out there.
Shop our Health Editor's go-to workout kit now
Health Editor Ally Head has a few of these bras and wears them on repeat for running, strength training, yoga and more. Offering a medium support, it'll quickly become a favourite.
LNDR Super Keen Bike Short
Another piece of kit Health Ed Ally wears on repeat are these LNDR cycling shorts. The brand has impressive sustainability credentials and produces kit designed to last - a firm favourite in the MC UK fit kit rotation.
What is the best simple workout?
It'll depend on what kind of movement you enjoy, as research has shown that finding an exercise you actually like means you're much more likely to commit to that routine longer term.
Low impact workouts, like walking, strength training, and Pilates are all a great place to start. Similarly, if you're keen to get your heart rate up, running and high intensity interval training are good go-to's.
Is a 20 minute home workout enough?
According to the hundreds of personal trainers I've spoken to over the years, it certainly can be - but they're best paired with an otherwise active lifestyle.
As the NHS website recommends aiming for 30 minutes of exercise every day, it's worth making sure you're being active otherwise if you only have 20 minutes to dedicate towards an actual workout. This could look like hitting your daily step count, carrying the shopping in from the supermarket or car, or dancing to one of your favourite songs on the radio. Every little helps.
Celebrity news, beauty, fashion advice, and fascinating features, delivered straight to your inbox!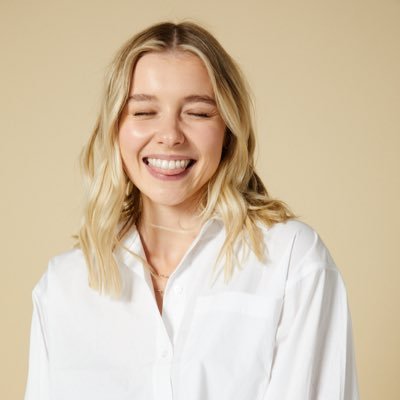 Contributing Health Writer
Chloe Gray is a freelance journalist who writes and talks about health, fitness, and wellbeing through a feminist lens. She was part of the launch team for Stylist magazine's fitness brand, Strong Women, and has written for i news, Women's Health, Red magazine, Good Housekeeping, Refinery29, and more. She's all about building mental and physical strength, eating delicious food that fuels you well, and making the fitness industry more accessible and enjoyable. She's also a qualified fitness trainer and research nerd, so you can be sure everything you read is backed by proper science.