On the hunt for the best resistance band exercises? 6 moves you can do from anywhere to boost mobility and strength
Looking for a whole body workout that'll leave you knowing you've worked out? Say hello to the humble resistance band.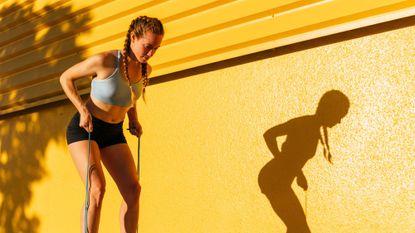 (Image credit: Getty Images)
Did you know? Resistance band exercises are one of the most effective ways to workout. They're simple to do, cost very little, and can be done from anywhere - not to mention they work a series of muscle groups if done correctly.
They may look like a simple piece of kit, but don't be fooled: these stretchy bands are a versatile addition to any strength training routine. Trust us when we say, they'll take your glute exercises and ab toning exercises to another level.
Looking to get active after a relaxing Christmas or mix up your workout routine> You're in the right place, as they're used in celebrity workouts, too - Ashley Graham uses resistance bands in her gym workouts and Naomi Campbell is also reportedly into them. NFL star Tom Brady has even gone as far as to say that the only equipment he uses in his workouts is resistance bands.
Keep scrolling for your complete guide to resistance band exercises - and don't miss our guides to dumbbell exercises and kettlebell exercises, while you're here.
Resistance band exercises: your guide
First things first: what actually is a resistance band, you ask? Resistance bands are essentially elastic bands used to create resistance. When this is done correctly, muscular contractions occur, which help you build strength and tone, explains ex-professional athlete and personal trainer Omar Mansour.
So, why are they so great? Research has shown that training with elastic resistance bands actually provides similar strength gains when compared with more traditional devices, such as dumbbells and weight machines. And, if we say so ourselves, they can be a hell of a lot easier to use.
Other benefits include being easy to travel with (in case you fancy an impromptu workout).
How should people use a resistance band?
In short - however works best for you. Exercises using the bands can be mixed into existing workouts, used for warm-up exercises, or done as a stand-alone - whatever works for you.
"Depending on the individual's fitness ability, resistance bands can be used to improve mobility, activate and strengthen muscles," says Mansour, who is also a running coach and trainer with the audio fitness training app With U. It can also be a useful piece of kit to use in a warm-up, as above as the band will help send blood flow to muscle groups.
"Resistance bands can be used for greater muscle stimulation, stretching, and mobility. When used to improve strength and power, resistance bands can challenge you in different ways to free weights, as typically the upper portion of the movement is harder than normal," explains Monsour. "This is when the band is stretched most, creating the most resistance. Overloading the top part of an exercise can create greater muscular activation."
Are there different types of resistance bands?
Yes, there are. You have short or long resistance bands, looped or solo, different strengths, and a variety of different materials, too.
Think of it this way - there's a range of weights at the gym, and a range of different intensities of the resistance bands, too. You'll typically see light, medium, heavy, and extra-heavy resistances.
Shop our edit of the best resistance bands here or scroll to the bottom of this article for our top picks.
Resistance band exercises: 6 to try tonight
1. Resistance band front squats
After resistance band exercises for legs? Front squats are great for working your hamstrings, quadriceps, glutes, and abs.
How to? Stand with your feet hip-width apart. Then, engaging your abdominal muscles and bending at the knees, lower your glutes towards the floor, pausing at the bottom before pushing back up. Remember to use your glutes and hamstrings here for the pushback up.
How long? Do this front squat with a resistance band for 45 seconds.
2. Seated back row
If you're looking for resistance band exercises that will work the shoulders, arms, and back, then this seated back row delivers all three.
How to? Sit on the floor with your legs out straight in front of you, back straight, and your toes pointing towards the ceiling. Loop the band around the bottom of your feet and hold the end in both hands. Then, engaging your back and core, row both elbows backward until your hands are near your hips. Return and repeat.
How long? Grab a resistance band and try this exercise for 45 seconds.
3. Press-ups with a resistance band
A classic - the press-up - just got harder, thanks to the addition of a resistance band. It's an ideal addition to a routine for those after band exercises for arms and the chest.
How to? Give your regular push-up a go, but loop a resistance band around your back for added tension and resistance.
How long? Mansour recommends doing this exercise for 45 seconds.
4. Reverse lunges with a resistance band
This is a pretty straightforward exercise to try if you're on the hunt for resistance band exercises for beginners.
How to? Start by slipping a band around your thighs. Standing with your feet hip-width apart, take a large step backward with one foot. From there, lower your knee towards the floor and lowered foot. Your knee should be at a 90-degree angle and your heel lifted. Return and repeat.
How long? Again, this is an exercise to do for 45 seconds.
5. Banded overhead press
Another top pick, the banded overhead press will get the muscles in your arms, chest, shoulders and upper back working.
How to? Again, start with your feet hip-width apart. Loop the resistance band under both of your feet and hold it in both hands, with your palms facing upwards. Push the band directly overhead until your arms are straight and your muscles engaged. Return and repeat.
How long? Repeat the overhead press for 45 seconds.
6. Bicep curls with a resistance band
Try 45 seconds of these bicep curls with a resistance band and you'll see how effective a band can be in place of free weights.
Best resistance bands to buy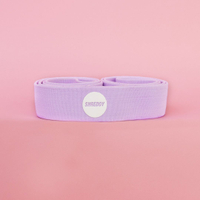 Shreddy The Spring Lilac Long Band X-Heavy, was £17 now £11.49 | Shreddy
Best for: Strength workouts
Founded by PT, fitness influencer and entrepreneur Grace Beverley, Shreddy's fitness products have a firm fan following for good reason. Made from a polyester, cotton and rubber blend, Shreddy's resistance bands are a great option if you're not a fan of - or are sensitive - to latex. This lilac version is a long band that comes in an extra heavy, but there are a multitude of lengths and strengths to choose from in the range.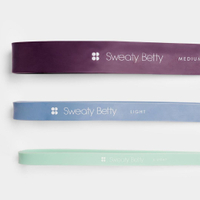 Sweaty Betty Powerband three-pack, £25 | Sweatybetty
Best for: Strength workouts or warm ups.
This trio of resistance bands from fitness fave, Sweaty Betty is a great introductory set. Made of latex, the bands come in three different strengths (from extra light to medium) and in a chic muted colour palette. They're also hardwearing, easy to wipe down, and come with a mesh drawstring bag to keep them stored away when not in use.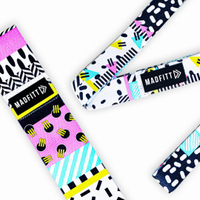 Madfitt Let's Groove - One Short and One Long Band Bundle, £32.99 | Madfitt
Best for: Gym workouts or stretching.
Bland these bands are not. Designed in-house in Edinburgh, these bold resistance bands are both a colourful and useful addition to your gym kit. There's both a short and long band included in the bundle, meaning you're ready to tackle a variety of resistance band exercises. Oh, and you'll be able to spot them easily when packing your gym bag.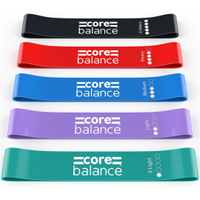 Core Balance Mini Resistance Bands - Five Piece, was £14.99 now £5.99 | Core Balance
Best for: Gym workouts and warm ups.
This bargain set of latex bands from Core Balance is colour coded so you can easily spot the level of resistance each offers. For recovery, rehab, stretches, and upper body exercises, opt for one of the lighter bands. If you're looking for something with more resistance, to use in lower body exercises and building muscles, then the heavier bands are ideal.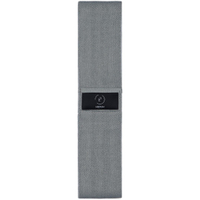 La Pochette Medium Resistance Band, £15 | La Pochette
Best for: Workouts.
Made from a breathable stretch fabric, this thick band is designed to be durable and non-slip - meaning no more of those annoying moments when the band rolls down your legs mid-exercise. Coming in a medium strength, there are also light and heavy versions on offer. A must for the monochrome fitness kit lovers out there.
Celebrity news, beauty, fashion advice, and fascinating features, delivered straight to your inbox!
Amy Sedghi is a freelance journalist, specialising in health and fitness, travel, beauty, sustainability and cycling.
Having started her career in The Guardian newsroom working with an award-winning team, Amy's proud to have reported on a variety of topics, speaking to a range of voices and travelling far and wide to do so. From interviews on ski lifts to writing up breaking stories outside courtrooms, Amy is used to reporting from a range of locations (she's even been known to type up a story in a tent).
She also loves being active, spending time outdoors and travelling - with some of her favourite features she's worked on combining all three. Cycling and eating her way round the Isle of Man, learning to sail on the Côte d'Azur and traversing the Caminito del Rey path in Spain are just some of her highlights.
Covering a diverse range of subjects appeals to Amy. One minute she may be writing about her online styling session with Katie Holmes' stylist and the next she's transporting readers to the basketball courts of Haringey where she joined a group trying to lower knife crime in the capital.
While at university, Amy was awarded The Media Society bursary. Following her stint at the Guardian, Amy worked at Google and as well as writing for Marie Claire, she regularly contributes interviews, features and articles to National Geographic Traveller, The Guardian, The Independent, The Telegraph, Stylist, Refinery29, Glorious Sport, Cycling Weekly and Rouleur.
When she's not writing, Amy can be found trying to get through her towering stack of books-to-read, cycling down at Herne Hill Velodrome or looking for the next place to eat and drink with friends.