I test leggings for a living - these are the 13 best pairs of high waisted gym leggings you can currently buy
That won't roll down, sag, or cut you in half.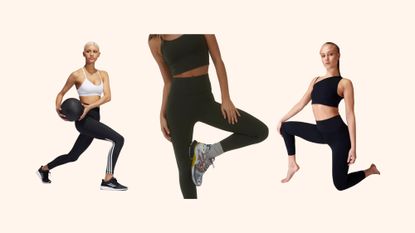 (Image credit: Future)
So, you're after a pair of high waisted gym leggings but don't want to spend money on a pair that'll roll down mid-workout, exposing your stomach.
No one likes workout kit that doesn't deliver what it promises, and the core tenant of a good pair of high waisted workout leggings is that they're just that: high waisted (and also don't roll down at any given opportunity).
As with all our product reviews (scroll our edit of the best gym leggings, here) as a team, Marie Claire UK has tried and tested all of the leggings in this roundup. I'm Ally Head, MC's Health Editor, and I run marathons and strength train regularly, and Hayley Hasselhoff, our Contributing Wellness Editor, is your go-to for all things self-care. If you're after the petite gym leggings, patterned leggings or leggings with pockets, we've got round-ups, too.
Keep scrolling for your ultimate guide to the best high waisted workout leggings on the market.
Testing process for the best high waisted workout leggings
So, what do I look for in a good pair? Support, compression, and sweat-wicking comfort that lasted the test of time. I'll never include a pair of leggings that aren't squat-proof, leaves you with crotch sweat patches, or falls down mid-squat.
Keen to know how team MC test all of the products we include? Do read our guide, and know that all fit kit is tested by the team pre-inclusion (basically, if I wouldn't buy it myself, I won't feature it).
The leggings below were tested over a minimum of one three-mile run and one gym session, but most of them were worn for at least four to five workouts before the reviews were written.
What did I look for when deciding the best high waisted gym leggings?
Aka, what's the success criteria? Good question.
First and foremostly: are the leggings actually high waisted and does the band stay put, supporting you through your session?
Are the leggings well-fitting (no crinkly knees or baggy bums), and do they run true to size?
Are they sweat-wicking?
Are they non-see-through?
Do they offer compression?
Was the material prone to bobbling or piling?
How well did the leggings retain their structure over time, and did they wash well?
Is the product a reasonable price? (We know times are tough right now - don't miss by guides to free home workouts and how to exercise for free. The below get my seal of approval as fit kit that actually lasts the long run.)
As health editors: 14 go-to pairs of high waisted workout leggings
1. Cheap high waisted workout leggings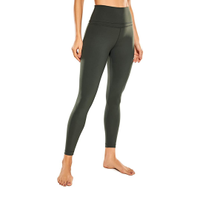 CRZ YOGA Women's Naked Feeling Workout Leggings - £23 | Amazon
I was pleasantly surprised with these Amazon dupes - sure, they won't last as long as the higher price point designs, but for £23, I found them to be both supportive and flattering. On the high waisted front - the design felt similar to more high-end alternatives, hugging my mid-section in a soft yet supportive way. They didn't roll down through either sweat session I try them in and I liked that the leggings move with your body but don't end up around your lower tummy as a result. If you're a sweaty person like me, do note that you'll likely get sweat patches in lighter colours, though. - Ally Head, Health Editor
2. Gymshark high waisted leggings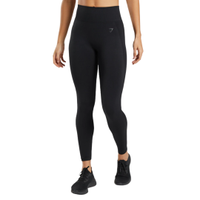 Flex High Waisted Leggings - now £36, was £45 | Gymshark
A mid-price point option, I liked these leggings from Gymshark and found the high waisted design to be both sculpting and supportive - it didn't roll down but did nip me in at the waist more than other pairs I tried. I found them to be a good workout companion and flattering, too, but do note that they're a lot thicker than other options, so not ideal for summer sweat sessions. They are great for cold winter workouts, though, or wearing around the house as energy bills continue to rise. Short girls, do note: they run slightly long, and are extra high rise on the stomach, too." - Ally Head, Health Editor
3. High waisted workout leggings with tummy control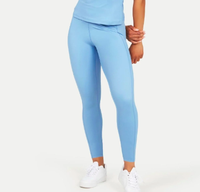 Claude Pocket Legging - £55 | Pocket Sport
I've been a fan of Pocket Sport since I tried their workout shorts in this colourway and didn't get a crotch sweat patch - which, if you workout regularly, you'll understand is quite rare. They're a really great high waisted option as they hit that sweet spot of being comfortable but actually staying up, thanks to the non-stick grip that lines the waistband. The quality is outstanding and I've never been disappointed by a product of theirs. Buy for a mid-range option that feels more expensive, will last for ages (I've had mine for 3+ years now and they still feel new), and sweat-wick seamlessly, too. - Ally Head, Health Editor
4. High waisted workout leggings with pockets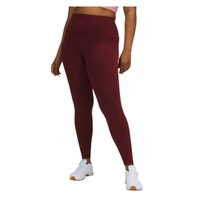 Wunder Train High Rise Tight - now £64, was £88 | lululemon
As well as being the perfect mid-torso amount of high waisted, the lululemon Wunder Train leggings have not one, not two, but three pockets - one on your lower back and one on either thigh. Plus, this particular design has a drawcord around the waist which means you can make sure you've got the perfect fit. When testing, I loved how they hugged my waist and really didn't move during any workout. Plus, they stayed cool no matter how sweaty I got (and trust me, some sessions were sweaty)." - Ally Head, Health Editor
5. Super high waisted workout leggings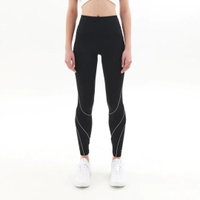 Status Legging - £108 | P.E. Nation
After a pair of workout leggings that aren't just high waisted but, well, basically reach your underboob? Enter stage right, the P.E. Nation designs, which promise not only to support you around the waist but sit even higher than usual, too. They're a higher price point option, for sure, but the leggings are really great quality and sculpting, too. When testing these, I particularly liked how at ease I felt in them knowing they were 100% squat-proof (trust me, I tested them extensively). - Ally Head, Health Editor
6. High waisted gym leggings sale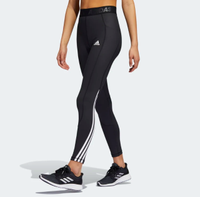 Techfit 3 Stripes Long Gym Leggings - now £22.80, was £38 | adidas
While most adidas leggings are great, what they certainly aren't is high waisted - that is, apart from the Techfit range, most of which are a comfortable high waisted design great for both working out in and wearing for brunch. When I tried, I did notice that the support band around the waist dug in a little but I didn't find it noticeable after a while. - Ally Head, Health Editor
7. Best black high waisted gym leggings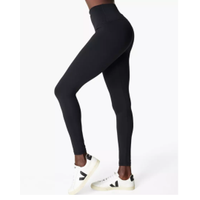 All Day High-Waisted Gym Leggings - £70 | Sweaty Betty
Sweaty Betty knows how to design high waisted, supportive leggings. Carving the perfect mid-point between soft and sculpting, these All Day leggings really live up to the hype. I loved that they supported me through everything from Pilates to long distance runs to strength training, but are also quality enough material to wear to the office with an oversized jumper and boots, too. I'd size down for the most supportive fit as SB do come up a little large. - Ally Head, Health Editor
8. High waisted compression workout leggings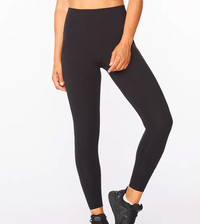 Form Hi-Rise Compression Tights - £70 | 2XU
Another great high waisted option, 2XU is known for its compression tights. Not sure what that means? Well, making sure your tights have adequate compression (that quite literally translates to pressure, FYI) has been found to boost recovery and reduce your risk of injury, too. When I tried, the leggings stayed up and sweat-wicked well - IMO a great high waisted option for runners. - Ally Head, Health Editor

9. Seamless high waisted workout leggings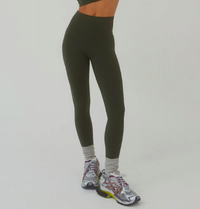 Ultimate Leggings in Dark Olive - £39.99 | Adanola"Forever the go-to of the more fashion-forward gym goer, I was sceptical that Adanola leggings wouldn't genuinely perform well - all too often, kit that looks this good doesn't sweat wick or support. But I was wrong - I've worked out in my Ultimate Leggings at least 20 times now and they've never rolled down, crinkled around the tummy or waist, or left me feeling unsupported. They're great and an affordable price point, too. - Ally Head, Health Editor

10. High waisted gym leggings Nike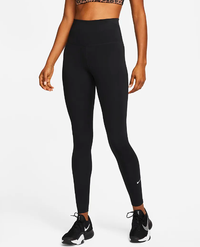 Dri-FIT One - £39.95 | Nike
These leggings call themselves a "second skin" - which, when I try, I agree isn't far off. They're great, rivalling the higher-end versions in their high waisted-ness, but also their comfort, support and sculpting abilities, too. They're spectacularly lightweight and soft, making them really easy to wear. Plus, they won't break the bank. - Ally Head, Health Editor
11. High waisted gym leggings 3/4 length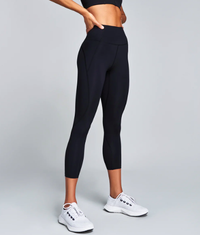 The Limitless 6/8 Legging - £98 | LNDR
You may not have heard of LNDR, but you won't forget their leggings once you've tried them. Cleverly, they offer hidden technology at the front of the waistband which makes you feel extra supported and gives you a streamlined silhouette. They have three length options - full length (8/8), ankle length (7/8), and calf-length (6/8). Worth the price tag. - Ally Head, Health Editor
12. Best plus size high waisted leggings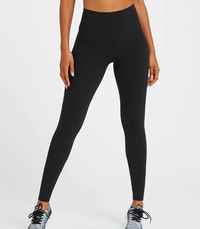 Every.Wear Active Icon Leggings - £110 | Spanx
As a curvier girl and someone who already loves to feel tucked in regardless of the occasion, I've mastered finding the right high-waisted leggings that are perfect for all workouts. Spanx has been a go-to for undergarments when it comes to their incredible smoothing technology (I can attest that they offer core sculpting magic). These leggings have the above and more, with additional performance fabric for stretch and a breathable antimicrobial finish. When I tried, I felt tucked in and ready to focus on my strength rather than fidgeting with any unwanted roll-down. Plus, they have an additional centre stream (meaning no camel toe). - Hayley Hasselhoff, Contributing Wellness Editor
13. Best plus size high waisted running leggings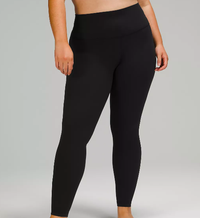 Align High-Rise Pant 28" - £88 | lululemon
When I think of running leggings, the first thing that comes to mind is support. To me, this means a high-rise fit, and lululemon are known for their designs (not to mention their incredible weightless soft-to-touch fabrics). However, being a curvier girl, I don't just want soft fabric but also adequate support so I can go faster and achieve new goals without tugging at my waistline. While the lulu Align leggings are designed for yoga, they've always been my go-to for running. I particularly like the invisible pockets to hold your key and keep you feeling hands-free. - Hayley Hasselhoff, Contributing Wellness Editor
Happy shopping - and sweating.
What is the point of high-waisted leggings?
Good question. As above, they're more supportive than their low-rise competitors, meaning if you like that held in feeling while you're working out, high waisted is probably your best bet.
One study published in the journal of Social Behavior and Personality found that feeling confident in your clothes has a direct correlation on your emotions, sociability, and work productivity, with further research by Barbell Apparel finding that 69% of people say they push themselves more mid-workout if they feel confident in their fit kit.
Point being, if you feel more confident in what you wear when you head to the gym, you might just get more out of your session. You heard it here first..
Celebrity news, beauty, fashion advice, and fascinating features, delivered straight to your inbox!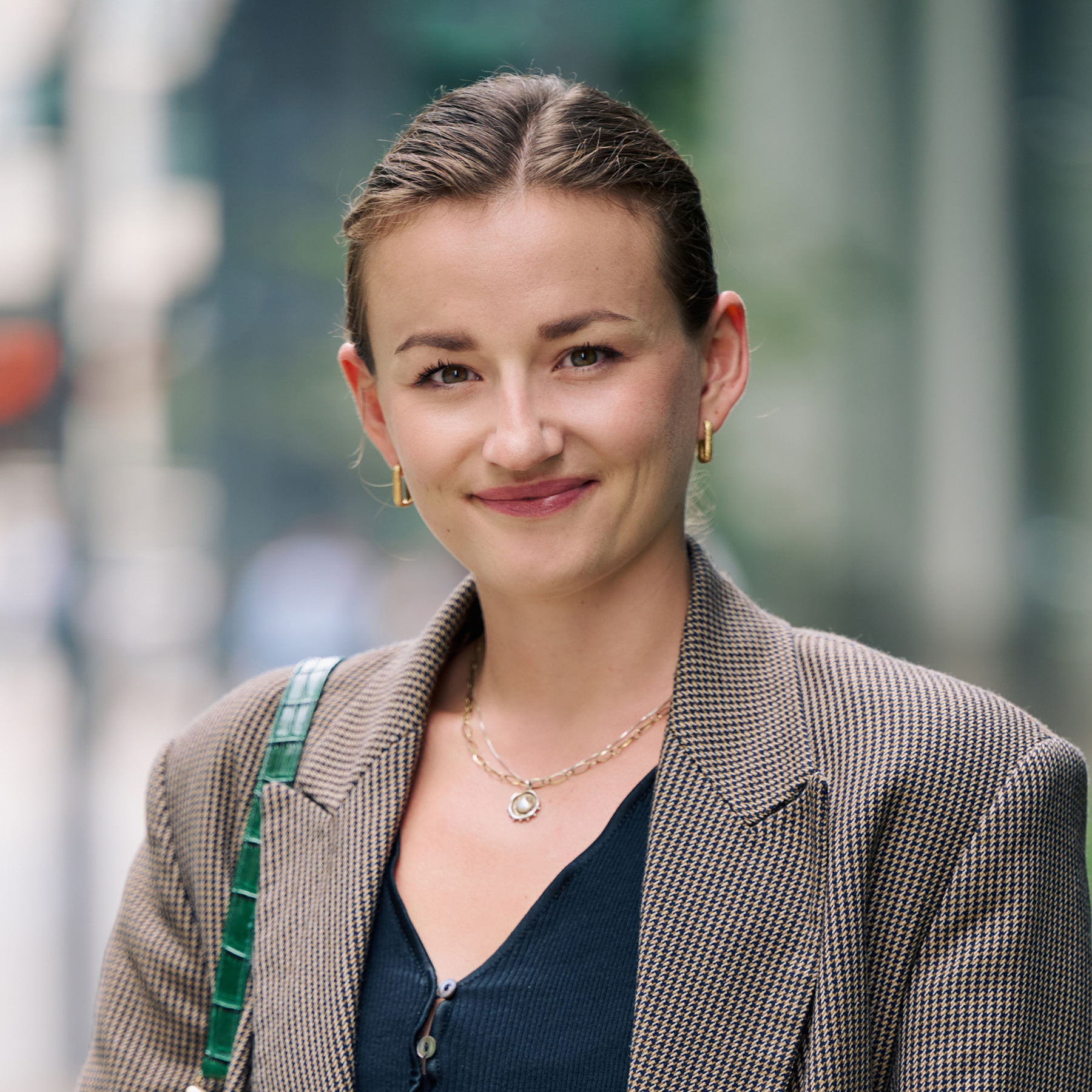 Health, Sustainability and Relationships Editor
Ally Head is Marie Claire UK's Health, Sustainability, and Relationships Editor, eight-time marathoner, and Boston Qualifying runner. Day-to-day, she works across site strategy, features, and e-commerce, reporting on the latest health updates, writing the must-read health and wellness content, and rounding up the genuinely sustainable and squat-proof gym leggings worth *adding to basket*. She regularly hosts panels and presents for things like the MC Sustainability Awards, has an Optimum Nutrition qualification, and saw nine million total impressions on the January 2023 Wellness Issue she oversaw, with health page views up 98% year on year, too. Follow Ally on Instagram for more or get in touch.