It's official: these are the 17 best activewear brands you can buy from, according to fitness experts
Fitness writers share the brands they genuinely have in their closets.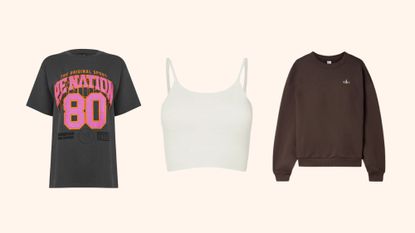 (Image credit: Future)
If you're keen to buy some new fit kit but don't want to spend money on workout clothes that aren't right for you, let us help. Why? Because we know a thing or two about kit here at MC UK and have a definitive list of the best activewear brands that we reckon you'll want to scroll.
According to Global Data, the UK's sportswear market was valued at 13.8 million pounds back in 2020. Now that's a Iot of kit, meaning knowing which brands to opt for can feel pretty overwhelming. Lucky for you, we've enlisted five health and fitness writers to share their go-to activewear brands that they genuinely own and think are worth your money.
With picks from Health Editor and 8x marathon runner Ally Head, HIIT fan and Ecommerce Writer Grace Lindsay who tests products for a living, Contributing Wellness Editor and queen of all things self care Hayley Hasselhoff, Producer and Pilates class lover Sofia Piza, and qualified fitness trainer Chloe Gray, there's something for everyone.
Keep scrolling for our picks of the best gym wear, and don't miss our guides to the best matching gym sets, best oversized gym t shirts, the best running shorts, the best cycling shorts, the best running trainers and even the best tennis skirts, while you're here.
Best activewear brands: 17 to shop now
1. lululemon
If you haven't heard of lululemon, question: where have you been? Founded by philanthropist Chip Wilson in Canada in 1998, the brand is widely credited for the birth of the athleisurewear trend and is known for its iconic, softer-than-butter leggings.
Originally designing only yoga wear, the brand has since expanded its offering to design kit for pretty much every discipline, also becoming one of the first brands in the world to design a female-first shoe - that is, a shoe actually designed for the female foot rather than simply a smaller version of the men's iteration - last year.
Here at Marie Claire UK we're big fans - while the kit is a higher price point, the quality speaks volumes. The kit is really designed to last the long run, plus their Quality Promise means that if your product doesn't perform, they'll take it back.
Our favourite product? While it's hard to choose, their globally famous Align leggings just about take the top spot.
2. Adanola
If you've been on Instagram in the last, well, year, you'll likely have seen an Adanola post pop up on your feed. Launched in Manchester back in 2014, the brand was founded by two fitness enthusiasts who wanted to get a sweat on together without sacrificing their style.
Enter stage right Adanola, an athleisurewear brand known UK-wide for their stylish spaghetti strap bras, matching leggings and tracksuit sets.
Sure, the kit might look more like the sort you'd wear to brunch and brunch only (that is, not actually to workout in), but after testing the kit multiple times, we were pleasantly surprised to be proven wrong. It's supportive, sweat-wicking and comfortable, and looks great, too.
3. LNDR
If you're looking for a more sustainable sports brand, you can't go wrong with LNDR. Founded in 2015 by three women based in London, they set out with the aim to create a brand around "the lifestyle we want to live, the products we want to wear, and the people we want to hang out with."
The brand believes in quality over quantity, and their products are made with cutting-edge technology to ensure the best fit. Fun fact: it takes factories up to 20 times longer to knit LNDR seamless leggings compared to other mainstream brands.
4. Gymshark
Keen to shop good quality fit kit without breaking the bank? Then we recommend checking out Gymshark. The company was launched by Ben Francis back in 2012, who now has an MBE for his services to the business sector. The brand has gone from strength to strength in recent years, boasting almost six million followers on Instagram alone. Plus, they've recently opened their first flagship store on Regent Street.
5. P.E Nation
Wanting to add a little colour to your gym wardrobe? Then say hello to P.E. Nation, an iconic athleisurewear brand worn by the likes of Kylie Jenner and Bella Hadid. An Australian label, it was launched in 2016 by two fashion designers with the aim of making high end, fashion-forward gym wear that you could wear anywhere - that is, kit that's ideal for those of you who like to head to brunch straight after your workout.
6. YMO
Another brand that is new on the activewear scene is YMO from The Sports Edit. The name stands for 'You. Me. Ours', and the products have been developed using seven years of industry insight. Their aim? To understand what you want from your activewear, so they can support you through your workouts.
Their designs are led by the feedback they receive, and they take everything into account from sizing, quality, comfort and more.The products are exclusively stocked on the premium sportswear site, and we've loved everything that we've tried so far.
7. Sweaty Betty
An absolute go-to. We are yet to meet anyone who doesn't like Sweaty Betty. Founded in 1998 by Tamara Hill-Norton, the brand is all about helping you become woman you want to be. They focus on performance and style, making their activewear fun yet practical.
In fact, Sweaty Betty's Power Leggings are a bestseller thanks to the technical fabric that sculpts your body, and one pair sells every 60 seconds. Pretty cool, right?
8. Pocket Sport
Pocket Sport belongs to Made In Chelsea star Louise Thompson and Edward Page. They started the brand five years ago after realising that there was a gap in the market when it came to workout clothes that felt just as good to wear after your workout. Their mission was to get people moving in high-quality activewear that can be worn all day long.
We know what you're thinking, can a celebrity workout brand really live up to the hype? In this case, it absolutely can. In fact, our Ecommerce Writer swears by their Claude Shorts. Just check out her review below...
9. Alo Yoga
Another workout brand loved by celebs such as Jennifer Lopez is Alo Yoga. Founded in LA back in 2007, it's all about encouraging people to take part in mindful movement. Their kit is designed for exactly that, and Marie Claire UK's producer, Sofia Piza, practically lives in the brand.
10. adidas
Do we even need to explain? It's safe to say that adidas is one of the biggest sports brands in the world. It was founded back in 1949, and not only has it had a huge impact on sport, but it's also had an impact on fashion too. Don't let that fool you though, as their gym wear is seriously impressive.
Their mission? To become the best sports brand in the world. After testing a fair share of the fit kit ourselves, we can say for sure that they will always be a firm favourite in our wardrobes.
11. New Balance
New Balance is one of the most fashionable activewear brands around, and it's not hard to see why. The brand seamlessly blends quality and style, creating clothing and footwear that you simply won't want to take off.
It all started back in 1906 in Boston, Massachusetts. William Riley designed his first flexible arch insert, inspired by his observation that his backyard chickens achieved perfect balance when standing on three claws. The brand has been on quite a journey since then, but one fact still remains, their trainers are some of the most comfortable shoes we have ever owned.
Our Health Editor is also a big fan of New Balance clothing, and always opts for the brand's shorts when training for a marathon.
12. Varley
A gym brand that knows how to make statement is Varley. Still relatively new on the scene having been founded in 2015, Varley design their clothing with the modern woman in mind. Inspired by the lifestyles of London and Los Angeles, expect trendy prints in neutral colours that you can easily mix and match.
13. Nike
Another brand that needs no introduction is Nike. With five decades of innovation in women's apparel, they are known for breaking conventions and setting high standards when it comes to activewear. From the first built-in sports bra to football kits designed specifically for women, there's nothing they can't do.
We know we can always rely on them for high quality gym wear, whether we're looking for leggings, tops, trainers or more. Something we love about the brand is that they also have a wide range of plus size and maternity fit kit, too.
14. Vuori
Fun fact - despite only launching in 2015, this brand is already rumoured to be one of Harry Styles' favourites, and if it's good enough for Harry, then it's good enough for us. In all seriousness, this brand is loved in the US for a reason. Their fit kit is soft, flattering and functional, and can be used for pretty much any sweat session.
15. Allbirds
One of our favourite sustainable sportswear brands is Allbirds, a brand that made creating the lowest CO2 running trainer in the world look - well, easy.
Tim Brown, a native of New Zealand, started asking himself why merino wool - a sustainable resource - was not being used in the footwear industry. After years of research, he teamed up with Joey Zwillinger to create a wool fabric made specifically for footwear.
The brand is now certified B Corp, and have created a whole range of quality activewear that is kinder to the planet.
16. Spanx
Spanx might not be the first brand that comes to mind when you think of activewear, but don't let that put you off. Founder Sara Blakely started the brand back in 2000, when she realised she didn't have the right underwear to create a smooth look under white pants.
The brand has grown massively over the years, and now offers bras, underwear, leggings, activewear and more to help women feel great about themselves.
Hayley Hasselhoff, our Contributing Wellness Editor, loves their fit kit thanks to the brand's smoothing technology.
17. BAM
Another amazing sustainable sportswear brand is BAM. Founded in 2006, the brand makes their clothing out of bamboo, which absorbs five times more carbon than hardwood trees, needs half the land cotton to produce the same amount of fibre and doesn't need irrigation or pesticides.