Beyoncé's make-up artist gave me SUCH brilliant tips, I'm basically now a pro
Luckily, I wrote them all down for you...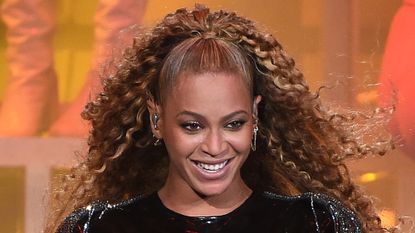 (Image credit: rex)
Luckily, I wrote them all down for you...
Sir John, Beyoncé's make-up artist and L'Oréal Paris ambassador, started work at 18 on the make-up counter with Mac. Later he was on Pat McGrath's team working backstage at various fashion weeks, before assisting Charlotte Tilbury, who then introduced him to Queen B. From there it's all gone a bit crazy. One of his career highlights was when Beyoncé was performing at Coachella and the crowd oogled at the fact that when she wiped her face on a white towel, not a speck of make-up transferred: 'I call that Teflon make-up' he says.
When I met him recently, he gave me such amazing tips that I barely had time to breathe, because I was ferociously taking notes. So here they are - Sir John's tips on how to nail your base, choose the right shades and basically smash your make-up routine...
Base - skin is aspirational
'For truly beautiful skin increase your heart rate for at least 30 mins a day as it helps with skin turnover. Put your moisturiser on just before you start your base, because you want to put foundation on damp skin. Only apply primer to your t-zone, because that's the area your foundation lifts from. Always have two foundations - a darker one for summer and a lighter shade for the winter. Take a look at where you do your makeup. Natural light is always better, so if you do it in a bathroom with no light, it's going to look so different in the real world. Step into the light to see exactly how much coverage you need. You really don't need to lacquer and conceal everything; embrace you dark circles and veins. And definitely don't cover freckles - they are hot. You also need two concealers - one for spots, one for dark circles. When you're doing you're concealer, beware of the deep V that YouTubers tell you to create under your eyes. It's way too much product. Don't use powder. Normal skin is not matte. If you have healthy skin, you don't need powder. However, if you want to use a bit of powder under your eyes, never use pressed powder. It's too heavy and dry and will age you. Always go with loose.'
Cheeks - highlighter should stay on your cheekbones
'Always go for a cool tone bronzer; it'll stop you looking orange. Highlighters should only be applied to the side of your face. Tap it into your cheekbones, but stop when you get to the eye. You don't want to see your highlighter from the front - you want that to be a matte blush. Use your lipstick as blusher. Dab a bit on the back of your hand and use a fluffy brush to apply. We don't contour, we sculpt.'
Eyes & Lips - add a Pritt stick to your make-up bag
'No matter what your skin tone is, you can wear any colour on your eyes. Don't use a tinted eyeshadow primer, use a sheer, invisible one so that you can see your natural eyelid colour. The best brow gel in the world is Pritt stick and a toothbrush. It lasts all day and you can still draw on top. A perfectly modern look is to just pop a bit of foundation on and then a red lip. A blue based red lipstick makes your teeth look whiter.'
Tools - don't hold your brush like a pencil
'Don't use foundation brushes, they don't create a seamless look. Use a Beauty Blender. If you make mistakes with your bronzer or blush, your Beauty Blender that you used to apply your foundation is like your magic eraser. Use a fluffy eye shadow brush to buff in your concealer. A stiff brush won't blend properly. Fluffier and bigger brushes are more diffused natural look. The tighter the brush the fuller the application. Don't hold your brush like a pencil hold it at the base for a lighter touch.'
The man is a make-up genius.
If it's good enough for B...
Celebrity news, beauty, fashion advice, and fascinating features, delivered straight to your inbox!
Katie Thomas is the Senior Beauty Editor at Marie Claire UK. With over 10 years of experience on women's luxury lifestyle titles, she covers everything from the best beauty looks from the red carpet and stand out trends from the catwalk, to colonic irrigation and to the best mascaras on the market. She started her career on fashion desks across the industry - from The Telegraph to Brides - but found her calling in the Tatler beauty department. From there she moved to Instyle, before joining the Marie Claire digital team in 2018. She's made it her own personal mission to find the best concealer in the world to cover her tenacious dark circles. She's obsessed with skincare that makes her skin bouncy and glowy, low-maintenance hair that doesn't require brushing and a cracking good manicure. Oh and she wears more jewellery than the Queen.