I put Clinique's foundations through their paces, and here's what I found
The hits, the misses, and everything in-between of Clinique's foundation offerings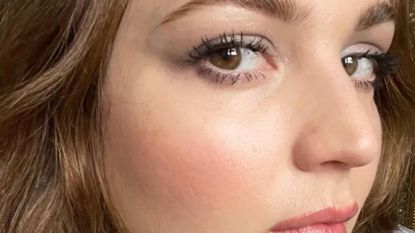 (Image credit: Madeleine Spencer)
When I was 15, I was very spotty. Very spotty indeed. And I really wanted to cover those spots, so I spent hours trawling magazines for the best foundation, including Marie Claire, where I eventually found a recommendation for the best foundation for oily skin, which was made by Clinique.
I spent all my pocket money on that first Clinique foundation, and wasn't disappointed; it covered all my spots while treating my skin to a host of ingredients to help it heal.
I made the shift to a different Clinique formula a couple of years later, and found it equally as solutions-based, and was impressed by the wear and the skincare included in the formula.
The DNA of the brand hasn't changed, with its foundations designed to plug gaps other brands don't.
As a make-up artist, I know all too well that Clinique is a brand that delivers on bases—but that's not to say you can't make a wrong turn. To help you navigate shopping for some of the best foundations out there (on which Clinique certainly delivers), I've just tried and tested every Clinique foundation on the market. While testing the Clinique foundation range, I kept my experiences in mind, and looked for the ones which marked Clinique's impressive formulas out—helping you determine which might be the best choice for your personal preferences.
As always when it comes to foundation, I tested for longevity, finish, ease of use, and the particular additions which turn me into a devotee of a foundation, like skincare or blurring particles. Here are the Clinique foundations which stood out...
Best for that your-skin-but-better finish
Clinique Even Better Clinical Serum Foundation SPF20
Clinique Even Better Clinical Serum Foundation SPF20
Generally when I do my make-up, I'll apply a thin layer of foundation, followed by a veil of powder because I love my skin to look healthy, but polished. This gave me that effect in one whammy thanks to the hydrating ingredients which include hyaluronic acid, and the (moderately) skin mattifying finish.
I also liked that it contains skincare ingredients like vitamin C to brighten and salicylic acid to help reduce clogs.
For
Mattifies without killing shine
Contains skincare to brighten, hydrate and reduce clogs
Against
The packaging is a bit bulky
It might still be a bit sheeny if your skin is very oily
Best for red and sensitive skin
Clinique Redness Solutions Makeup SPF 15
Clinique Redness Solutions Makeup SPF 15
Two friends with rosacea told me that they rely heavily on this base, which helps to neutralise redness and strengthen the skin's barrier function thanks to probiotics.
I tried it after going to a sauna, when my skin was sensitive and red, and found that it really did take down a lot of the pink in my cheeks.
For
Really neutralises redness
Probiotics strengthen the skin's barrier
The packaging is compact and lightweight
Against
Wouldn't be a good pick for skin without any redness
Best for a flawless finish
Clinique Beyond Perfecting Foundation and Concealer
Clinique Beyond Perfecting Foundation and Concealer
The thing I liked most about this foundation was that it is so easy to apply it all over my face (using a brush, to control application), and then to dab a little extra where I needed it for a perfect colour-matched concealer. The finish: fairly full, though I sheered it out a bit with a brush over my cheeks.
On the other hand, I was a bit concerned about the doe-foot applicator getting bacteria on it if applied directly to skin and then potentially exacerbating my spots.
For
Provides medium-to-full coverage
Doubles up as a concealer
It resists migrating into creases
Against
The doe foot applicator can get mucky
The packaging is a bit bulky
Best for sheer coverage
Clinique Moisture Surge Sheertint Hydrator SPF25
Clinique Moisture Surge Sheertint Hydrator SPF25
This will be perfect for you if your skin is dry or you face a lot of challenging elements like wind and rain, and you want minimal coverage.
I found it worked well on days when my skin wasn't too spotty, and I was pottering around so wanted a veil of coverage but not a full whammy.
The downside: it doesn't build in terms of coverage, so you couldn't cover much redness and certainly not big spots with it.
For
Contains hyaluronic and aloe vera to hydrate
Looks dewy all day
Offers a sheer finish
Contains SPF 25
Against
Doesn't build to a fuller coverage
Wouldn't be suitable on oily skin
Celebrity news, beauty, fashion advice, and fascinating features, delivered straight to your inbox!
Madeleine Spencer is a journalist and broadcaster who has contributed to titles including Grazia, Glamour, InStyle, The Independent, The Evening Standard, and Stylist, as well as offering commentary for the BBC, Sky News, and ITV.
She is keen on exploring the significance beauty rituals, products, and memories have on people from different walks of life, and enters into conversation on the topic with guests on her podcast, Beauty Full Lives.