Miranda Kerr and Emily Blunt's stylist slams TV fashion critics
Jessica Paster, who counts Miranda Kerr amongst her celebrity clients, talks fashion critiquing in new interview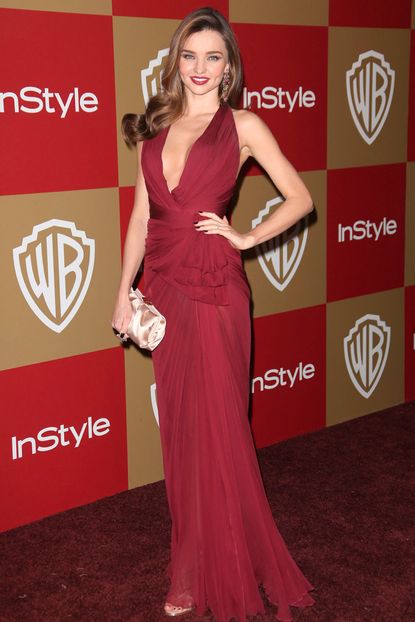 (Image credit: Rex Features)
Jessica Paster, who counts Miranda Kerr amongst her celebrity clients, talks fashion critiquing in new interview
Hollywood stylist Jessica Paster, who counts Miranda Kerr and Emily Blunt amongst her celebrity clients, has slammed TV fashion critics in an explosive new interview.
Talking to Fashionista, the American questioned the fashion expertise of presenters of shows including E!'s Fashion Police, which is hosted by rock progeny Kelly Osbourne and comedian Joan Rivers, amongst others.
She said: 'These are not fashion people. If Kelly Osbourne didn't have Fashion Police, what is she going to do? Did she go to school to be a lawyer? Did she go to school to be a stylist?'
As for her opinion on Joan? She added: 'What gives Joan Rivers the right to talk about what people are wearing when she looks like she's being injected by god knows what?'
PICS: GOLDEN GLOBES 2013 STYLE
LA-based Jessica has had a long career in celebrity styling and past clients include actress Cate Blanchett, former Friends star Jennifer Aniston, Oscar-winner Hilary Swank, and acting sisters Elle and Dakota Fanning.
In the interview, she also talked about designers being too picky when they choose who they dress for high profile awards ceremonies, including this weekend's Golden Globes, and urged them to be 'a little open-minded'.
'You didn't see Jason Wu or Prabal Gurung on the red carpet [at the Golden Globes], because instead of them being a little open-minded, they're waiting to get these other people that they think they deserve,' she said. 'If you would've put a Prabal Gurung on a beautiful actress, it would have been showcased and he would have sold four more dresses. But everyone is like, "No, I want to dress Cate Blanchett, no, I want to dress Cate Blanchett, no, I want to dress Cate Blanchett".'
Paster believes by seeking the most A-list star, 'fabulous and amazingly talented' designers are 'losing the chance to get their work shown'.
What do you make of Jessica Paster's comments? Do you agree with her? Tell us your thoughts in the comments box below!
MIRANDA KERR: STYLE HIGHS & LOWS
Celebrity news, beauty, fashion advice, and fascinating features, delivered straight to your inbox!