Rita Ora On 'Bowie Meets Boy Chic' Fashion Line With Cara Delevingne
As rumours continue to circulate about a Topshop partnership between these self-confessed 'wifeys', we asked Rita what it would look like...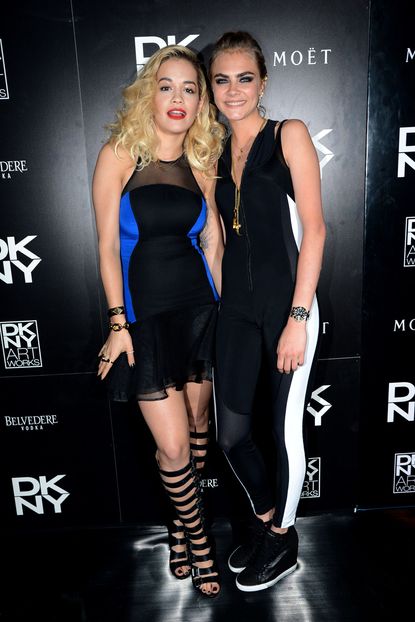 (Image credit: REX)
As rumours continue to circulate about a Topshop partnership between these self-confessed 'wifeys', we asked Rita what it would look like...
Rita Ora and Cara Delevingne are refusing to comment on the rumours they're releasing a fashion range for Topshop – but that doesn't mean we can't quiz them on what we might be able to expect from a possible line.
Rita flew in from LA this week to perform an exclusive gig at Sony Music's Derry Street HQ to promote the new Sony Xperia Access campaign. There, we grabbed the singer for an exclusive chat where she told us what we could expect from a range and what really happened when Cara Delevingne stormed the stage at last week's DKNY party.
She told us: 'It would be like boy chic meets crazy Bon Jovi, meets… I mean... not Bon Jovi.
'Boy George… meets… what's his name? My mind's just gone blank… with the lightening bolt? Bowie! Not Boy George.
'Bowie meets boy chic, meets… just two girls having a good time.'
So there you have it. Bowie meets boy chic.
The self-confessed 'wifeys' have already proved that they can collaborate in music, so we see no reason why a fashion rnage fronted by this pair wouldn't be a huge hit on the high street.
So how did Rita and Cara really prepare for their impromptu duet at the DKNY Artworks launch in London?
Rita said: 'It was just a good laugh. I actually had no idea she was going to come on stage. Literally, I was performing and I saw her in the crowd and I said 'you're going to get eaten alive' so I was like 'come up'.
'She came up and she was just raving out, and I was like 'f*** it, let's just rave out', so we did and it ended up just turning into a party, and people were like 'did you plan it?' and we were like 'noooooo, what is there to plan, her running on stage?'
'It was literally like a spur of the moment. But it was good fun.'
Rumours about a fashion collaboration between the pair emerged earlier this month when The Sun reported that Rita had 'mentioned the idea' of a range to Topshop heiress, Chloe Green.
They've already proved they're a hit on stage. Watch this space...
RITA ORA EXCLUSIVE: BEYONCE IS A GOD OF VOCALS
CARA DELEVINGNE STORMS THE STAGE AT RITA'S GIG
LATEST CELEBRITY NEWS Xperia Access gives Xperia owners and music fans a rare insight into the world of music that only Sony could deliver, with intimate gigs, candid interviews, festival experiences, and speaking to the people behind the stars such as stylists, set designers and producers.
Got a tablet? You can now download Marie Claire magazine straight to your iPad, Kindle (just search the store for 'marie claire magazine'), Nook or Google Nexus.
Celebrity news, beauty, fashion advice, and fascinating features, delivered straight to your inbox!