Rita Ora: Blue Ivy's Wardrobe Is Bigger Than Beyoncé And Jay-Z's!
EXCLUSIVE: Rita Ora talks to Marie Claire about the 'God of vocals' Beyoncé and explains why she wants to climb inside Blue Ivy's wardrobe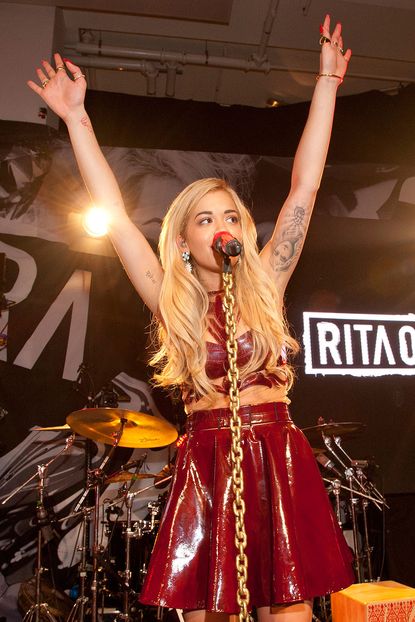 (Image credit: Sony)
EXCLUSIVE: Rita Ora talks to Marie Claire about the 'God of vocals' Beyoncé and explains why she wants to climb inside Blue Ivy's wardrobe
Rita Ora might be a style icon in her own right, but there's an A-lister whose wardrobe she's itching to raid – Blue Ivy Carter's. We caught up with Rita for an exclusive interview at an intimate gig held at Sony Music's Derry Street HQ last night, where the 22-year-old put on an incredible performance to promote the new Xperia Access campaign.
She told us: 'I'd definitely want to raid Blue Ivy's wardrobe more than Beyoncé's. It is probably like bigger than both of their wardrobes put together. That's the wardrobe I wanna be in!'
Chatting about her friendship with music's finest, Beyoncé and Jay-Z, she told us: 'It's like your idol giving you the seal of approval. I loved Destiny's Child growing up so the fact she knows who I am and listens to my music and gives me good advice is amazing.
'She just sometimes goes 'change that riff' or 'that sounds great'… she's just very quick… but when she speaks, you know to listen to the advice. It's amazing for me. She's like the God of vocals.' Rita was signed to Jay-Z's Roc Nation label in 2009 and has been lucky enough to share many a night out with the famous pair. So what's her best memory? 'Probably just going to the 40/40 bar and eating wings and watching the match.' Amazing.
Straight off a flight to LA after an emotional goodbye with Calvin Harris, Rita leapt on stage to perform hits such as RIP, Radioactive, and a cool acoustic version of Hey Ya at last night's gig, which kickstarts a summer project to provide fans with exclusive access to behind-the-scenes and backstage content from emerging artists.
Wearing an oxblood PVC skater skirt and matching cut-out top while showing off her new long blonde locks, Rita invited fans on stage to join her for 'How We Do' and declared: 'I've just had the most incredible year and it means a lot to me to be doing a second album so thank you so much.'
So what can we expect from record number two? Rita added: 'I'm feeling the pressure a little bit but I'm really excited. Like, last time I was scared because I was a new artist, and I still am. But this time I feel much more confident... It's just much more mature but still crazy fun'.
'I don't want to tell you who I'm collaborating with but I am working working with people I've loved from the get-go like Mark Ronson and, umm, some amazing producers from our camp at RocNation.'
Could that mean Jay-Z? Here's hoping there's a cameo from Blue Ivy…
RITA ORA CONFIRMS FIRST FASHION COLLABORATION
CARA DELEVINGNE HIJACKS RITA ORA'S FACEMELT VIDEO
RITA ORA'S STYLE HIGHS AND LOWS
Xperia Access gives Xperia owners and music fans a rare insight into the world of music that only Sony could deliver, with intimate gigs, candid interviews, festival experiences, and speaking to the people behind the stars such as stylists, set designers and producers.
Got a tablet? You can now download Marie Claire magazine straight to your iPad, Kindle (just search the store for 'marie claire magazine'), Nook or Google Nexus.
Celebrity news, beauty, fashion advice, and fascinating features, delivered straight to your inbox!