The cute story behind Camilla's wedding gift to Kate Middleton
The Duchess's new gold charm bracelet has their initials engraved on either side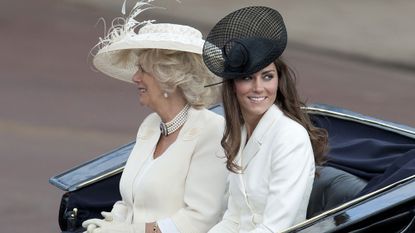 (Image credit: Rex)
The Duchess's new gold charm bracelet has their initials engraved on either side
When to comes to the royal family's jewellery, there is often a special meaning behind it, as it has been passed on from generation to generation. Like Meghan Markle's wedding cocktail ring which belonged to Princess Diana, or Kate Middleton's pearl earrings.
However, some pieces are actually new, though no less special. Take for example the Duchess of Cambridge's coin charm bracelet, which she first wore to visit the military's Victoria Barracks in 2011, and then to Wimbledon a few days later.
At the time, eagle-eyed viewers noticed that the coin was with two Cs. This was actually a special wedding gift from her mother-in-law Camilla Parker-Bowles, who owns a very similar version herself.
The interlocking letters are a symbol of Catherine and Camilla's friendship, and the two are said to be very close, often spotted having a laugh together at official events. Kate's curling royal monogram sits under a royal coronet, as is Camilla's – though hers is surrounded by a circle.
At the time, Clarence House has confirmed the item was 'a personal wedding gift,' to Kate, though they did not comment further on what they deemed 'a private matter'.
Of course, none of this is new, however the teams at Hello and Teatime with the Cambridges just reminded us of it.
Now we're wondering if Meghan Markle got a special bracelet too.
Celebrity news, beauty, fashion advice, and fascinating features, delivered straight to your inbox!