Mariah Carey gives birth to twins
The 'overjoyed' star and her hubby Nick Cannon listened to Mimi's tracks as the babies were delivered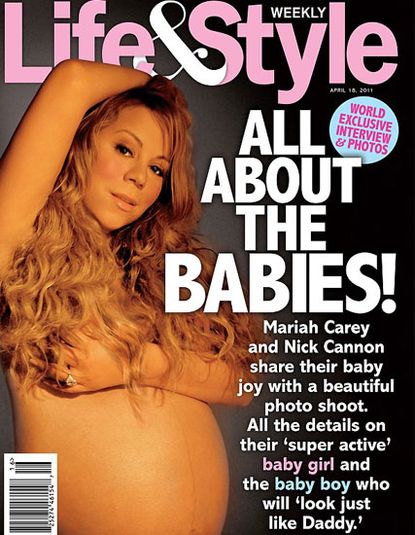 The 'overjoyed' star and her hubby Nick Cannon listened to Mimi's tracks as the babies were delivered
'Overjoyed' songstress Mariah Carey gave birth to twins with doting hubby Nick Cannon by her side, at an American hospital over the weekend.
STRANGEST CELEBRITY BABY NAMES
Miss Carey's babies – one girl, one boy – arrived on the third anniversary to her wedding to TV personality Nick at 12:07 pm on Saturday at an exclusive medical centre in Los Angeles.
A spokesman for the couple said they are 'overjoyed' at the tiny new arrivals, which weighed in at 5 lbs 3 oz and 5 lbs 6 oz respectively.
And over the weekend Mariah's rep Cindi Berger confirmed the birth of the two bundles of joy, but revealed it was a surprise that they arrived on the couple's wedding anniversary.
'I spoke to both of them and they are both completely overjoyed,' Cindy told American magazine People.
Asked if their arrival on Mariah and Nick's anniversary was planned, she joked: 'No, not even Mariah could plan that.'
Speaking of the babies birth, she said: 'Nick was very nervous and Mariah was completely calm. Mariah thought it was another soft labor and Nick was driving her to the hospital and she very calm and the music was blasting.
'When they walked into the hospital, [Nick] was going the wrong way and the nurse redirected them to go the maternity ward, and I said to her, "that's right out of I Love Lucy,' and she laughed."'
Cindy also revealed Mariah was listening to her own track, We Belong Together, as the tiny tots were born.
Mariah and Nick – who kept in line by tradition by renewing their wedding vows on their anniversary, albeit in hospital with a minister by their side - have yet to reveal the names of their babies, but have hinted they'll both begin with M.
The pair also took to Twitter to thank fans for their support. 'I wish I could personally thank all those around the world who continue 2 send congrats+prayers for #dembabies!they're doing great,' (sic) Mariah tweeted.
Congratulations to the happy couple!
STRANGEST CELEBRITY BABY NAMES
Celebrity news, beauty, fashion advice, and fascinating features, delivered straight to your inbox!