Kim Kardashian and Kanye West look estatic as they celebrate New Year's Eve together
The parents-to-be saw in the New Year at a Las Vegas nightclub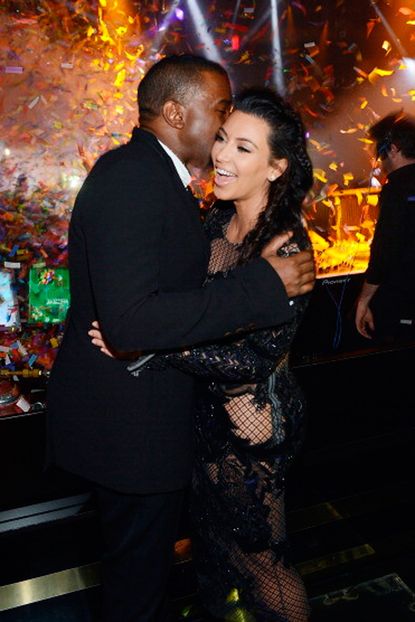 (Image credit: @KardashKingdom)
The parents-to-be saw in the New Year at a Las Vegas nightclub
Kim Kardashian and Kanye West celebrated New Year's Eve and the news that they're expecting their first child with a night out at 1 OAK nightclub in Las Vegas.
The proud parents-to-be posed for the cameras at the event which is reported to have earned Kim, who dazzled in Julien Macdonald AW12, $300,000.
Kim, 32, who announced her pregnancy last week, was happy to chat about her great news, admitting that she wasn't finding it all that easy.
KIM KARDASHIAN IS PREGNANT, SAYS KANYE WEST
She told E! News: 'I take lots of naps. Actually I feel really good. This New Year is just about being happy and healthy and that's what I plan on doing.
'I wouldn't say that pregnancy has been easy but there's been no morning sickness.
She went on: 'When people say pregnancy is fun and they love it, I would disagree. I think from this stage on it does become easier and funner but it's just adjusting.'
She added: 'Even my sister has made it look so easy and it's not as easy as people think. It's a little painful, there's a lot of growing pains.
'But I've heard it's all worth it so I'm looking forward to that.'
The Keeping Up With The Kardashians reality star also revealed a certain pregnancy craving, saying: 'I'm craving sushi, but I know I can't really have it, so I'm eating a lot of carrots and celery with lots of ranch.'
Kim added that doesn't mind if she and Kanye have a boy or a girl, and said: 'No preference, I just want a healthy baby.'
Watch some of KimYe's best moments below:
KIM KARDASHIAN ANNOUNCES PREGNANCY
Celebrity news, beauty, fashion advice, and fascinating features, delivered straight to your inbox!