Harper Seven Beckham crowned Best Named Celeb Baby 2011
... but which tot took last place?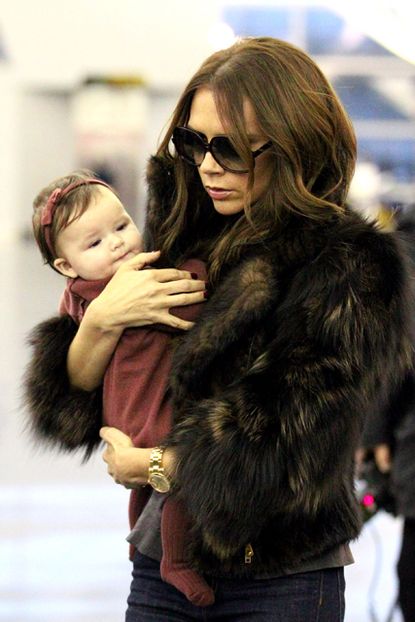 (Image credit: REX)
... but which tot took last place?
The votes are in. Harper Seven Beckham is officially the Best Named Celeb Baby of 2011.
The adorable daughter of David and Victoria Beckham has been unveiled as the winner of an annual poll by Babycenter, in which voters choose their favourite and least favourite celebrity baby names.
PICS: THE BECKHAM FAMILY ALBUM
Other celebrity baby names popular with voters were Rod and Penny Lancaster Stewart's son, Aiden, Pink and Carey Hart's daughter, Willow Sage, and Ivanka Trump and Jared Kusher's daughter, Arabella Rose.
Meanwhile, Alicia Silverstone and Christopher Jarecki's son, BearBlu, was named the worst celeb baby moniker in the poll. Other names that failed to impress were Mariah Carey and Nick Cannon's son, Moroccan Scott, and Jennifer Connelly and Paul Bettany's daughter, Agnes Clark.
STRANGEST CELEBRITY BABY NAMES
Little Harper's dad David previously explained the unusual name in a video message, posted to his Facebook account: 'Victoria's favourite book is To Kill A Mockingbird, it's a very strong, passionate book and the author was Harper Lee, and that is where Harper came from.
'The main reason behind Seven was it symbolises spiritual perfection – the seven wonders of the world, the seven colours of the rainbow – and in many cultures it is a lucky number,' the smiling footballer added.
'We love the name and we love Harper Seven.'
The rest of the world seems to agree with you, David!
DAVID AND VICTORIA BECKHAM BEST MOMENTS
CLICK HERE FOR MORE CELEBRITY NEWS
Celebrity news, beauty, fashion advice, and fascinating features, delivered straight to your inbox!