Dannii and Cheryl's Jamiroquai X Factor Spat
The pair were less than impressed with lead singer JK, after reading his insults in the papers last week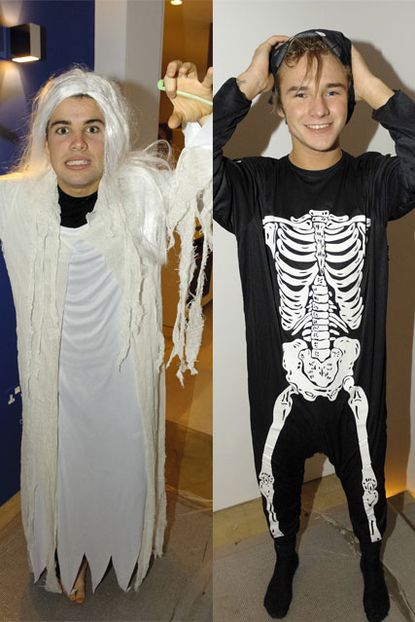 (Image credit: Rex Features)
The pair were less than impressed with lead singer JK, after reading his insults in the papers last week
Did you spot the X Factor feud yesterday? Judges Cheryl Cole and Dannii Minogue were less than impressed with Jamiroquai's lead singer Jay Kay when he appeared on the show over the weekend, after reading his less than complimentary comments about them in the paper.
SEE ALL THE LATEST X FACTOR PICTURES HERE!
Ahead of his performance on the show, the singer launched a foul-mouthed tirade against Dannii and Cheryl, reportedly branding them 'useless' in an interview with the Sun.
'What the f***. When have you ever done anything? You're useless. The pair of you. I mean you look great and I'd like to f****** s**g you but that's all,' the singer ranted to the newspaper, moaning about having to perform on the show.
'I just don't like the w**** stuff I have to do. F****** X Factor and that. 'I'm going to have to sing in front of f****** amateurs. Do you know what I mean?'
Big mistake. Unluckily for the singer, the news traveled fast, and he received a decidedly lukewarm reception when he stepped on stage.
And insiders said you could cut the tension with a knife. 'The atmosphere backstage was extremely awkward. Cheryl and Dannii read his comments in The Sun on Saturday,' one revealed.
Cheryl glared at the star and sat stony faced throughout his performance, while Dannii amused herself by doodling on a notebook and chatting to Louis.
And at the end of his song, there was no standing ovation. The girls refused clap at all, and even Simon didn't seem that interested.
After appearing on stage, the sheepish star was forced to backtrack on his harsh comments. 'I have to say, I've had reservations about appearing on the show but I've had a wonderful day,' he told Dermot O'Leary.
'Everybody's been charming, it's been wonderful.'
After Jay Kay left the stage, Dermot even joked about his frosty reception to Cheryl, saying: 'It's nice to see you smiling again,' and adding: 'Wow. I am never going to make enemies with you.'
WATCH Cheryl and Dannii's frosty reception here...
Did you see Jay Kay's frosty reception on the Sunday show? Let us know in the comments box below.
SEE ALL THE LATEST X FACTOR PICTURES HERE!
Celebrity news, beauty, fashion advice, and fascinating features, delivered straight to your inbox!