Nobu Hotel Marbella: glitz, glamour and miso black cod on the Golden Mile
Fancy some fun and sun, only a couple of hours from the UK? Look no further than the latest Nobu, nestled in the party-hearty central of Marbella. Let the good times roll...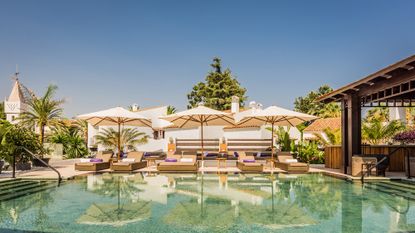 (Image credit: Charly Simon Photography)
Fancy some fun and sun, only a couple of hours from the UK? Look no further than the latest Nobu, nestled in the party-hearty central of Marbella. Let the good times roll...
Whether you've just slogged to the end of #Dryanuary (smug face alert), or are drowning out the cold with the opposite approach (last of the Christmas Baileys, anyone?) one thing's for sure. At this time of year, nipping off for a quick weekend in the sun is the ultimate pick-me-up. And Nobu Hotel's latest outpost, in a prime Marbella location, is the ultimate glamorous getaway.
Lucky old Marbella enjoys a year-round sunny microclimate, thanks to its location between the Med and the Sierra Blanca mountains. Robert de Niro is Nobu Hotel co-owner (he runs the hotel group alongside its founder, chef Nobu Matsuhisa) and the adults-only Nobu Hotel Marbella is as VIP-worthy as you'd expect. The resort is set back from the Paseo Maritimo (Promenade), halfway along the famous 'Golden Mile', below. The beautiful beach road stretches away to Puerto Banus at one end, and Marbella Old Town at the other.
What makes the new Nobu Hotel special is the way it's been cleverly integrated into the existing resort of Puente Romano, which has been part of the scene since Marbella first became fashionable back in the late 1970s. Puente has a traditional whitewashed Andalusian vibe, and extensive facilities (3 pools, 12 restaurants and a world-class tennis club) which make it popular with well-to-do families and a slightly older clientele. Nobu Hotel guests have access to all the Puente facilities, with the addition of the gold-leafed glamour that only Nobu can provide (including a separate suitably chic Nobu pool, below) - so you get the best of all worlds.
Nobu Hotel Marbella: the setting
A secluded, palm-filled village clustered round a central courtyard called La Plaza, threaded through with a river that runs down from the La Concha mountain.
The resort is set just back from the sea front, so you can gaze out across the sand and play spot-the-yacht as you stretch out on your pool lounger - or settle in for dinner and drinks at night.
Nobu Hotel Marbella: the rooms
81 rooms, most of which are suites (junior suite, pictured below) - all decorated in the luxuriously minimalist Japanese style that has made Nobu famous. Soothing shades of grey and cream, acres of marble bathroom, rainfall shower and a bath big enough for a family of four - complete with kimono-style patterned cotton robes and Natura Bisse products. Our suite had a private balcony with a daybed, overlooking the palms and babbling brook below - the perfect spot for sprawling under a creamy Nobu Hotel blanket with tropical fruit (and champagne) in hand and enjoying the birdsong outside.
Nobu Hotel Marbella: time to eat...
Come nightfall, La Plaza becomes a good-time hub, and naturally the Nobu restaurant is front and centre of the action. It's a pretty fabulous setting to combine with a blow-out dinner. You can sit inside and enjoy the cool Jean-Pierre Martel interior - all blond wood and sculpted minimalism - and marvel at the chefs at work at the Sushi Bar, plus the magnums and jeroboams of champagne lined up wherever you look. Someone get Liam Gallagher here, fast!
Or there's seating on the terrace, where you can look out over La Plaza (below) and enjoy live music while you eat. All the signature Japanese/Peruvian fusion dishes that make up the 'Nobu Style' are here - the iconic Black Cod Miso served on butter lettuce, Chilean sea bass, Sashimi tacos, Wagyu beef - plus some additions like padron peppers that give the food a local Mediterranean twist. There's also a wonderful wine list including local Spanish wines that work beautifully with the fish and sushi on offer.
The resort's choice of restaurants has literally something for every palate - including a pizzeria and a Thai eatery...If you fancy some traditional Andalusian relaxed fine dining, the vine-festooned Sea Grill is perfect. It's open for breakfast and lunch (the buffets are to die for), and at night, gazing out over the sea beyond, it feels as if you're (literally) floating on water as you eat.
The restaurant offers a great array of fresh, locally-caught fish - choose your own from the scaly wonders on ice (red mullet, gilthead bream, turbot, sole, prawns and crustaceans galore) and have it cooked and brought to you. We enjoyed Andalusian seafood soup to start, and then continued the theme with simple but perfectly grilled lobster, fries and some creamed spinach. There are also some delicious Spanish-style meat options, like Jamon Iberico and Galician beef tenderloin. Quaffing a few glasses of upmarket local Cava to the soundtrack of a pianist tinkering the ivories soon soothed us into a state of near-comatose relaxation.
Nobu Hotel Marbella: time to party...
If you can still stand after all those gastronomic delights, you can stagger on to La Suite nightclub (below), consistently rated one of Marbella's hottest venues, and with decor inspired by New York's legendary Studio 54. Big-name DJs like Roger Sanchez attract the glitterati - and there's an A-list selection of champagne (hola, Dom Perignon and Veuve Clicquot), tequila and Grey Goose vodka by the bottle to match. Warning: this is Spain and one of the area's glammest party spots to boot, so things don't get started till way after midnight. A short disco nap back in your suite may be required...
If you're not only still standing, but keen to make an even bigger night of it, Nobu Hotel will organise a Tesla with a driver to run you up to either Puerto Banus or the Old Town to carry on the party. (The call of our super-king bed was too much - but don't let us stop you)
Nobu Hotel Marbella: time to recover...
By day, the resort offers every possible route to wellness. The intimate, cocoon-like Six Senses Spa is exquisitely designed using local hand-painted tiles, and features relaxation pods carved out of timber (below) - curling up on one feels like disappearing into a space-age Scandi sofa, in a cosy sort of way.
There's a sauna, hammam, herbal steam room, and a hydrotherapy pool. The heated ceramic day beds are blissfully positioned in front of a glass wall (drenched in tropical rainfall at soothing intervals) so you can gaze out through the scented steam at the waving palms and sun-worshippers lining the pool outside.
Treatments on offer range from signature Six Senses massages and scrubs that incorporate herbs, sea salt and olive oil - through to biomedical options like collagen rejuvenation and pigment repair facials. If you want to go all-out, there's a 'wellness screening' which will assess biomarkers like metabolism and heart function, and provide you with a bespoke wellness programme tailored to your needs.
There's also a plethora of clean, green eating options around the resort.
Rachel's Eco Love organic cafe is a colourful, Instagram dream - Great Vibes Only messages picked out in pink neon, a flower-festooned wooden bar and pink flamingo statues everywhere.
Choose from detox salad bowls, rainbow hummus, egg-white omelettes and power juices of every variety. We feasted on stuffed aubergine with pomegranate, crab cakes on smashed avocado and supergrain salad (below).
Meanwhile, over at gluten-free bakery and cafe Celicioso, you'd never believe the menu is so colon-cleansing. Indulge in vegan chocolate vanilla cake, red velvet cupcakes, and yummy savoury lunch options like lasagne and poke bowls.
If you're feeling actively inclined, hop onto one of the resort's chic green bikes for a breezy cycle along the Paseo Maritimo. There's also the famous Puente Romano Tennis Club and academy, (below), with its 10 courts and 4 paddle tennis courts. Founded in 1979 by none other than Bjorn Borg, it's played host to some of the world's most prestigious tournaments - including the ATP, WTA and the Davis Cup. Playing outdoors in the warm breeze with the spectacular Sierra Blanca mountains as a backdrop is seriously inspiring, whether you're a Serena Williams in the making - or just up for a gentle knockabout.
Book it now
Rooms at Nobu Hotel Marbella cost from 299 Euros per nighthttps://www.nobuhotels.com/marbella. Flights from London Gatwick to Malaga with EasyJet start at £150.
The Nobu Hotel Marbella verdict?
As an indulgent weekend getaway, Nobu Hotel Marbella has it all. You can restore your inner and outer glow, grab some sun, sea, and fab food of every variety - all while indulging your most jet-setting diva desires. Time to escape the chilly drizzle!
Celebrity news, beauty, fashion advice, and fascinating features, delivered straight to your inbox!