Asia Gardens Hotel and Thai Spa, Alicante
A little piece of the Far East in Southern Spain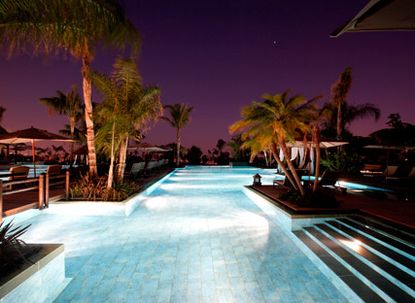 A little piece of the Far East in Southern Spain
Lounging under a bamboo gazebo, looking out over the shimmering infinity pool as eastern floral aromas tickle your senses and water cascades nearby, you will be forgiven for thinking you were on a Thai paradise island, rather than just outside Benidorm. But with the Barcelo Asia Gardens in Alicante, Spain, that's completely the point.
"We aimed to try and create a little piece of the Far East in Southern Spain," says the hotel's charming and hospitable manager Maria Gudiel. While before arriving, I wasn't entirely sure how well Koh Samui would transfer to the Costa Blanca, but the place is done with such convincing class, after just four days I started to wonder if maybe I had actually caught a long-haul flight for an eastern adventure.
From the huge reception area, with its beautiful, high wooden ceiling beams and intricately carved leaf-shaped fans undulating overhead to the twin stone wash basins and black lacquered wooden panelling in the sumptuous rooms or the 300, deliciously fragrant species of plant in the extensive gardens, the attention to details is amazing. There are also several fantastic restaurants including gourmet Spanish and Mediterranean fare and, of course, an amazing Thai and Indonesian kitchen.
Celebrity guests have included Bruce Willis and Bruce Springsteen (sadly not on holiday together) plus the members of cast of BBC 1's The Tudors, who were filming nearby. Add to that the Barcelona football team plus a number of Spanish TV and music personalities and you got quite the star spot.
But maybe the biggest star of the set up is the Thai Spa. Treatment rooms have sumptuous double beds where you and your partner can be simultaneously pampered and many include beautiful, petal-strewn Japanese-style baths.
All of the therapists have even trained at the Wat Po Temple in Bangkok – the birthplace of traditional Thai massage. I went for one and it was the best massage I have had for years. There is also an in-house Chinese medicine expert who examined me quickly, but precisely, and asked one of the therapists to perform a very specific Shiastsu massage on me. I felt incredible afterwards and even detoxed – the man was a genius! Viva Espania! As the old Thai proverb goes…
For more details CLICK HERE
Celebrity news, beauty, fashion advice, and fascinating features, delivered straight to your inbox!
An award-winning health and beauty writer, stylist and creative director, Lisa Oxenham is one of the UK's top beauty editors and the Beauty and Style Director at Marie Claire UK. With 20 years of editorial experience Lisa is a brand partnership expert, and a popular speaker, panelist and interviewer on a range of topics from sustainability to the future of beauty in the digital world. She recently spoke at Cognition X and Beauty Tech Live and is on the Advisory Board for the British Beauty Council's Sustainable Beauty Coalition.
A well-respected creative director she works on celebrity, model and influencer shoots with the highest calibre of photographers, filmmakers, make-up artists and hairstylists to create timeless images, attention-grabbing videos, digital events and masterclasses. Most recently Lisa has directed covers such as Lily Cole and Jameela Jamil, films such as Save The Arts featuring Francesca Hayward and sustainable fashion shoots such as Be The Change. Supporting the beauty industry over the pandemic has been a top focus, directing the British Beauty Council's six inspirational short biographical films for their Bring Back Beauty campaign.
Lisa is a wellbeing and beauty influencer with a focus on mental health and a large and engaged audience on Instagram, Facebook and Twitter.