5 Fitness Tips From Victoria Pendleton
The now-retired Olympic cycling champion shares her top fitness tips with Marie Claire.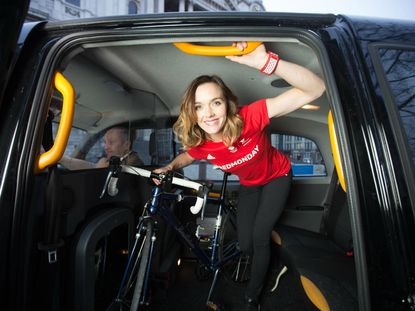 The now-retired Olympic cycling champion shares her top fitness tips with Marie Claire.
Victoria Pendleton is an ambassador for Fitness First and worked with the gym chain on its Red Monday campaign. Here, Victoria shares her top fitness advice:
1. Motivation
'With the right advice and support, anyone can achieve a lot from exercising and learn to love it as much as I do. That post-workout feeling is amazing, and you will want to carry on once you've felt that buzz. I'm not going to lie, I do push myself hard and I don't look good when I'm working out but afterwards I always feel energised and just a little bit smug, which is a great way to face the day. Not to mention that you can then enjoy your food worry-free, which is always a bonus. A good tip is to lay your kit out in advance and have your gym bag packed, as it's so much harder to avoid that way. Buying a nice gym kit always helps too!'
2. Body confidence
'If you commit to an exercise regime and start sculpting your body, there is an immense sense of reward and satisfaction. Remember that you're the only person who has the power to do it, and that opportunity lies in absolutely everyone. You only need to have one thing, and that's the commitment to do it. This sense of control over your body's shape is what inspired confidence in me.'
3. Top exercises
''Aside from cycling, I really enjoy free weights. I love doing "power clean" lifts because you use 50 per cent of your body's muscle mass in just one movement. This move can work in a cardio sense if you use a lighter weight, or as a conditioning and strengthening exercise. I'm also a massive fan of Crossfit and Freestyle fitness classes.'
4. Cardio vs Strength Training
'Personally, I prefer strength training, and as a consequence of that I've also developed quite a strong cardio ability. I have never tried to burn fat in my life - I've just tried to strengthen, and have burnt fat as a result because of an increased metabolism. The interval training technique used in strength training is also far more effective and a lot more time-efficient.'
5. Setting goals
'The best thing is to get your friends involved. Commit to a programme in advance, and set dates and times because then you'll find that you won't want to let them down. You'll also help each other along. I occasionally run with my neighbour or my husband Scott and our dogs to keep me moving. My fitness goal at the moment is to put more muscle on. I'm hoping to sculpt my arms, and be able to do a handstand press up one day.' You can even choose to ride an event - here are some cycling events in the UK you can check out.
Celebrity news, beauty, fashion advice, and fascinating features, delivered straight to your inbox!