Your summer festival wardrobe sorted
Heading to a festival this summer? Don't pack anything until you've browsed our pick of the best festival fashion buys...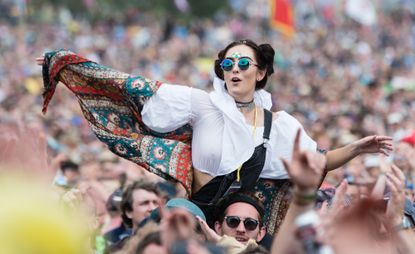 (Image credit: Richard Isaac/REX/Shutterstock)
Vanessa Hudgens, eat your heart out.
So, you've (finally) pulled together a crew and you all miraculously managed to get your tickets to that big music festival you've been looking forward to all year. One thing remains though: your festival wardrobe needs to be on point.
We're still heartbroken over the fact that Glastonury Festival won't be happening this year, but thankfully there's a number of small UK festivals like Lovebox or Wilderness to keep us occupied. Whether you're staycationing or heading off overseas to Coachella, we've pulled together the ultimate festival wardrobe come rain or shine.
We've been keeping tabs on all the best summer fashion trends this year and picked our favourites, as well as the quintessential festival pieces that will last you well into your sixth or seventh Glastonbury. This season, we're obsessed with colours: from crayola brights to pastels. Lilac is absolutely the flavour of the month and leopard print has emerged as a surprising microtrend, so here's hoping you hung onto your 90s hero piece. Naturally, a good wellington boot is a great shout for unexpected showers and we're also eyeing up some cool raincoats to keep you dry.
Denim shorts are practically music festival uniform at this point and while ripped cut-offs are always a favourite, there's been a surge of cute embellished pieces. The more denim the better we say and we've also thrown in a cute pair of patchwork dungarees below - because if you're going to be whimsical, a festival's the place to do it.
As far as accessorising goes, we're going full retro. Those super narrow 90s sunglasses have returned to the joy and despair of some, while bum bags have evolved from pensioner-on-holiday-wardrobe to become a chic statement piece (choose patterned or textured pieces for a style boost). When it comes to earrings, the bigger the better and tasseled styles are back in full force.
Although your might not be feeling your freshest on day three of the festival, at least your cute wardrobe can provide a much needed glow up. And on that note, why not check out our festival beauty essentials roundup? Expect a lot of glitter and wet wipes.
Festival Dresses
Whether you're sweeping across the field in a dramatic maxi or shaking your thing in a mini, one thing remains: dresses are a festival must-have. On the practical side, they're lightweight and easy to pack and on the sartorial side, there are so many adorable ones out there. Florals are always a big favourite around this time of year and we always respect a queen who can rock a bold shade.
Priced at £110, available from & other stories
Festival Tops
Flouncy peasant blouses and crop tops are regular appearance at festivals and we don't expect things to change too much this year. If you're feeling a little sexy (or just want a little more ventilation), sheer clothing is set to make a comeback this season and delicate floral lace is perfect for boho events like Coachella.
Priced at £22, available at Topshop
Festival Bag
Wallet, phone, wipes, alcohol, camera - there's so much to lug around at a festival and it's hard tracking down a bag big enough to hold it all without cramping your style. A rucksack is always a great shout (even if you may unwittingly become the group's designated pack animal) and there's a bunch of cute ones on the market right now.
Priced at £185, available at rae feather
Festival Jackets
Festival Playsuits
The long awaited summer heat is a great reason to bust out that playsuit from the back of your closet. (We'll fight anyone who says they look like pyjamas to the death.) To take things up a notch, stray away from the standard silhouette - get strappy with it and stray away from the pastel florals of yore.
Priced at £25, available at Monki
Festival Shorts
The sight of celebrities like Emma Watson running around festivals in denim shorts and wellies is a standard one come festival season. We're still here for it. There's been a big rise in embellished denim this season and we're loving these pearl cut-offs from Mango.
Priced at £29.99, available at Mango
Festival Boots
No name is more synonymous with festival fashion than Hunters. It's hard to go a day at Glastonbury without spotting a pair of their classic black boots, though this year they've stepped their game up and jumped firmly on the logo trend.
Priced at £110, available at Hunters
Festival Sunglasses
While massive over-the-top sunglasses may have had their heyday, this summer we're downsizing. Loads of celebrities including the likes of Gigi Hadid have been spotted wearing Linda Farrow's super narrow 90s sunglasses and you're going to be seeing them everywhere this season. If you can't beat 'em, why not join 'em?
Priced at £14, available at ASOS
Festival Raincoat
The weather being what it is, we bet that there's going to be at least one day where it chucks it down with rain. A festival raincoat is a must on those grim days to keep you dry and dancing, but it's important that they're not too thick otherwise you're going to be sweating up a storm in a tent. This lightweight coat from Stutterheim is a great shout, plus there's no beating that bright yellow. (Plus, your friends will have an easy time spotting you.)
Priced at £165, available at Stutterheim
Blue Shadow Dungarees, £45 at French Connection
For a simple, minimalist look, than these dungarees with a white t-shirt and Stan Smiths.
Hemington Russet Brown Mini Backpack, £37.50 at Zatchels
A backpack is always a great shout. We love this leather one that'll go with pretty much any outfit.
Tassel Earrings, £12.99 at Mango
These super long tasseled earrings get a classy upgrade with some faux pearl studs.
Feeling Baroque Maxi Dress, £50 at Nasty Gal
It's the details that make this dress: the contrast fringed belt and the fluted sleeves are everything.
All Things Mochi Belia Crop Top, £235
Boho doesn't get much better than this. These bright embroidered colours are bang on the money - wear with a pair of denim flares and you're good to go.
Essentiel Antwerp Pacaficio Jumpsuit, £209 at The Dressing Room
Jumpsuits make packing so much simpler and we've got a soft spot for this fun pastel one, covered in bright parrots for a pop of colour.
Kimorn Cat Eye Sunglasses, £8.99 at Amazon Fashion
A pair of dark sunnies is a must for side-eyeing inevitable festival shenanigans. These edgy shades also come in red and white for more of a vintage mod feel.
Stutterheim Vladimir Rainbow Raincoat, £260
Not for the wallflower. Go big or go home with this rainbow raincoat, which would put Cara Delevingne's Burberry trench to shame.
G.E.M. Leopard Flares, £91.67 at Lazy Oaf
Heading somewhere a little more alternative? Get swishy with these leopard flares and a sheer top.
Square Shoulder and Bum Bag by Koko Couture, £23 at Topshop
Slip this bum bag through your belt loops or sling it diagonally across your chest - however you wear it, you'll be a steps ahead of the bum bag crowd.